Entrepreneurial Producing for the Creative Industries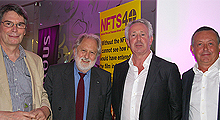 This unique 10-month business course for media entrepreneurs provides participants with the opportunity to acquire a detailed overview of commercial practice in seven key media areas; to meet leading media industry executives and investors; and to build, test and launch their own business proposal.
Application Deadline:

10 Jul 2014
Course Overview
EPCRI Course Promo 2013
"This new course gives young entrepreneurs in the creative industries the compass to navigate their way across those domains, with practical knowledge and practical guidance. It's about giving a new generation of 'makers and doers' the best possible chance to succeed and change their world. It's about making smart young people confident they can do something new, and showing them ways to succeed. That's why I think this new course is such a terrific idea.
Are you ready for the challenge?"
Sir Richard Branson, EPCRI course champion
This unique 10-month business course for media entrepreneurs provides participants with the opportunity to acquire a detailed overview of commercial practice in seven key media areas; to meet leading media industry executives and investors; and to build, test and launch their own business proposal.
The course covers the fields of television, film, theatre, music, publishing, games and online entertainment. Built in six five week modules and running from late January to the end of November, the course allows participants to develop their own careers while undertaking intensive study, equipping participants with the tools to set up projects in any of the media covered, and teaching them how to move between them with ease.
Taught by leading figures from the industries, participants will learn the value chain and commercial dynamics in each of the seven domains of the creative spectrum; the intellectual property issues surrounding each; sales and marketing skills; the legal and business affairs issues that are unique to royalty-based businesses; practical accounting and finance; and develop their talent management and leadership skills – in short, everything you need to launch or enhance an entrepreneurial career.
As part of the course, participants will undertake one business and one marketing case study, and visit practitioners at work, before embarking on the final fully-worked business proposal that will form their final assessment.
The future of the creative industries in the digital age is being shaped by entrepreneurs who can build new businesses/ new business models across different media platforms. This is true whether they are working on their own; launching start-ups; or building cross-media activity within traditional media companies. EPCRI is a practical business course for imaginative people in a creative world.
"I am delighted to support this new course. Building business capacity in the UK's cultural and creative industries is vital to our future competitiveness. We need entrepreneurs, financiers and managers who truly understand the creative process as well as business and commerce. My hope is that this course will make a significant contribution to achieving these goals." Patrick McKenna, Chief Executive, Ingenious
Watch Richard Branson (from his Caribbean Island!) outline why he thinks our new course for entrepreneurs (EPCRI –Entrepreneurship and Producing for the Creative Industries) is so important.
Scholarships and Bursaries
Scholarship support is available for exceptional candidates who can demonstrate they can't undertake the course without financial support. If you are offered a place on the course you will be invited to apply.
Tutors
Tutors have included:
Martin Mills (Chairman, Beggars Banquet Records), Jamie Byng (MD, Canongate Books), Jas Purewal (Lawyer, Osborne Clarke), Andy Varley (CEO, Insanity Group), Stephen Godfroy (Co-owner, Rough Trade Retail), Michael Comish (CEO, Blinkbox/Tesco Digital), Anna Cronin (Channel4 Convergent Formats), Rebecca Smart (MD, Osprey), David Potter and Mark Smith (Quercus Publishing), David Granger (Monkey Kingdom Television), Allan Niblo and James Richardson (Vertigo Films), John McVay (CEO, PACT), Andrew Oliver (CTO, Blitz Games) and Charlie Redmayne (CEO, Pottermore).
The EPCRI course is taught by high level practitioners from each industry. The advisory group features two senior figures from each domain who will be contributing to the teaching and supervising course content.
Advisory Group
Games: Ian Livingstone – Founder, Games Workshop / Co-creator Eidos (Tomb Raider); Dave Bailey – 28 year old founder Mediatonic, Graphite Digital

Film: Paul Webster – Producer, Atonement / ex Head of Production, Miramax / CEO Film4; Allan Niblo – Founder, Vertigo Films / Producer, Street Dance, Sweeney, Monsters

Music: Marc Marot – Ex MD, Island Records / Founder, Terra Firma Management / Chairman, Crown Talent

Publishing: Jonny Geller/Ben Hall – Joint CEOs, Curtis Brown / Leading book agents / Founders, Cuba Pictures; Margaret Busby – Founder, Allison & Busby / 1st black woman publisher in the UK / Orange Prize Judge.

Television: Alex Graham – Founder, Wall to Wall television, now part of Shed Media / Fellow of the Royal Television Society; Matthew Justice – MD, Big Talk / Television and Film Producer (Rev, Free Agents, Attack the Block)

Theatre: Julius Green – Senior Producer, Bill Kenwright Ltd / Producer of over 150 plays and musicals.

Online: Gregor Pryor – Partner at global law firm Reed Smith / Represents leading online companies and venture capital funds
Course partners
Ingenious Media, leading UK Media Investment Group. Ingenious are sponsors of the course and will provide tuition by investment managers across Music, Film, Television, as well as Financial Presentation and Packaging. Includes keynote speech by Ingenious founder/owner Patrick McKenna.

Lee and Thompson, leading IP law firm. L&T provides course advice and tuition by partners Lawrence Engel (Music), Marc Ashelford (Digital), Richard Lever (Television), Will Everitt (Theatre), Christos Michael (Film), and Jeremy Gawade (Financing and Entrepreneurial Packaging).
Trade Bodies
Those supporting and contributing to the course tuition include CREATIVE ENGLAND, PACT, WFTV, BISC, AIM, UKIE, TMA, PA, SKILLSET.
Curriculum
The course is a 10-month, intensive course based in the National Film and Television's studios in Beaconsfield, with some teaching taking place in London.

The course consists of six 5-week modules across 3 terms. Each week consists of 3 days of tuition with the other two for reading and preparation. Modules start with either a tutorial or workshop. Each module takes the student a step further as well as reviewing and consolidating previous knowledge.

Term 1

Mapping the Landscape
Modules one and two
An in-depth, sector-by-sector review of current practice, business models and value chain within each sector (one week per sector). This will focus on current business, the recent history of each industry and where it is heading, with particular reference to the royalty structures of each domain. This will be taught by industry professionals within each sector, supported by NFTS tutors. At the end of module 2, students research and deliver a business case study, which will form part of their final assessment.

Term 2

Practical Lessons and Current Business Practice
Module three
A grounding in the specifics of the entertainment IP industries as regards finance and accounting, business affairs, sales and marketing, commercial / copyright issues.
Module four
Practical training in small-business management, self-presentation, and talent management / talent development, from successful entrepreneurs, company CFOs and creative directors. At the end of module 4, students research and deliver a marketing case study, which will form part of their final assessment.

Term 3

Preparing Yourself for the Market
Module five
Research and preparation of a final investor-ready business or project finance proposal, including coaching on business presentation; pitching; do's and do-not's of business planning and presentation; meetings with industry.
Module six
Wrap up, rehearsal and final presentation of your proposal (which is intended to be the live business path you intend to pursue after the course) to a panel of investors, executives and tutors.

Assessment
Assessment will be purely practical, with no timed exams. EPCRI participants will have to complete three exercises during the course: one business case study (can be UK or non-UK); one marketing case study (UK); and a fully-worked business or project finance proposal that they wish to pursue after graduation in their chosen area, whose final presentation to an industry panel will count for a significant part of their final diploma score.

During the 10 months, participants will have regular investor 'breakfast club' group meetings with leading investors in the seven media (public funding bodies, private equity groups, and trade investors), at their offices. They will explain their investments, strategy, and place in the wider market. As well as providing direct contact with funders, the breakfast club seminar strand provides invaluable networking opportunities. It will also cover trade lobby organisations for each sector.

Optional School Benefits
EPCRI course participants will have full access to the NFTS' optional creative stimulus strands, including: Passport to Cinema (weekly screenings of classic and pre-release films in the state-of-the-art campus cinema); and NFTS Masterclasses (major creative figures from film, television and games screening their work and discussing with students in the campus cinema. Recent speakers include Graham King (producer, Hugo, The Departed), Guy Ritchie (Director, Sherlock Holmes), Danny Boyle (Director, Slumdog Millionaire) and Ian Livingstone (former President and CEO, Eidos).
The first course of its kind in Europe – a unique 10 month diploma in Entrepreneurial Producing across the creative royalty-driven industries, taught by practitioners rather than academics.
Covers the fields of television, film, theatre, music, publishing, games and online entertainment, taught by executives from each of the industries. Features regular keynote seminars with leading figures from each industry, and 'breakfast club' meetings with sector investors.
Participants will acquire the tools needed to set up and run businesses within the creative industries, and develop the ability to move between them with ease.
Every participant will graduate with a 'live' business or project finance proposal that has been tested by presentation to a panel of UK media investors and executives.
Course is sponsored by Patrick McKenna, founder of Ingenious Media, and championed by Sir Richard Branson.