Mother, a documentary directed by NFTS Directing Documentary MA graduate, Kristof Bilsen, about the struggles of motherhood and the frustrations of being unable to care for our loved ones, has received a 'Special Mention' at this year's Sheffield Doc/Fest.
The documentary was nominated in the International Award category and the jury praised the film for "its tender depiction of the intersection of sacrifice and loss and its heart-breaking honesty in exploring the complexities of motherhood from different realities." Mother has also received rave reviews including a five-star review in the Guardian, which said: "Kristof Bilsen's film is a radical achievement: a love letter to loss, sacrifice and yearning. It questions how we care for elderly loved ones, makes provocative contrasts between east and west in the economics of medicine, and, with a central character who's pure charisma, this is intimate observational documentary-making of a high standard."
We caught up with Kristof to find out more:
What was the inspiration behind Mother? Most of the time a film chooses you, not the other way around. I first wanted to make a film about Alzheimer's because it's very close to me. My mother suffered from dementia. That confronted me with something you take for granted. My mother, who raised four children, and basically owned the collective memory of our childhood, grew more forgetful. It was quite shocking to realise that this collective memory, the safe haven I could always go back to, had started to disappear. I did a lot of research. Partly because I was looking into different ways of caregiving, and partly also as a coping strategy, to try to understand and prepare myself for the future of someone who had dementia. This condition will not get better, so you have to prepare for what is coming. And then I found out about this place in Thailand. It's a safe place, where every patient has three caregivers around the clock and where they can be who they are, this new identity they have now. They're not confronted with the stress of hospitals or retirement homes, and it's quite a stable environment.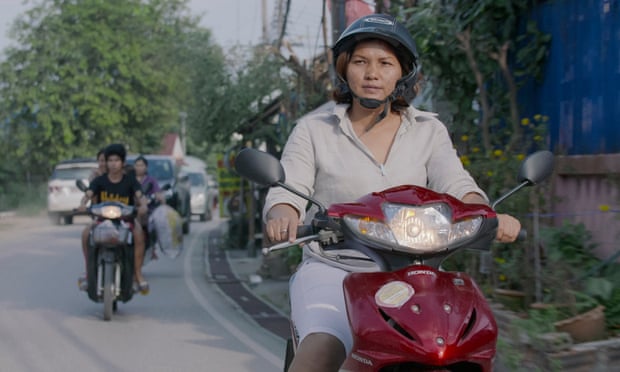 Why did you choose Pomm as the main protagonist? What we as filmmakers always try to look for is characters, people who intrigue you, who are a bit ambivalent and not too straightforward because you want to go on a journey with them as a filmmaker and then also as an audience. I was struck by her and by the tangible relationship she had with Elisabeth, the Swiss patient. It was like l was watching a mother with her daughter, that's how they behaved around each other. And gradually I found out about Pomm's life, how she couldn't take care of her children, and how much that hurt her. So this story about motherhood started to find its way into my mind. During the first interview that I did with her, she talked about Elisabeth as if it was her mother or her grandmother. Suddenly, it showed dependency. Pomm was depending on her patient, Elisabeth, because it compensated for the care she couldn't give her own children.
How does it feel to receive such rave reviews and a special mention at Sheffield Doc Fest for Mother? It was very rewarding to see that the audience and critics get your work. Albeit challenging, the issue of care, motherhood and dementia hits home for many people and knowing that my film invites people to think about these topics or more so, being moved by the characters of Pomm, Elizabeth and Maya, feels very encouraging to me as a filmmaker. It means we did our job well, trusted our intuition.
How has studying at the NFTS helped you in your journey to your current career? It's thanks to the NFTS that I was able to extend my network and found a voice on my own as a storyteller. I graduated in 2012 and managed to make two international feature documentaries already, so I'm really grateful. A lot of hard work goes into making/producing your own films but once they hit the festival circuit and people get to see them, makes you eager to start anew. Time and time again.
For more information about Mother, please visit: https://www.motherthedocumentary.com/ and for more informationa about the NFTS Directing Documentary MA, please visit www.nfts.co.uk/documentary