An impressive three films made by NFTS Directing and Producing Science and Natural History MA students are finalists at the 2019 #LabMeCrazy! Science Film Festival. The festival is an initiative run by the Museo de Ciencias at the University of Navarra and aims to raise awareness about science among young people by offering a refreshing, modern take on scientific knowledge.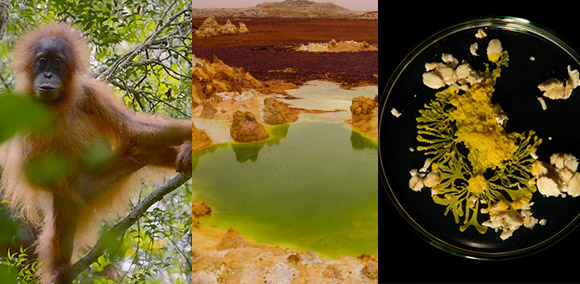 An incredible 1953 productions from 107 countries were submitted and the NFTS films are in great company with the likes of David Attenborough's Light on Earth competing in the Documentary category.
AEON directed by Nathan Small and Smart Slime? directed by Juliette Martineau are competing in the University Production Category while Now Or Never by Matt Senior is competing in the Student Production Category.
AEON is a cinematic ride through the inner-workings of first life, the diversity of the animal kingdom, and the organised chaos of the modern world.
The Team: Director/Producer/Camera - Nathan Small; Editor - Ona Bartrolí; Sound Designer/Dubbing Mixer/Foley Artist - Ben Goodall; Composer - Thomas Ross Fitzsimons; Colourist - Liz Glennard; Online Editor - Michael Pearce; Marketing and Publicity Executive - Dina Elkordy
Now or Never is the story of the rarest great ape in the world, the Tapanuli Orangutan. Only recently identified as an entirely new species, they already face extinction. The orangutans' only home in Sumatra is being destroyed by humanity's drive for ever more cheap energy. Is there any way to save them, along with their precious forest home, before it is too late? Action must be taken NOW, OR NEVER. http://nowornever-film.com
Matt has won a prestigious rhino trophy for 'Best Documentary' at the 2019 British Documentary Film Festival and has been selected in the Newcomer category of this year's Green Screen Festival.
Smart Slime? is about slime moulds, which are not plants, animals or fungi and for a brainless life form, they have evolved surprisingly complex abilities in order to survive and reproduce. The film includes interviews with high profile slime mold researchers and touches on research that's shown that slime moulds are capable of building intricate and efficient networks that rival man-made ones and learning by habituation. The interviews also cover the scientific community's debate as to whether slime moulds can be called intelligent, or not.
Juliette has already won a prestigious Scientific Merit Award for Smart Slime? at the Scinema international Science Festival in Adelaide beating stiff competition from the likes of the BBC and National Geographic.
For more information about the NFTS Directing and Producing Science and Natural History MA, please visit www.nfts.co.uk/naturalhistory