With six nominations and over 90 graduate credits on films nominated at the 2020 EE British Academy Film Awards, it was a night of glamour and excitement that saw NFTS graduates take home three awards for their work on the epic 1917!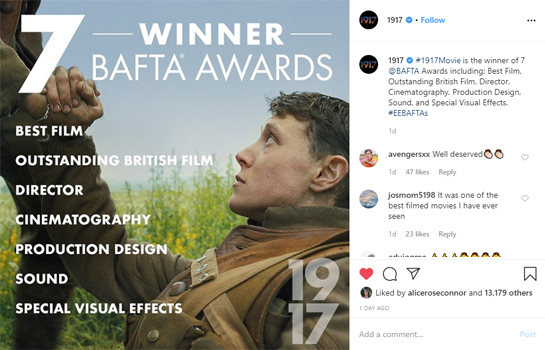 Alumni Roger Deakins took home his fifth BAFTA award for Best Cinematography. Collecting his award which he dedicated to the crew (and his beloved wife) who worked so tirelessly alongside him on 1917, Roger said: "All films are special, but some films are more special than others and for me, this was a really special film." Winning a fifth BAFTA sees Roger become the most decorated winner within that category and our huge congratulations go to Roger on his two latest incredible achievements.
NFTS Screenwriting graduate Krysty Wilson-Cairns took to the BAFTA stage for the very first time to accept the award for Outstanding British Film. Delivering a speech on behalf of the cast and crew of 1917, supported by her fellow nominees and winners, Sam Mendes, Pippa Harris, Callum McDougall and Jayne-Ann Tenggren, Krysty gave a shout out to her hometown of Glasgow during her speech whilst also crediting the work of British crew: "I can't tell you what this means for us all, I was involved from a very early stage right the way through production and I got to witness first-hand how quintessentially British 1917 was. Not only is it shot all over the UK, it was skilfully crafted by over 1,200 British members of crew, demonstrating the depth of film-making talent in our incredible UK film industry."
Another triumph was in store when NFTS graduate Stuart Wilson won the Sound category for 1917. Stuart took to the stage with his fellow winners, Scott Milan, Oliver Tarney, Rachael Tate and Mark Taylor.
2019 NFTS graduate film Azaar was nominated on the night for Best Short Film, directed by Myriam Raja and produced by Nathanael Baring. Their success as runners up at such a prestigious awards ceremony is hugely inspiring to all our current students who will showcase their own graduation films later this month to members of the industry at Picturehouse Central in London. We couldn't be prouder of both Myriam and Nathanael who were both able to further their studies at the NFTS through scholarship schemes supported by Channel 4 and Warner Bros Creative Talent.
A special mention also to NFTS Animation graduate Richard Phelan who was another runner up on the night with his first BAFTA nomination for Best Animated Film: A Shaun The Sheep Movie: Farmageddon.
A huge well done to all our graduates and we hope they all enjoyed celebrating their achievements.
Sunday's three trophy wins increases the grand total of NFTS alumni with BAFTA awards to 145!
For the full list of winners click here.
04/02/20