The winners of the RTS Student Television Awards 2021, were announced on 25th June and the NFTS was thrilled to receive the highest number of wins across the 17 UK institutions nominated, taking home 7 awards from a total of 11 nominations!
The awards celebrated the best audio-visual work created by students across the UK across Animation, Scripted, Non-Scripted for undergraduate entries, and Animation, Scripted, Non-Scripted, News, Entertainment and Natural History for postgraduates.
Read on to see what the RTS jury said about the winning NFTS films:
The winner of the Postgraduate Animation category was 2020 Directing Animation film The Song of a Lost Boy, with the jury citing "its unique style and message of acceptance, told in such an interesting and original way. It was evident that a lot of deep thought had gone into the design and materials chosen, with excellent choices made from start to finish."
The Song of a Lost Boy went on to win a second award in the Postgraduate Production Design category, with the jury commenting that they "loved the design, the juxtaposition of the troll-like characters in a choirboy setting at the beginning, the sense of fun really came through the production design and provided a visceral visual experience."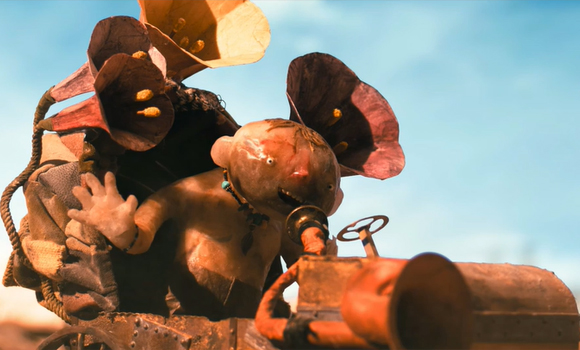 The Song Of A Lost Boy

Synopsis

Ben, a young choir boy, who after his voice breaks mid solo, has a crisis of faith and decides to run away from his community into the desert. He happens upon a group of nomads who take him in, though Ben hides the secret about who he really is, and must decide what to do with it.

Graduating Crew

Director/Lead Animator Daniel Quirke
Producer Jamie MacDonald
Screenwriter Brid Arnstein
Cinematographer Emma Langguth
Production Designer Steven X. Haber
Production Manager Amy Vearncombe
Editor Margred Pryce
Sound Designer/Dubbing Mixer Ruanth Chrisley Thyssen
Composer Darryl O'Donovan
Lead Model Maker Alice Simonato
Model Makers Gemma Byrne, Helen Ferguson, Narika Jaggard, Penelope Konstantara, Grace Lawrence, Agathe Lederer, Roisin McCallum, Sophie Monks, Rosemarie Nelson, Jake Teale
CG Artists Mafalda Soares, Yilin (Lesley) Cai
Compositors Nicola Bosari, Eliis Kuusk, Pietro Abati
Matte Painter Moritz Burkart
Colourist And Online Editor Michael Pearce
NFTS Directing and Producing Television Entertainment pilot Other Nature took home the winning prize in the Postgraduate Entertainment category. The RTS jury was unanimous in its choice of winner citing Other Nature as "a rounded story - that had us hooked from the start. It was well cast, well-acted, very well done." Also nominated was fellow 2020 TV Entertainment graduation project, Wild Cooks.
Other Nature

Synopsis

We're catapulted into the matriarchal Kelly household, where a divorced, lesbian marriage counsellor obsessed with calm and tranquility (Laura) has to take in her wild mother (Siobhan) who blew her money away in Las Vegas, as well as her struggling recent university-graduate daughter (Carrie) who's stuck working, and getting fired from, various dead-end jobs.

Graduating Crew

Director Alex Cartlidge
Producer Olympia Christofififinis
Cameras Nicholas Averill, Freddie Finn
Production Manager Beatriz Honório
Production Co-Ordinator Tian Boyce
Sound Recordists Jack Brett, Alex Preddy, Jonathan Willett, Angus Puczyniec
Composer Ethan Jeffrey
Sound Designer/Dubbing Mixer Ross Wilkes-Houghton
Colourists/Online Editors Michael Pearce, Francis Qureshi
2020 Directing and Producing Science and Natural History graduation film Secrets of the Salamanders won the Postgraduate Natural History category. The film takes a close look at the extraordinary impact the DNA of the axolotl could have on human health. The RTS jury were "impressed by the story, the strong visuals, a great use of archive footage with a great voice and tone. A strong opening captured your attention and the great photography throughout."
Secrets Of The Salamanders

Synopsis

Imagine a world where there is no dementia, blind people regain sight, paraplegics can walk. One creature could make this happen, the extraordinary axolotlwhich can regenerate every part of its body. Scientists have just deciphered its DNA and we are in touching distance of a new world of health for humans, but we need the wild axolotl to achieve this and there are less than 100 left in the wild.

Graduating Crew

Director/Producer/Sound Madelaine Westwood
Camera Nathan Small
Editor Waltteri Vanhanen
Assistant Editor Constance Brannick
Foley Artist Joe De-Vine
Sound Designer/Dubbing Mixer Ruth Knight
Composer Sarah Ann Boughton
Motion Graphics Artist Yilin (Lesley) Cai
Concept Artist Moritz Burkart
VFX Supervisor/VFX Generalist Artist Kristiāna Turlaja
FX Artist Miya Shen
CG Artist Mafalda Soares
Compositors Nicola Borsari, Eliis Kuusk
Colourist/Online Editor Michael Pearce
Additional Colourist Alex Coveney
Fellow NFTS Science and Natural History film, Life on the Rocks took home two wins in the Postgraduate Sound and Postgraduate Camerawork categories. The jury felt the "sounds of the environment were captured brilliantly, the birds, the boats, and the clever use of natural sound in general. The film used the sound design to breathe which really contributed to the success of the piece."
The jury loved the style of camerawork which they said "significantly contributed to the success of the film. The filming on the boats, the sense of loneliness (which the operator also felt themselves in the situation)and the bleak environment were captured wonderfully and contrasted superbly with the interviews. A triumph."
Life On The Rocks

Synopsis

For three years from 1960 June Nelson and her late husband Bryan lived in a shed on the Bass Rock, now home to the world's largest colony of Gannets. June reflects on their time together and revisits her old home.

Graduating Crew

Director/Producer/Camera/Sound George Pretty
Editor Oli Bauer
Composer Will Turner
Colourist/Online Editor Andrea Lo Priore
The Postgraduate Scripted category saw three NFTS graduation films nominated, with 2020 fiction film Who Goes There picking up the prize. It was unanimously praised by the jury for being "genuinely scary" and they also "loved the inventiveness of combining a domestic horror story with a staple of American cinema to create a Western Horror hybrid, and subvert the American Dream. Everything from costume to production design was impressive, and it felt like an extract of a bigger film that we would love to see."
Who Goes There?

Synopsis

1880: Three Norwegian sisters' trust is tested when a stranger appears on the prairie. When the eldest invites the man in to heal her dying sister, she doesn't realise that a supernatural force is crossing her threshold.

Graduating Crew

Director Astrid Thorvaldsen
Producer Leah Bethany Jones
Screenwriter William Gillies
Cinematographer Graham Boonzaaier
Production Designer Peter Coulthard
Assistant Directors Gabriel Lippe, Laura Briggs, Rosie Collins
Assistant Camera Mark Frendo, Romyn Sharma
Production Manager Amy Vearncombe
Editor & Online Editor Armiliah Aripin
Production Sound Mixer Nicholas A. Ager
1st Assistant Sound Jonathan Willett
Sound Designers João Fonte, Ines Adriana
Composer Adam Speck
VFX Supervisor Eliis Kuusk
VFX Producer Andrea Lo Priore
CG Artists Valerie George, Eugenio Troiani, Mafalda Soares
FX Artist Miya Shen
Compositors Dominik Bari, Nicola Bosari, Yilin (Lesley) Cai, Eliis Kuusk
Colourist Andrea Lo Priore
Assistant Colourist Francis Qureshi
Huge congratulations to all the RTS winning films and the teams that worked so hard on them during their studies at the NFTS!
All the winning films were made at the NFTS by students studying across multiple disciplines from Directing to Cinematography, Directing and Producing Television Entertainment, Science and Natural History, Digital Effects to Sound.
Collaborate with students on other courses
Train with industry standard equipment, in industry standard conditions
All production costs paid for by the School
Visit nfts.co.uk/places-available to find the perfect course for you and start your journey to #StandOutwithNFTS!
#NFTS
29/06/21