"Just as the arrangement of food on a plate is an important part of a restaurant experience, and the framing and placement of paintings is integral to a museum visit, the way a movie is projected can have a meaningful impact on your theatrical experience. Great projection can make a movie sharper, more colourful, more vivid and engaging — while poor projection can be a movie-ruining distraction."
We live in an era where mobile phones, laptops and streaming services make it possible to watch content just about anywhere. However, there still remains a magic and sense of occasion when watching a movie on the big silver screen. But why do films sometimes look and sound significantly different when played out on different screens and in different cinemas? To explore the myriad of reasons for this, the UK Cinema Association recently invited the NFTS along to London's West End where over 50 students watched a short extract from the Oscar-winning A Star Is Born play out on four separate cinema screens. The aim? To gain a valuable insight and comparison into the varying types of cinema technology that now exist within the industry and what their nuances mean for us as film makers.
With Bradley Cooper and Lady Gaga awaiting at each venue, a whistle stop tour ensued, beginning at the ODEON Luxe in Leicester Square, a Dolby Cinema™ at the very cutting edge of cinema exhibition. It was then time to head across to Cineworld, on the other side of Leicester Square, equipped with IMAX immersive sound and vision. Next on the list was Empire Haymarket, with a 4k projector, curved screen and 5.1 sound before finishing up at Vue in Piccadilly Circus, a more traditional space using Sony 4k technology. The tour would also reveal the answer to the burning question of the day: are any two screens the same?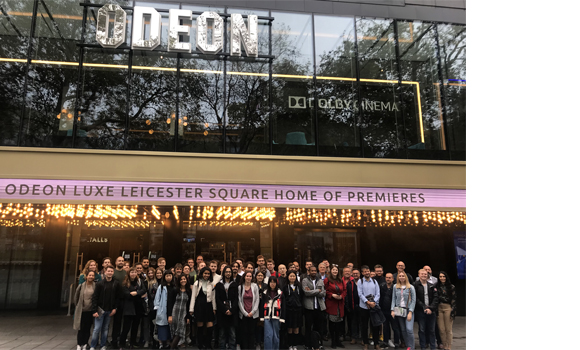 Prior to the first clip from A Star is Born being played out, and with everyone comfortably seated in the ODEON Luxe - one of the most iconic cinemas in the world - NFTS Director Jon Wardle kicked off proceedings with a short introduction.
Jon highlighted a common student misconception that a film, when graded at the NFTS will look the same wherever it's played. Every February at the NFTS Graduation Show, many are surprised that their film doesn't look exactly as they envisaged.
Step forward Chief Executive of the UK Cinema Association, Phil Clapp and Mike Bradbury, Head of Sound and Projection at ODEON Cinemas Group. Phil and Mike would shed light on why this happens and what NFTS students, as the future of the film industry, can do to accommodate and plan on upcoming projects.
Warmly welcoming everyone, Phil gave an overview on the state of the UK cinema sector currently. Reassuringly, Phil highlighted that cinema "is doing better than well in a digital age. The UK is seeing a continued resurgence in people wanting to enjoy the big screen experience; 2018 saw the highest cinema admissions in 50 years. With Frozen 2, Jumanji 2, Cats and the final in the latest Star Wars trilogy still coming down the track, box office for 2019 looks set perhaps to be the biggest yet. Cinema is thriving!" Positive news indeed for the future of the film industry and for film makers everywhere.
Phil went on to explain the many reasons for cinema's ever-strengthening growth. "Huge investment in opening new cinemas and refurbing existing ones, alongside the emergence of boutique and high end multiplex models has driven an excitement around cinema going and contributed to an upsurge in the sector." Phil also highlighted that with over 900 films being released into cinemas in 2018 alone, a strong film slate showing a diverse range of titles is getting people out of the home and into cinema seats. Additionally, new cutting edge developments in sound and vision technology means that digitisation has changed the nature of the cinema experience as we know it.
Phil also flagged that contrary to popular opinion, the prevalence of streaming was not affecting revenue, with all the evidence suggesting that the biggest consumers of streamed content are also cinema's best customers: "…they want content wherever they can get it."
Following Phil, Mike Bradbury stepped up to the podium to give a detailed insight into the current state of film technology and to explain further the changing nature of the industry. "Movies presented in the cinema have the intention of delivering the best experience possible. However those movies can vary from one cinema to the next, depending on differences of cinema design, some subtle and some not so."
Clarifying further, Mike said: "Movies are mastered to an agreed standard that should also be met by the cinema exhibitors to ensure accurate reproduction of the content as the creator intended, or certainly within agreed tolerances. The projector and screen surface can make a big difference in the brightness and resolution, which will affect both the clarity and the uniformity of the image. Flat and curved screens can make a huge impact on the uniformity of the brightness across the image. The colours can seem muted or over saturated compared to how they were intended if the brightness is too low or too bright. Contrast can vary, not only on which projection system is used but also on what colour the seats and auditorium surfaces are. Reflecting surfaces can impact the black levels making them grey instead of a rich black."
Mike advised that lighting should always be a huge consideration for film makers. Fire exits signs that are too bright or ceiling lights that are required to be on at low level can also ruin contrast if not designed properly and kept from washing the screen out. Projection systems with much higher contrast ratios (better blacks and whiter whites) are now appearing but these too require careful consideration to ensure all the technical wizardry is not ruined by a misplaced fire exit or a ceiling / seat light that is simply too bright.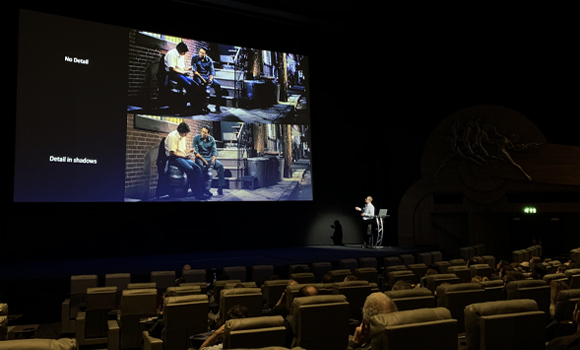 Sound is another key factor, with auditorium speakers and sound systems equalised to a set standard for the whole industry to ensure they re-produce films as the film maker intended. Sound is a key ingredient to the overall experience but can vary hugely depending on specification, placement of speakers, correct sound system calibrations and acoustics. It is a collection of design elements that make great sound not just the top quality speakers. Speakers positioned incorrectly or having little to no sound absorption will hinder their performance and can make the sound seem too loud or distorted even if a meter would read it as normal.
Summing up before a lively Q&A alongside Phil at the final stop of Vue in Piccadilly Circus, Mike said; "Ultimately, there are a great many factors than can change how a movie is experienced. A good cinema will ensure that all elements are working with each other to create the best environment to experience the film as the film maker intended."
The NFTS would like to thank: Phil Clapp and the UK Cinema Association for their continued support of the School as a key partner sponsor, Mike Bradbury and ODEON Cinemas Group, Cineworld Cinemas, Empire Cinemas and Vue Entertainment.
Our thanks also to Warner Bros for permission to use the extract from A Star is Born.
Photography courtesy of NFTS Assistant Directing and Floor Managing Student Laura Briggs.