A group of Assistant Directors and industry colleagues, KK Kennedy, Alison Piper, Ollie Hilton, Fraser Malcolm, Sean McDonald and Charlotte Hailstone have got together to run a Tough Mudder to raise funds for a brand new project, The Channel 2 Bursary Scheme.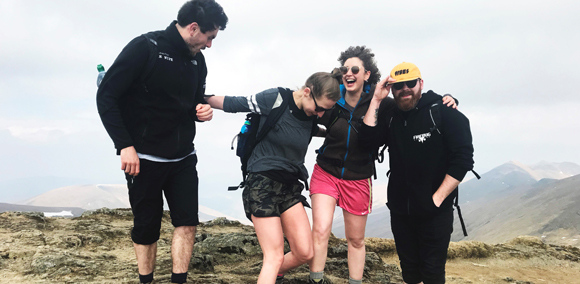 The bursary scheme will raise money to enable people from low income backgrounds to study at NFTS Scotland, a hub of the National Film and Television School which opened in May 2018 and delivers a wide range of vocational short courses and Diplomas. We caught up with KK to find out more:
Tell us about your campaign? We're a bunch of ADs who want to raise a bit of cash to help people from low income backgrounds make their start in the film industry. This summer, on June 15th we're running a Tough Mudder at Drumlanrig Estate, Thornhill to raise funds for our brand new project - The Channel 2 Bursary Scheme. Working with NFTS Scotland, Channel 2 aims to help increase diversity and equality within Scotland's film and television industry by helping people from low-income backgrounds access entry-level training on courses with vocational outcomes, (eg. Camera Assisting, Working in the Assistant Director's Department, Introduction to the Film and TV Art Department.) The fund is aimed at people who, without financial support, would find it difficult to access training and therefore job opportunities within the sector.
How did it come about? We had been discussing the most appropriate training courses for new entrants to the AD department, and reasoned that anybody who could complete a Tough Mudder would probably be a valuable asset to an AD Team - particularly on rainy location shoots. So in that sense, the idea of using a Tough Mudder event to fund training really came about backwards!
What are you hoping to achieve? We're hoping to raise a good amount of money to fund as many bursaries as we can (our £2000 target is flexible), but on a broader scale we want to encourage a conversation about improving access to the industry as a whole.
Why are scholarships like this important? We think the way the film and television industry is structured can sometimes make it difficult for people from lower income backgrounds to access employment opportunities. It's common to take your first steps in the industry through low or no pay opportunities, but for many people without a financial safety net this simply isn't an option. Similarly, the natural progression for newcomers to do dailies and progress to full contracts means the industry favours those who can afford *not* to work, and await opportunities. We hope that making training with tangible vocational outcomes more accessible will help support a more realistic transition into paid employment.
Alison Goring, Head of NFTS Scotland, said: "It's absolutely fantastic that KK and her colleagues have taken it upon themselves to raise money to enable those from low income backgrounds to study at NFTS Scotland. The industry in Scotland is crying out for people trained in a range of disciplines and it's an important part of our remit to ensure that our vocational courses are available to everyone regardless of their background. We wish the team success with the Tough Mudder and would encourage our friends in the industry to give them as much support as possible!"
You can support KK and the team here.