NFTS alumnus, Michael Lennox and director of multi award-winning TV series, Derry Girls, returned to the School with the show's creator and writer, Lisa McGee and executive producer and Hat Trick Productions Co-Founder, Jimmy Mulville to deliver an entertaining masterclass revealing why the series has been such a hit.
The Channel 4 series, which is centred around the exploits of a 16-year-old girl and her friends and family during the Troubles in Ireland in the early 1990s has won an Irish Film and Television Award for Best Comedy and was nominated for a TV BAFTA this year for Best Scripted Comedy. Lisa McGee has also won a British Screenwriter's Award for the show for Best Comedy Writing on Television. Michael Lennox's short film, Boogaloo and Graham, which he made after leaving the NFTS won a BAFTA for Best British Short and was nominated for an Oscar in the same category.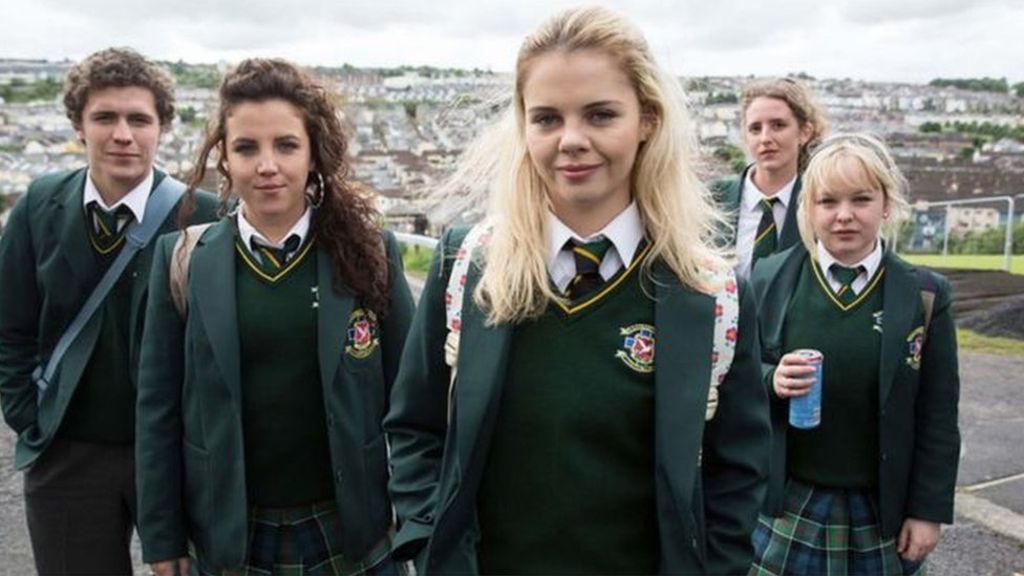 Jimmy Mulville was awarded the Alan Clarke BAFTA for Outstanding Contribution to Television in 1989 and has produced numerous iconic comedy series from The Kumars at No. 42 to Outnumbered.
The session was hosted by NFTS Director, Jon Wardle and he opened by asking Jimmy why a show like Derry Girls, which is so specific in its context, has such wide appeal and is so popular that it has been snapped up by Netflix. Jimmy explained that while Derry Girls is very specific, it has authenticity at its heart: "It all begins with the writing. Lisa is writing not just her opinion but her experience – it's incontrovertible and speaks to universal issues - the dynamics of family. Growing up is so universal."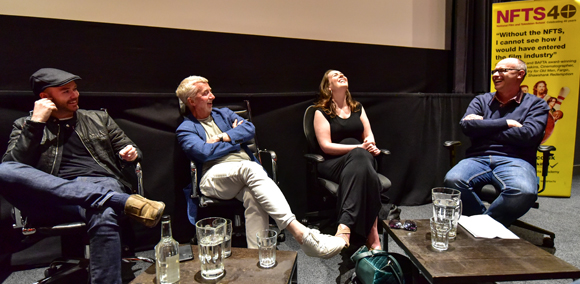 According to Jimmy, Derry Girls was written so well by Lisa that it "landed on my desk fully formed, which never happens! Channel 4 loved it – it was like winning the lottery. It's been the easiest job in the world to steward it onto the air."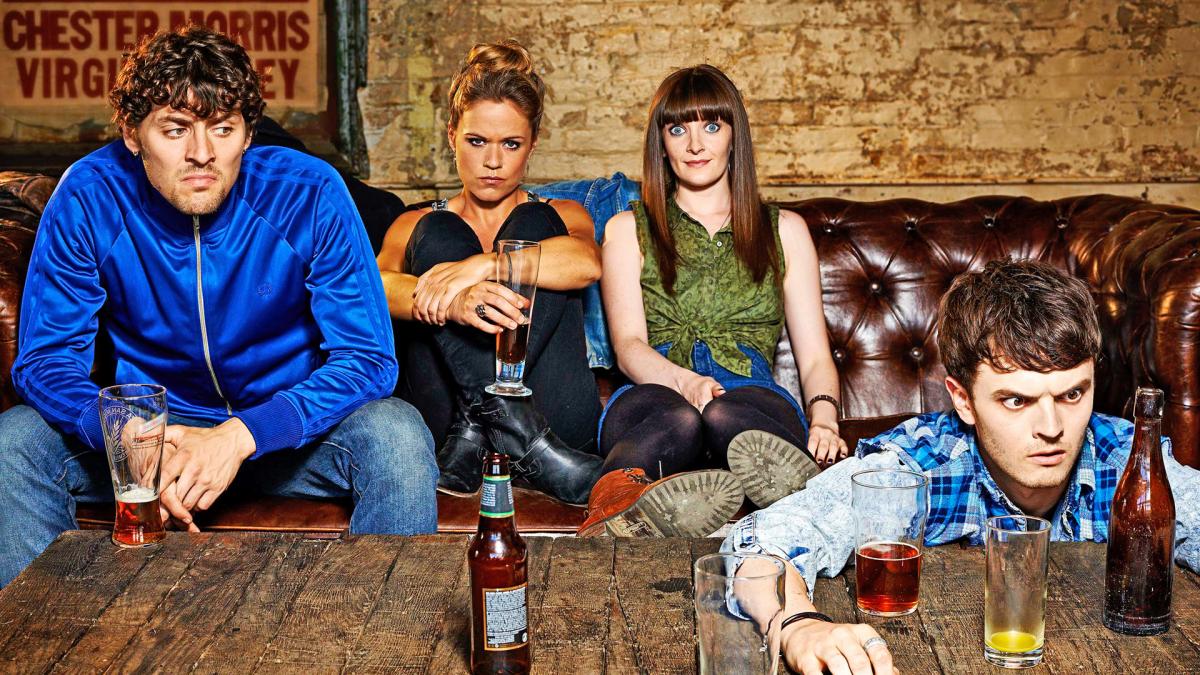 Lisa added: "I wrote London Irish before Derry Girls and it didn't really find an audience but Channel 4 wanted to work with me again as they thought I had an interesting voice. They gave me a script commission and green lit Derry Girls without a pilot. I started with an idea about teenage girls in Derry who solve a crime – basically 'shit detectives'! But the story was most interesting when it was about them as a group of friends. I like the fact that you know they're going to get in a pickle every week and it's about how they get out of it. I love American classic comedies like Seinfeld and the predictable familiarity of sitcom."
Jon asked Michael about how he had got the job on Derry Girls. Michael graduated from NFTS in 2012 and went back home to Belfast. He quipped: "After I left NFTS I had to figure out what to do – the day you leave you wonder what your schedule is as you get sent them regularly when you're at the School!" He then made his Oscar nominated short, Boogaloo and Graham, which is set in Belfast in the 1970s and is about two young boys who learn the facts of life with the help of two chickens! "I wanted to make something set in Northern Ireland and wanted to try comedy as I'd never done that before. While at NFTS, I learned that the two ingredients that you need to make a successful grad film is to keep it short and write the story so the audience feels some kind of emotion. My graduation film was too long at 25 mins so I made sure Boogaloo and Graham was shorter – around 15 mins – and made the audience feel something. Producers want to know if you can manage emotions."
On being hired to direct Derry Girls, Michael explained: "I met Lisa while I was at NFTS. Irish people find each other! She was very supportive when I was making Boogaloo which has a touch of Derry Girls about it. She liked that it was warm and full of colour. I was interviewed and met the Exec Producers before I got the job." Michael talked a bit about the process of putting the series together: "Casting for the first series was a fairly long process and it's hard to get the chemistry right. We then had six weeks' prep and seven weeks to shoot. I take one day at a time and note the energy of the scene before the one I'm filming as it's often the simple things that help when shooting non concurrent scenes. We don't have a free minute and have two editors working at the same time so I'm constantly moving between editing suites." The fact that Derry Girls is shot in Belfast is very handy for Michael as he is from there and knows it well. "It's brilliant! You can get across the city in 15 minutes and there are lots of people there who have worked on Game of Thrones or Line of Duty so it's easy to find crew." Jimmy added that Hat Trick are setting up an office in Belfast and are moving Mastermind there! "Belfast has got something about it, it's creative and feels alive."
One of the students asked Lisa how she came up with the idea of adding an English character, James. Lisa said: "I wanted there to be five in the gang and one of the Exec Producers said, what if it's a boy, an English boy? It's a free joke all the time – it wouldn't be the same if it was all girls." And on why she wanted there to be five, Lisa joked: "Not sure, I just had an image. Probably because of the Spice Girls!" Jimmy quipped: "In Derry they're treated like the Spice Girls now!"
Another student asked if Lisa was tempted to bring in comedy writers to pitch jokes. Lisa replied: "I can see why people do it. It's tempting but no, it felt too personal and too specific. I've worked in writing teams before and enjoyed helping someone else achieve their vision though and can envisage doing that again in the future."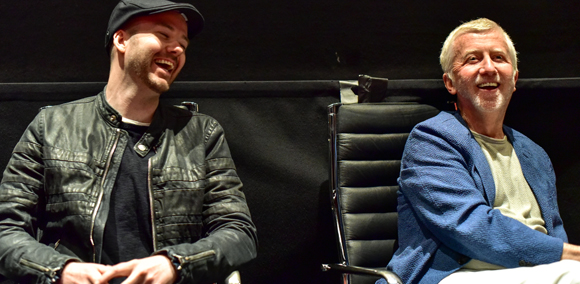 Another question came in to Jimmy asking how he works with Lisa and Michael. Jimmy joked: "I just get in the way! It's a joy working with Lisa as the work has all been done." On working with Michael, Lisa said: "It does help that I knew Michael before Derry Girls but I was worried I'd fall out with him! But he's brilliant with writers. He's crafty as he gets what he wants by making me feel like it's my idea!" Jimmy added: "Michael takes comedy and makes it cinematic and gives it layers. He never misses a beat. Lisa and he were just in step and got it."
On how to write something that appeals to an audience, Lisa said: "When I was thinking of Derry Girls as something else it didn't get to the script stage. It's better to scrap it rather than push through if it isn't working. You have to love it for you. The moment I stopped worrying about what the Channel wanted, it worked."
Jimmy was asked about the secret behind his success: "I'm really good at choosing people who are fantastic at their jobs! If something is going well, it's like poetry. I'm like the pool guy so I create an atmosphere of safety where everyone gets behind the best idea and feels they can take risks. The biggest secret is that other people run Hat Trick. It's meritocratic. We're a writer's company."
Summing up how she feels about Derry Girls' success, Lisa said: "I'm so proud that I've made a show about where I come from. I can't believe it and feel so lucky to have had the chance to do it."
Derry Girls Series One and Two are available now on All4 and Netflix and Series Three has been commissioned and is coming soon!