BAFTA and Cannes winning writer-director and NFTS alumna, Lynne Ramsay delivered this year's Colin Young Lecture recently. The annual event with special guest speaker honours the founding director of the School, Colin Young, who attended the event along with NFTS graduates and students.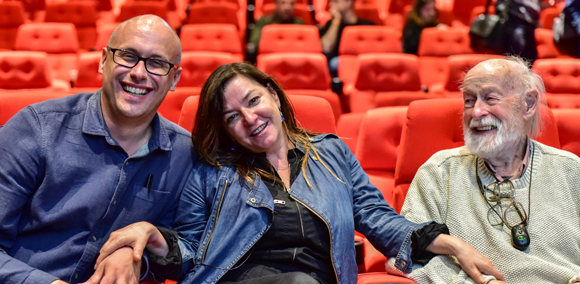 NFTS Head of Screen Arts, Sandra Hebron hosted the Q&A and welcomed Lynne with a fitting tribute to her 'visionary' work, saying: "Her films are bold and imaginative – and they allow us, as viewers, to use our imaginations too, because they are also suggestive and subtle." Referring to Lynne's celebrated feature films which include Ratcatcher, Morven Callar, We Need to Talk about Kevin, and You Were Never Really Here, Sandra continued: "She writes and directs beautifully crafted works: a combination of sublime imagery seamlessly woven together with affecting and often visceral sound design, and an inspired use of music. We talk a lot at the school about filmmaking being a collaborative process, and of course it is. And yet when we watch a Lynne Ramsay film, we really know it, and feel it – these films couldn't have been made by anyone else." Sandra also highlighted that Lynne was a particularly good fit to deliver the Colin Young lecture as she and Colin both share a maverick tendency! Colin echoed that sentiment, saying what an honour it was to have Lynne at the School.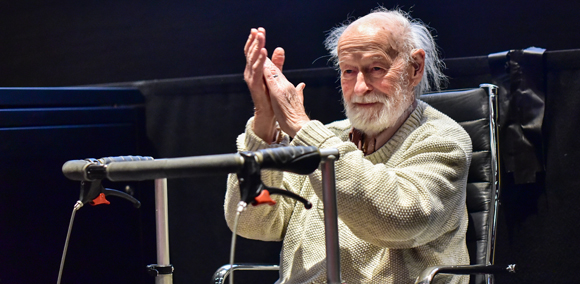 Talking about how she loved movies since being a kid growing up in Glasgow, Lynne said: "Cinema can really blow your mind, it's like dreams – visceral." Lynne then talked through how she painted and then took photographs and started documenting the rave scene in Edinburgh, taking black and white photos of people. Lynne came to the school to study Cinematography, but when Henning Camre, the then NFTS Director, saw her submission photographs, he immediately told her: "you're a director.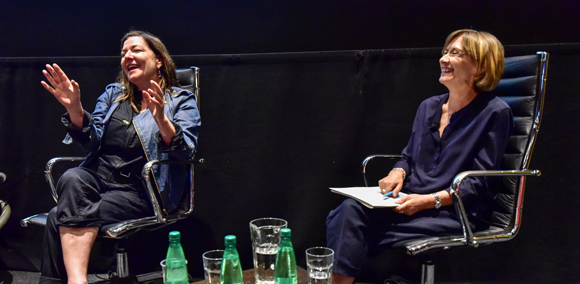 Reflecting on her work and continuing collaborations since the NFTS Lynne enthused, "One of the great things about the NFTS is the people you meet – I still work with people I met at the NFTS twenty years ago" On her writing style, Lynne said: "I write quite visually. Screenwriting is like poetry – it's a process of boiling something down to its essence, economy is everything." And on her personal filmmaking style, thinking back to her work as a photographer, she said: "I think I make portraits as a filmmaker."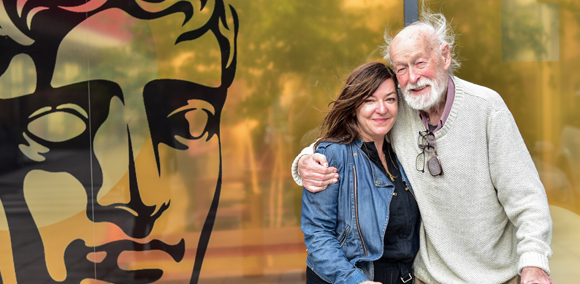 Lynne talked openly and in depth with the graduates about her experiences creating her films, recalling how much she'd enjoyed working with a young crew of student filmmakers on her most recent release, You Were Never Really Here and how much Joaquim Phoenix brought to his role.
Lynne then delighted students and graduates by staying to chat to them informally in the bar afterwards.