The NFTS was delighted to welcome back NFTS graduate, writer-director Michael Pearce for a Masterclass on his acclaimed film, Beast – for which he won the BAFTA for Outstanding Debut. The New York Times said "Mr. Pearce has created a feverish fairy tale riven with dark horrors and forbidden desires." Mark Kermode praised the way "Pearce's increasingly intense psychological thriller deftly overturns expectations as it dances between timeless fable, modern romance and murder mystery."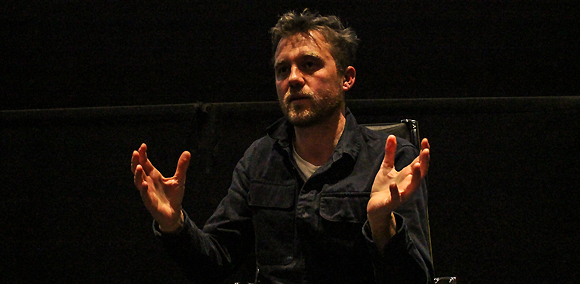 "I spent eight years working on the script" Michael admitted, talking to NFTS co-head of Directing Fiction, Ian Sellar. Michael told students how over that period, while continuing to make short films and adverts, the script evolved from being quite arthouse, through more genre horror versions before finding its final form. "I needed to get those drafts of the script out of my system, to try them, even though it felt like lost time. You only get one chance to make your first film and I'm glad I made this version of it." Michael said he loved the tone of the films Winter's Bone, The Place Beyond The Pines and Marcy, Martha, May, Marlene and how they have complex characters in a thriller framework.
Discussing the opening scenes of the film with Ian, Michael explained he liked films that set out early what their thesis was - 'this is what this movie is going to try and do'. For example, the striking sound design is written into the script of Beast for those opening scenes, "there was a line about the noise being like the circulatory system of a wild animal."
One of the students asked how Michael achieved the scene in which a rabbit is killed. "It was one of the hardest things!" Michael answered. "We looked into having an animatronic rabbit, but that would have cost about £30,000, which we didn't have, we looked at doing it with CG, we discussed whether we'd have to cut the shot of the rabbit while it is still breathing, but I felt it was important to see. Eventually we found a vet who could hypnotise a rabbit! But she was only prepared to do it once, and the rabbit only goes under for about 15 seconds, so we were all there poised with cameras and fake blood and had about 5 seconds. But we got the shot. And the rabbit was fine!"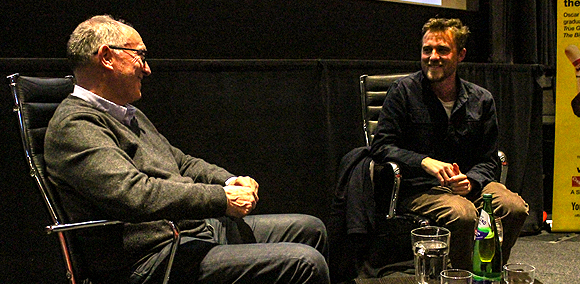 Praising the commitment and skill and passion of his lead actors Jessie Buckley (Wild Rose) and Johnny Flynn (Vanity Fair), Michael said "They were like a blessing. They felt like comrades in arms, along with the HoDs." He told students they had three rehearsal days together, and he chose to spend one of those days taking Jessie and Johnny to Jersey where the film is set, to show it to them and help them get a deeper sense of the place and the atmosphere and tone he wanted for the film. But he explained that they had a lot of lead up time to the shoot and they used that to speak in depth with the actors about the characters and advised students to do that as much as they could with everything - to spend as long as they could preparing. "Preparation frees you to be able to respond on the day in the moment."
Michael is currently developing a new film with Film4 – a US set sci-fi thriller Invasion. Beast is available on DVD.