"I long for the day when we can just get on with our work as women, not have to be activists to fight for the right to do it."
NFTS students were treated to two inspirational sessions with BAFTA winning writer-director Amma Asante. Fiction directing students enjoyed an afternoon Q&A hosted by co-heads of fiction Lesley Manning and Brian Gilbert. Later, all NFTS students had the chance to watch a preview of her latest film Where Hands Touch, followed by a Q&A with Amma in conversation with NFTS director Jon Wardle.
Amma was awarded an NFTS Honorary Fellowship earlier this year; her previous films include A Way of Life, Belle and A United Kingdom. Jon began the Q&A by asking about the journey to bring Where Hands Touch to the screen. "It was supposed to be my second film after A Way of Life, but at that time people didn't want to finance it", Amma admitted. "It took ten years after A Way of Life to make what became my second film, Belle." Acknowledging that it does seem to be harder for women to be supported to make films, she said "I long for the day when we can just get on with our work as women, not have to be activists to fight for the right to do it."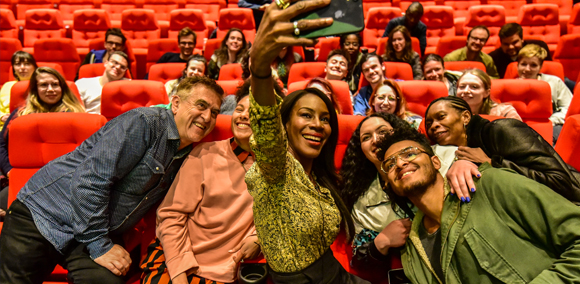 Amma revealed that coming to the NFTS was a key part in her journey to become a filmmaker. She hadn't been sure about directing as well as writing her first film – A Way of Life, which she went on to win a BAFTA for Best Debut Film. But the BFI encouraged her to direct it and sent her to the NFTS for a month to help her learn to direct. Amma recalled the difference it made when she first arrived at the NFTS speaking to Brain Tufano, former NFTS head of Cinematography, and DoP on films including Shallow Grave and Trainspotting. "He sat me down and said 'If you knew you could not fail, how would that change the way you made this film?' and in that moment I felt the weight of shackles fall off me. I hear his voice in my head all the time, because so much of what we do is a response to an anticipation of people's judgement."
During the ten years of trying to get her next film made after A Way of Life, Amma continued working on various projects, encouraging students - "It's a game of tenacity, and working out how to negotiate the obstacles. You've got to find ways to hang in there, for me it was writing. Keep honing your skills."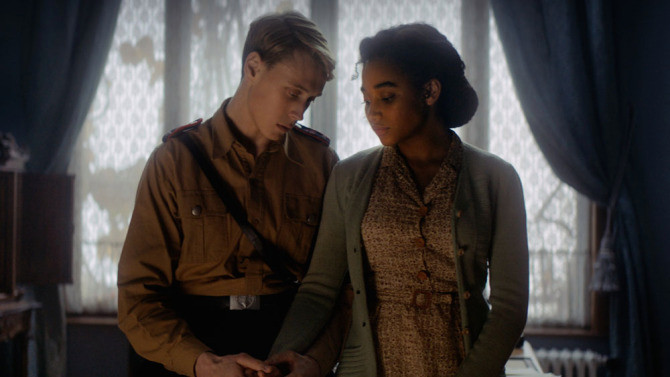 A photo of a young Afro-German girl standing with fellow school girls in 1943 Nazi Germany was the inspiration for Where Hands Touch. Amma recalled "When I first came across the photo I kept wondering how she came to be there, what her story was. What we know of history is limited – we're only told certain aspects of it. I realised I knew far more about Afro-American history than Afro-European history." Jon asked how she develops that initial spark into a film. "I begin by reading up to test my own nerve and hunger to tell this as a story. And I went from realising there were Afro-Germans in Nazi Germany to realising all my assumptions about how that might have been were nonsense and the reality was so much more nuanced. Then I brought on a researcher to work with me, and I interviewed Afro-German survivors of the holocaust."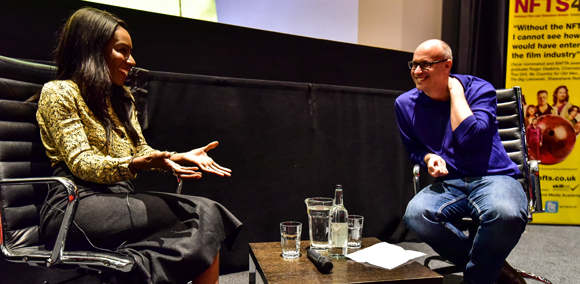 Reflecting on themes in her work Amma said "A key theme that came to me for this film was this idea that there are certain groups and people that we throw even more of a burden onto, by assuming they should have more of a moral responsibility. I wanted to explore how you find your moral compass when the moral compass of everyone around you is so off, and you're only sixteen." Continuing, "We pacify ourselves thinking that a group of monsters came along in this period of history, rather than that a group of humans threw away their humanity – and therefore it can happen again." Amma said "Generally I'm interested in telling intimate stories. Specifically the relationship one has with oneself, particularly during times of social and political transition."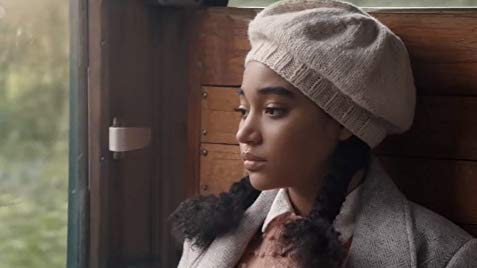 Discussing bias in the Industry, Amma said "I'm very disobedient – making movies that black women are not allowed to make. We're told to stay in our lane, and I won't. We're in a patriarchy, there's been a privilege for men from the start of cinema, so there are these groups in society who think they are infallible. People get uncomfortable when we step out of our lanes. You have to move round the biases of financiers, executives and whoever. It's at every level of our Industry. Transition is painful. And those are precisely the moments that you've got to push harder or those walls aren't going to come down. All we're trying to do is tell human stories."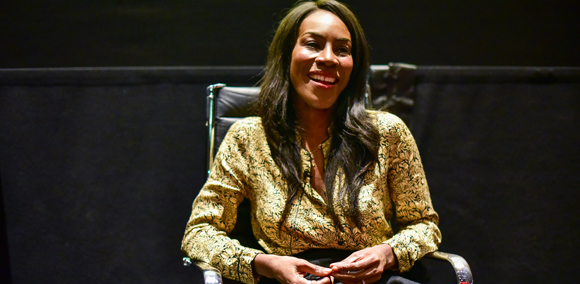 Amma has just completed directing two episodes of hit series The Handmaid's Tale and is working on her next feature, a Cold War thriller called Billion Dollar Spy.
Where Hands Touch is on release in UK cinemas from today.