16 July 2021: The NFTS is delighted to share the award-winning short film, The Bind, written and directed by BAFTA winning NFTS Producing (nfts.co.uk/producing) graduate, Caroline Bartleet (Operator).
Made through the BBC Film and NFTS Bridge to Industry (nfts.co.uk/bridges-industry) scheme, The Bind is inspired by a true story and stars Lorraine Ashbourne (Bridgerton, The Crown, Jane Eyre) and Andrew Knott (The History Boys, Tin Star, The Secret Garden).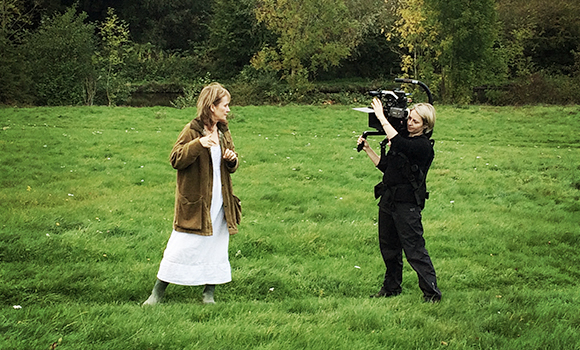 The Bind is a tense, rural-set thriller. When Ruth's son, Jamie, discovers his father has left the family farm to his brother Sam, he is enraged. Jamie has worked on the farm for 20 years and to him, this is the very worst kind of betrayal. In the middle of the night, shotgun in hand, Jamie drags his daughter across to his parents' house to confront them. It falls to Ruth to talk herself and her family out of a life-threatening hostage situation in which one false move could cost her everything.
The film was made by a crew of NFTS graduates, predominantly female HoDs, led by writer-director Caroline Bartleet and Producers Hélène Sifre and Marie-Elena Dyche, with Cinematographer Vanessa Whyte, Production Designer Violet Elliot and Composer Lindsay Wright, (further cast and crew credits below), working with development and production support from BBC Film and the NFTS and funded by BBC Film.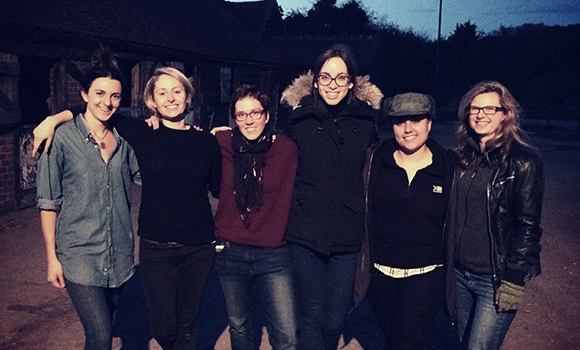 The Bind is based on a true story. The real Ruth was an unusual woman, out on the farm, building a business with her husband and far from the stereotypical 'homemaker' picture of the traditional mother and farmer's wife. The filmmakers explained they wanted to give a voice to this under-represented type of protagonist, a multi-faceted older woman in a rural community, and to really focus on Ruth's point of view, highlighting the female perspective.
Watch The Bind
Caroline, Hélène, Marie-Elena said "The Bind provided a great stepping stone into the industry following our graduation. It gave us a brilliant opportunity to work with BBC Films and to strengthen relationships made at the NFTS whilst developing some new ones too"
Most recently Caroline has been adapting Robert Harris's novel The Fear Index, for a TV series made by Leftbank Pictures for Sky, which is currently in production.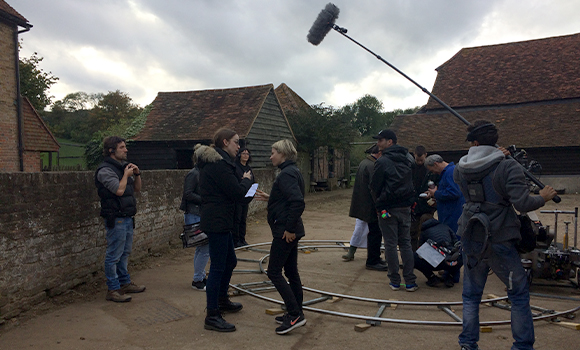 The BBC Film/NFTS Bridge to Industry scheme has two further short films in development at present – Original Skin, directed and co-written by Mdhamiri A Nkemi, produced by Sabina Smitham and co-written by Eve Hedderwick Turner (Anne Boleyn) and Shé (Snake) written and directed by Renee Zhan and produced by Jesse Romain.
The Bind cast and crew

Cast
Ruth Lorraine Ashbourne
Jamie Andrew Knott
Patrick David Schofield
Sam Jamie Parker
Maggie Clara Read
John Matthew Ashford
Connor David Shields
Ben Paul Campion

Crew
Writer & Director Caroline Bartleet
Producers Marie-Elena Dyche & Hélène Sifre
Director of Photography Vanessa Whyte
Production Designer Violet Elliot
Editor Yann Heckmann
Sound Designer Zoltan Juhasz
Composer Lindsay Wright
Executive Producers Venetia Hawkes, Jon Wardle & Tom Chesover
Casting Director Alex Irwin
Costume Designer Oliver Cronk
Hair & Make-Up Artist Camille Nava
Poster Graphic Designer Christopher King
1st Assistant Director Demian Lovett
Production Manager Alexandra McArdle
Production Coordinator Emma Clarke
Art Directors Adam Sutcliffe, Ian Crossland
Gaffer Rufai Ajala
Sound Recordist Emanuele Gabbi
Script Supervisor Jodie Woodall
Digital Compositors Gillian Simpson & Robin Rhee
Online Editor/Colour Grader Owen Hulme

Full credits on IMDb.
#NFTS