Recent NFTS Directing Animation graduate Micky Wozny takes us behind the scenes of her beautiful and moving graduate production, Something Borrowed, a 2D drawn animation film.
The film tells the story of a sweet old woman who can't find the right words. But when she lends her pen to a hopeless young chap, it's more than just words that elude her.
In this blog piece, Micky talks about her relationship with animation, developing a 2D film with such close emotional links to her personal life and her highlights of studying the world renowned NFTS Directing Animation MA.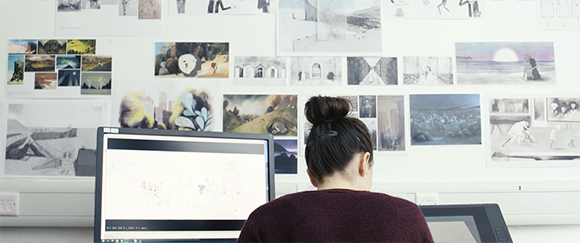 "I've always had a love for art and wanted to pursue something in that field. I completed an Art and Design Foundation course at New College Nottingham, which allowed me to explore all kinds of areas from sculpting, to pattern making, fashion to animation. I enjoyed animating the most, despite not knowing a great deal about it and went on to complete an MArt course in Animation at Sheffield Hallam University where I created two short films, one of which won the Student RTS Award.
I freelanced for a while in Sheffield before receiving my first position as an animator for a digital agency. While this was a great step for me, after a couple of years I found myself really missing the creative atmosphere I had experienced at university. I wanted to tell stories and become a better animator.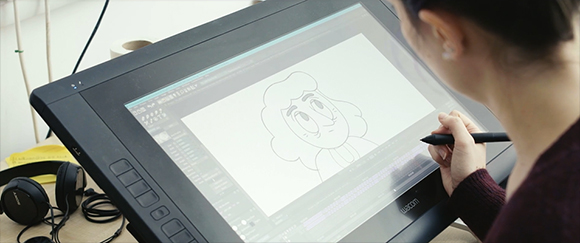 I had been made aware of the NFTS and the Directing Animation course at university but it seemed very much like a pipe dream at the time.
However, after some encouragement from co-workers and my old tutor, I decided to try applying. I believed there'd be very little chance and I had no idea how I would be able to pay for it but as I was told by my friends, if not now, when?
I then somehow got through to the workshop and interview stage, which unbelievably led to a place on the course!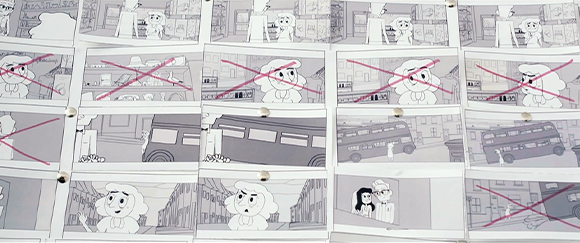 I think everything an artist creates should come from an authentic place. In my opinion, that's what makes any piece of art unique or meaningful. Admittedly though, I wasn't expecting to make a film about something so emotionally sensitive and it was very challenging at times. It added a lot more pressure as it drove me to make sure the film was as good as it could be. Yet, due to the nature of the subject it meant that some of my fellow team members had a real emotional connection with the story as well, which in a way made the process easier as there was a mutual understanding.
As the film is set in a fictional northern town, we wanted to ensure the accents were authentic, but we also wanted actors who we felt would have great chemistry with one another. Knowing Jane Horrocks and Jason Watkins had worked together in the past, it was a dream casting we never really thought we'd be able to get for our little film! I wrote to them both about my story and why I thought they'd be perfect for the roles. They have a wonderful range and have played integral roles in British culture so it was amazing to get them on board. They were both so lovely to work with and they gave their all, really bringing the characters to life in a way that I could never have expected.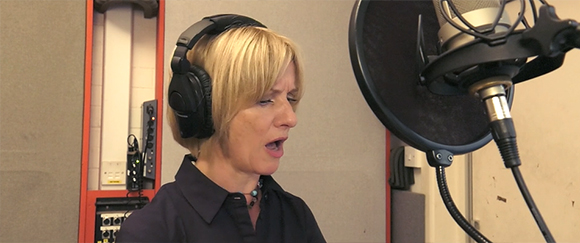 One of the biggest challenges for me was I really struggled with my confidence and in my first year in particular I felt very out of my depth. Being surrounded by such talented people could be quite intimidating at times! However, after a few projects I started to realise that everyone was in the same boat and the NFTS is the perfect place to make mistakes and to learn from them. It's about growing to be better storytellers and filmmakers and confidence in myself steadily grew.
By the time I was making my graduation film (Something Borrowed) I had a wonderful team behind me which gave me a boost I'd never felt before and we were making something we all believed in.
It's always exciting to see your film becoming more formed with each step of the process. Writing up the beats of the story into an actual script, spending time in the edit room polishing off that first animatic, slowly completing shots of rough animation, adding layers of sound and voices and music. Each time a new wave of excitement and pride from the team, a sense of 'this is actually starting to feel like a real film now!'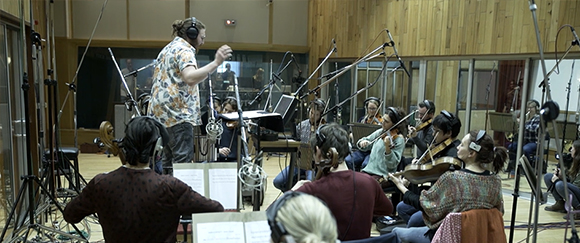 The experience of genuine unity and pleasure of working with a bunch of really talented people is so uplifting and enjoyable.
It was incredibly valuable to learn that not everyone works in the same way or has quite the same frame of mind. Sometimes a different approach or sense of direction is needed to communicate thoughts and ideas so that everyone can be on the same page. It's important to always remain professional, calm and patient.
I was lucky enough to work with a team of amazing people. The ability to pitch your story idea across the different departments was a great way to ensure that the people you were going to work with have faith in your idea and want to help you complete your vision. It's an incredible experience and I know that I would never have been able to make the film to this standard without such a talented group of people contributing every step of the way.
On the Directing Animation MA the tutors were fantastic and they really push you to the best of your abilities. Meeting professionals and viewing the medium from different perspectives was really useful. Working with materials and methods of animating that you may not have ordinarily chosen is really illuminating as well as highly rewarding. The NFTS in general was an amazing place to be. The Masterclasses and film screenings were so great. Getting insight from industry professionals was invaluable.
When I had the time, socialising with others at the bar was always lovely too. Being able to catch up with friends dealing with similar pressures was always comforting and cathartic. The NFTS parties were always lots of fun too!
My advice to someone thinking of applying to the course, and what I wish I had been given is don't feel like you're not good enough. If you really want something, work hard and you can make it happen.
As my friends said, if not now, when? There will always be an excuse not to, but you never know what's around the corner and later down the line you may not have the opportunity to try. If you take that chance, it might be the best thing you do."
Watch the making of Something Borrowed below:
Watch the trailer and see the Something Borrowed Cast & Crew



Cast/Voices
Jane Horrocks
Jason Watkins

NFTS Crew
Director/Lead Animator - Micky Wozny
Producer - Andrew St Maur
Screenwriter - Nathan Hardisty
Cinematographer - Twan Peters
Production Designer - Gabe Robertson
Production Manager - Malika Ruzmetova
Editor - Jan Schroeder
Sound Designer/Dubbing Mixer - Ruth Knight
Composer - Ethan Jeffrey
CG Artist - Jordan Carter
Colourist And Online Editor - Andrea Lo Priore
Something Borrowed premiered to industry in February at the 2020 NFTS Graduation Showcase at Picturehouse Central in London. It has since gone on to be nominated for the Animation award at the BAFTA Student Film Awards 2020, along with eight other NFTS films including two more from the Animation course!
Follow Micky on Twitter and Instagram and check out her website.
Apply today for this incredible award-winning course and start your journey to a career in Animation in January 2021. If you have a passion for storytelling, creating characters and the art of animation, the course will give you the skills to bring these passions to life on screen and help you develop into the filmmaker you aspire to be.
Two years, full-time.
Graduates include the creator of Wallace and Gromit (Nick Park) and Peppa Pig (Mark Baker).
Collaborate with students in other specialisms across the School to make several films, putting into practice the skills you learn during the course.
Combines art school philosophy with state-of-the-art film school facilities.
All production costs are covered by the NFTS.
Find out more here!
23/06/2020