In this blog piece, current Directing & Producing Television Entertainment student Matthew Bibby and recent graduate of the same course Nelson Asare talk us through their collaboration on the glitz and glam of their summer project, a pilot titled Celebrity Cage.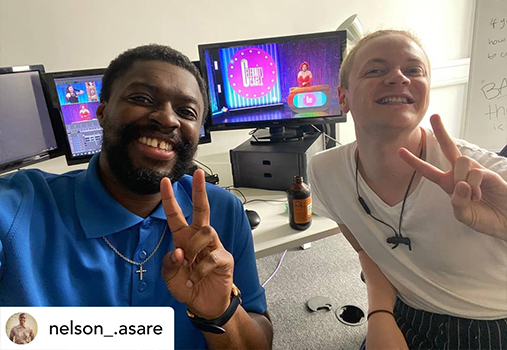 Described by the team behind its inception as a 'celebrity trivia gameshow', Celebrity Cage sees three contestants compete to cage as many celebrities as possible. Nelson returned to the School to take on the role of Director while Matthew took on the responsibilities of producing. In this very entertaining Q&A, the duo talk us through the collaborative challenges they faced while undertaking production during a pandemic and the best bits about studying at the NFTS.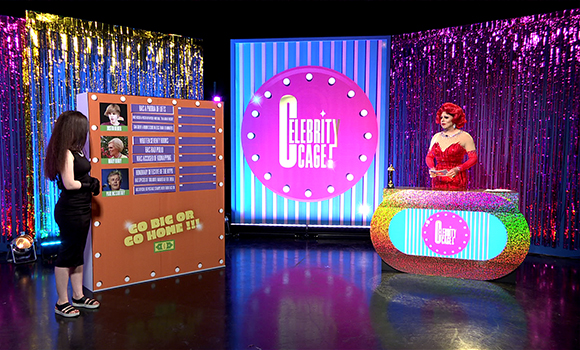 What was your background before coming to the NFTS and how did that lead you to study here?
Matthew: Before the NFTS, or the dark ages as I call it, I studied Creative Writing and Film Studies at the world-famous University of Hull.
Originally, I was going to apply to the NFTS straight out of university, but a small voice in my head (probably the voice of God – or Oprah) told me that I should wait a year, save up (which I totally did…) and get as many contacts and experience as possible.
Nelson: Before I studied at the NFTS, I had completed my undergraduate degree in Media, Communication and Society, at Nottingham Trent University in 2016. For the following two years, I had been working in the news industry, starting off as a Camera Operator, filming some of the biggest stories and events, and then moving onto work as a Floor Manager responsible for the news studio's day to day operations. I came across the NFTS while searching for courses to further my career and learn new skills.
What was the brief for Celebrity Cage and why did you interpret it the way you did?
Matthew: The brief for our 'Summer Multi-Cam' project was relatively vague as our tutor wanted us to be as creative as possible. His only stipulation was no talk shows! The parameters for the project were that it had to be made on site within the NFTS TV studio. We had four cameras in addition to a handheld camera. What I really wanted was for it to be as fun as possible. My last project was quite serious, and I want to ensure I graduate from the NFTS with as many styles of shows as possible. So, the thinking was, fun, camp (of course) and plenty of glitter! This is how Celebrity Cage was born: a celebrity trivia gameshow, where three contestants compete to cage as many celebs as possible with a catchphrase of…."so get caging!"
What was the biggest (non Covid related) challenge you had to overcome during development and production?
Nelson: Being a quiz show, there were obviously going to be many rules and elements involved in the gameplay; so the biggest challenge that we had to overcome was how to absorb the intricate details of the show, all while planning via Zoom. Because of that, it also made it more difficult to test out how the gameplay would work on contestants because logistics restricted us from meeting other people.
Matthew: I would have to agree with my director. Gameshows require testing upon testing, upon testing. I played the game, I forced family to play the game, as well as any unfortunate soul that walked my way that didn't look too busy. By the time it comes to shooting a gameshow you need to make sure that all the rules make sense and the rounds are playable and most importantly the game is FUN!
How did the new Covid-19 protocols affect making the show?
Matthew: Originally when we went into lockdown, we lost a few weeks of production, which means we lost studio time, so we had less time to shoot. Usually the summer multi-cam shows have one week dedicated to each show with one day of rehearsal and one day of shooting, so there would be enough time to make a full set. However, due to losing those few weeks meant that we had to shoot two shows per week, so our amazing set dressers only had one day to build and dismantle the sets. Hence, all the teams had to have the same backgrounds as each other, which limited how big and elaborate we could make the sets. My solution was glitter and a lot of tinsel!
What was your favorite part of making the show?
Nelson: It was actually meeting Matt as he's such a great collaborator! Our process when putting the show together was so succinct; he knew what he wanted the show to be, and I knew where I could bring in my ideas to help further it along the way. I enjoyed every part, from our first phone call to the final day of editing; it's everything you want from a project.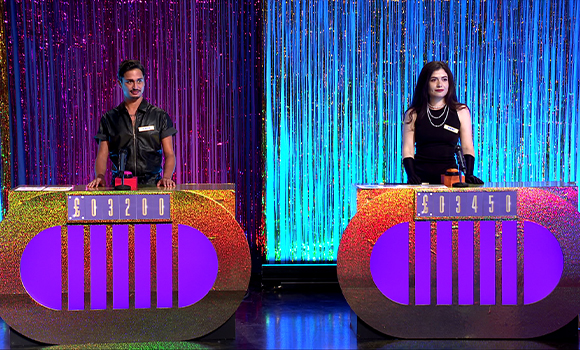 What was the most significant thing you learnt during the process?
Nelson: It is very possible to create a TV show while working with a team remotely even if it's not the most ideal situation to be in. The key thing is hearing out each other's views and ideas, and then working out the best fusion that will come from it. Every department has a unique flavour that they can add to the idea.
Matthew: During production of Celebrity Cage, I learnt how to juggle. Producing a TV show is very hard – who knew? Jokes aside, this whole process requires you to be able to be present every second of the day and be thinking about everything, from the colour and mechanics of a wind-up toy prop, to proof reading a script to look for typos, misspellings or basically anything that our HOD, David G Croft could call us out on – which he likes to do, in a loving way of course!
What was the best thing about making this show at the NFTS specifically?
Nelson: The School. There are industry grade cameras and equipment, a free studio space which is usually so expensive in the outside world, awesome freelance tutors who work with us on our shows and also we collaborate with talented students who are the next generation of content creators so we have that network with one another.
Matthew: The obvious thing to say would be not worrying about finding the money to pay for the production, but mainly it is the tutors and students that get involved. 30 plus people were involved in the making of this show. We get paired up with professional set designers, camera operators, script supervisors and lighting technicians to name a few. All of these heads of departments gave something to every show, not just mine.
For example, on the day our amazing Floor Manager – Aiden Boulter, came up with the idea for La Voix (the host) to walk off stage while the winner's speech is happening – hilarious! Well, it'll be funnier when you watch the show.
Also, I have to mention we were given the opportunity to work with some amazing students from other departments who worked on the graphics and music, if anyone needs someone amazing for either of those things call me, I can hook you up!
Do you have any general highlights of studying the NFTS TV Entertainment course?
Matthew: So far there has been loads. When we started the course way back in February, we had a few magical weeks of being shown around the School and meeting all the other students. Us TV students spent a week called studio familiarisation where we did four mini filming exercises to learn how a TV studio works and what each role is. More importantly and nerve rackingly, we got to take it in turns to try out every role. Four shows in five days, it was thrilling, hilarious, educational and it gave us all the studio bug, to the point where no one wanted to leave. And it was also a good indication that I was defiantly on the right course. I look forward to all the future projects that our Head of Department David G Croft throws my way!
Nelson: Across my two years on the MA, I garnered a whole heap of favourite moments. During my one month work experience placement at Fremantle's factual label Boundless West (arranged through the course) I worked on Escape to the Country which was sensational! (Fun fact: I recently came across the episode that I worked on airing on TV while I was in working in Scotland on a different shoot which was quite cool!)
Another highlight of mine was creating my final project 'Generation Frustration' my Producer, Ruheng Wang and I are both gameshow crazy and we wanted to make a show that emulated the banter and awkwardness of being a millennial and all its ridiculous struggles!
What advice would you give to someone thinking of applying to the course and wish you had been given?
Nelson: My advice to someone thinking of applying to the course is to approach it with an open mind, and always be ready to try your hands at any and everything available both in the School and external projects.
Another thing I have always believed and continue to say is that out in the 'real world', there's far less scope and forgiveness when experimenting goes wrong. The NFTS is the best place for you to try your hand at new things because you can make mistakes and learn from them, all in the name of education! It's a safe environment where the tutors and other students will always be ready to help you when needed.
Find out more about the Directing & Producing Television Entertainment course on our website at: nfts.co.uk/tvent
Location | Beaconsfield
Duration | 2 Years
Commitment | Full-time
Next intake | January 2022
Application deadline | 08 Jul 2021
Scholarships available