As one of their first projects back at the NFTS after returning from lockdown, our first year Directing Fiction, Cinematography and Production Design students teamed up for a project titled 3DDD. Their brief? Work together to hone their collaboration skills, all within tight time constraints and minimal budget while adhering to strict Covid-19 safety protocols.
In this blog piece, Production Design students Juan Camara and Jack Haggerty talk us through their roles on the 3DDD's project.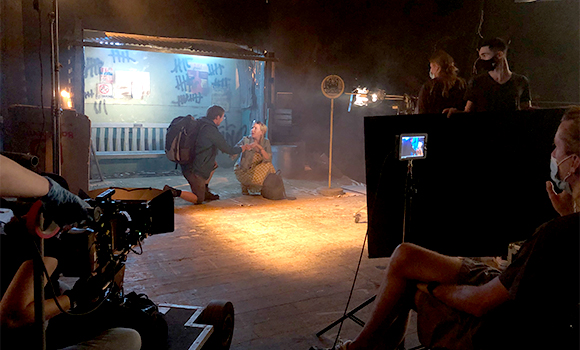 What can you tell us about the 3DDD project?
Jack: The project involves Directors, DoP's and Designers working together in groups of three (that's the three D's!) We had a day to build and a day to shoot with next to no budget. It takes a mix of planning but also being able to improvise because a lot of the set is made up of whatever we can find!
Each group takes it in turns to build and shoot, with half of us building and then shooting while the other half assist, then for the following two days we 'strike' the sets and swap over.
What is your role as Production Design students?
Jack: Initially, when we are put into our teams, we are given a word like 'hate', 'light' or 'love' and as a team we meet and chat about what we want to do. Lydia Rui our director put together a treatment of what she wanted to aim for and then we talked through what we thought would be achievable and the direction we wanted to develop in. We did all this over Zoom of course, which was challenging but not too bad! Then, when it came to building the set and to source the materials it was a bit 'beg, borrow and steal'!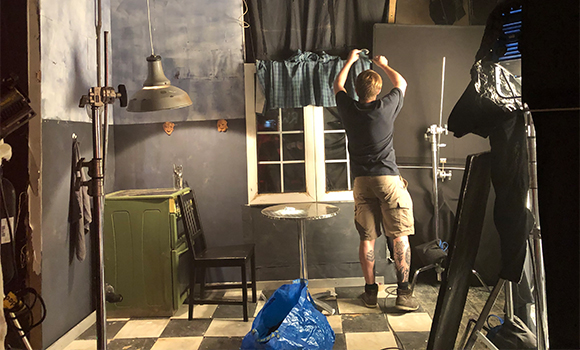 Juan: First, our director Jordan Chandler, wrote the script and we kept meeting every week or every few days on Zoom. We'd read through it, jot down our first impressions then myself and our Cinematographer, Jack Edwards, did our own research on how to express what she was imagining. The concept was to create a Dadaist look so we had to discuss how we would translate that visually.
We wanted to create a surreal and ambiguous mood through the use of different 'instruments' particular to each of our courses whether Directing, Cinematography or Design to enhance the story. For example, we decided on a minimalistic design with a monochromatic palette, working with a base of blacks and whites so that any colour or particular shape we used would stand out. We also focused on extremely little details to create specific textures, from looking at how water droplets shine in a particular way on the bin bags on the floor, using diffusers to create a city-scape backdrop and exploring optical distortions like having a fishbowl filled with water and looking through it to physically convey irrational juxtapositions on our sets. We were also very lucky to be able to work with Charly Morgan-Ivy who brought her character designs, which visually completed this films' world, right out of the unconscious mind.
It's a super open brief. The main point of the project is so we can get to know each other. We get to do our own project between the three of us and then all the other teams help us out and we help them out. It's just a really nice dynamic to get to work with everyone in.
Are you happy to be back at NFTS?
Jack: It's great to see the people that are back and obviously it's nice to start working again. Production Designers were working on other "paper projects" at home, so we've been busy since we left the School which is good. During our time working from home we had tutor Stephen Swain who was great. We would send him our work and drawings then he would screen share on Zoom and mark it, giving us feedback to help us work through the process. It's obviously more efficient when you're in the room and can talk through stuff but considering the circumstances, I can't complain!
Juan: It's lovely! We're just getting back to something called 'human interaction', it's quite fantastic!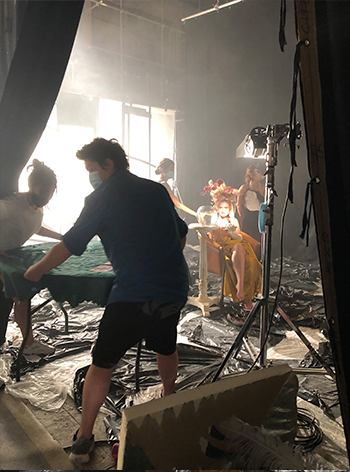 How has it been working under the new Covid-19 safety regulations?
Juan: It takes a little while just to get used to them but they're completely fine, and if that little extra effort means that we can be here together then it's well worth it. We just have to do things properly and get everyone to be safe and not put anyone at risk.
Sunny Bains, NFTS Health and Safety Manager commented: "The students rose admirably to the challenge of implementing the new Covid Production Safety Protocols during their productions. It does take time to get used to the new way of working, however, they worked diligently to ensure that everything remained Covid-secure and have truly achieved some amazing work!"
The Production Designer plays a vital role in creating real and imagined worlds on the screen. The NFTS Production Design course develops your individual creativity and teaches you the technical skills essential to make you stand out in the film and television industry.
Find out more about this exciting full-time, two year course on the course page.
Email info@nfts.co.uk to find out how to apply.