Recent Production Management MA graduate Lára Kristjánsdóttir takes us behind the scenes of the gritty and moving 2020 graduate production, Stratum Deep.
Set in the aftermath of the 1980s miners' strike, Stratum Deep follows the story of Robert (Thomas Turgoose), a young coal miner, who is severely injured when a coal mine collapses, but fights on in an attempt to rescue his father.
As with all productions, Stratum Deep presented its own unique challenges for our students to overcome while shooting at the NFTS and on location within a real coal mine in Yorkshire.
In this blog piece, Lara recounts her experiences of filming such a complex project and how the Production Management course enabled her to be 'job ready' upon graduating.
"During the production of Stratum Deep I learnt that with good collaboration between departments you can accomplish great things, even with a tiny budget, limited time and unusual locations! From the beginning we knew we wanted to shoot in a real coal mine in Yorkshire but we would need to build a replica set of the coal mine once collapsed.
It was a challenge for our Production Designer Andrew Merrison to design the replica coal mine on the main stage at NFTS with such little time to build, but after two sign off meetings we managed to ensure the set was the way the creatives wanted and most importantly, safe for our crew and actors. As it turns out, having to blow up your main actor requires smart and safe planning…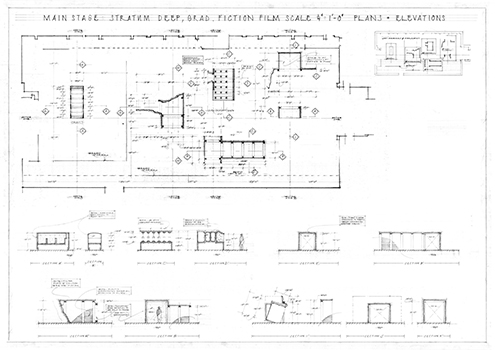 We had to think strategically when it came to shooting in Yorkshire due to budget and time. We decided to only bring necessary crew to Yorkshire and sourced some local people to join us. By doing that we could also have crew back at the NFTS preparing the set whilst the essential crew were down the coal mine. Sometimes budget restrictions turn out for the better!
However, preparation for filming in the coal mine was not something to be done cheaply. Shooting in a real coal mine is no joke: limited lighting, slippery, only one access point via a lift, no batteries allowed and no communication radios to name just a few of the challenges. A lot of things could go wrong and we needed our crew to be fully aware of the dangers. We ended up consolidating the vital information our crew needed to know into a document that we named 'A List of Really Important Shit To Be Mindful Of', which worked perfectly! Filming went great, the crew were aware and efficient and we got everything we wanted. I believe if you put enough effort into prep and taking care of your crew whilst shooting, they will repay you by putting all their effort into making the film the best it can be – so it's safe to say, money well spent on recces!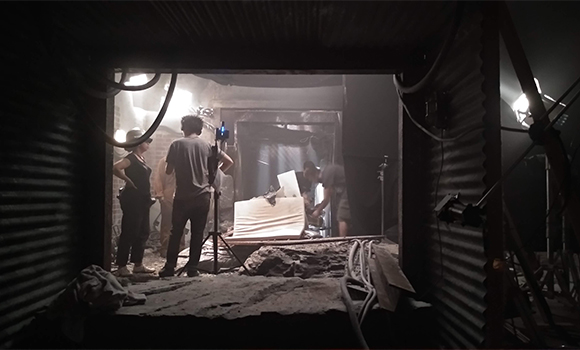 The main thing I learnt during my time working on Stratum Deep was the NFTS really ensures that your productions at the School are a representation of the industry standard. I went straight from my last project as Production Manager at the School to working on a professional short in collaboration with the BFI and Film 4 as PM and I couldn't believe how similar everything was. I was really happy to discover that what I learned at the School truly prepared me for the real world."
See the Stratum Deep Cast & Crew

Cast/Voices
Robert - Thomas Turgoose
Paul - Barry Aird

Stratum Deep Crew
Director - Lian Meng Rose
Producer - James Bowsher
Screenwriter - Nathan Hardisty
Cinematographer - Nathalie Pitters
Production Designer - Andrew Thomas Merrison
Assistant Directors - Rosie Collins, Aline Leduc
Assistant Camera - Mark Frendo
Production Manager - Lára Theódóra Kristjánsdóttir
Editor - Gareth Pugh
Production Sound Mixer - Griff Miles
1st Assistant Sound - Angus Puczyniec
Sound Designer/Dubbing Mixer - Ruanth Chrisley Thyssen
Composer - Ethan Jeffrey
VFX Supervisor - Nicola Borsari
VFX Producer - Dominik Bari
CG Artists - Jordan Carter, Mafalda Soares, Miya Shen, Terrence Hughes
Compositors - Nicola Borsari, Dominik Bari, Eliis Kuusk, Carina Carlsson
Colourist/Online Editor - Michael Pearce
Stratum Deep premiered to industry in February at the NFTS Graduation Showcase 2020 at Picturehouse Central in London which culminated in a graduation ceremony at Odeon Luxe in Leicester Square.
Students chosen by key NFTS industry partners; Sargent-Disc, Avid, Christie, IOSH and Panalux received awards at the graduation ceremony for high levels of achievement in production and this included Lára being awarded £500 for 'Best All Round Student Award' by Sargent-Disc and £250 for 'Health and Safety Management in Film Production' by IOSH.
Lára wasn't the only Production Management graduate to win an award at this year Graduation Ceremony. Fellow student Elodie Taylor was also awarded £500 by Sargent-Disc for 'Best Budgeting Skills'.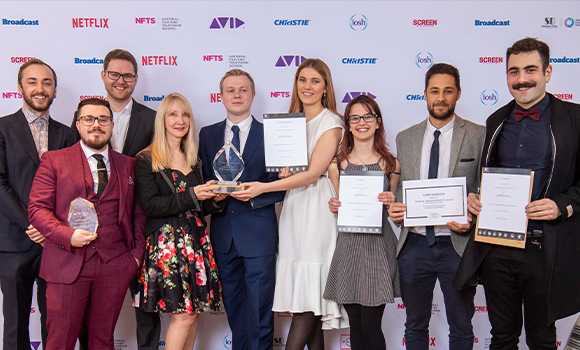 Head of Production Management Bex Hopkins said:
"Stratum Deep is a great example of the exciting and challenging films we produce at NFTS, which provide the Production Management students with lots of opportunity to hone their production skills.
All our films are funded entirely by the NFTS so the students can focus on their role, to make the best film possible, whilst being supported by a team of industry professionals to tutor them through the process. Being resourceful and creative people they get some amazing deals and make sure every penny available is spent on the screen!
The Production Management students complete the course with several productions across different genres under their belts, and with plenty of experience using industry standard systems and software. It's fair to say they are ready for life in the production department and keen to get started as soon as the course finishes."
Book your place at the next Production Management Virtual Open Day!
Applications now open for this course, apply before the deadline on 31 May to get the opportunity to work with incredible teams on industry standard productions like Stratum Deep. Apply today.