29 June 2021: The BFI today opens applications for the Short Form Animation Fund, which aims to support growth in the UK animation sector. With awards of £30,000 to £120,000 available for successful projects, the Fund, which is now in its second round, is seeking applications from a wide array of UK animators and will back projects which represent a significant advancement in their work, enable progression and open up new opportunities. The Fund is supported by National Lottery funding and operated by the BFI Film Fund.
A new development within this round is a partnership with StoryFutures Academy – the UK's National Centre for Immersive Storytelling run by the National Film and Television School (NFTS) and Royal Holloway, University of London (RHUL) – who will contribute a grant of up to £50,000 each to support two animated projects that are intended to be immersive in nature, through virtual or augmented reality content. Applications are open until Monday 16 August 2021 at bfi.org.uk/AnimationShortFund.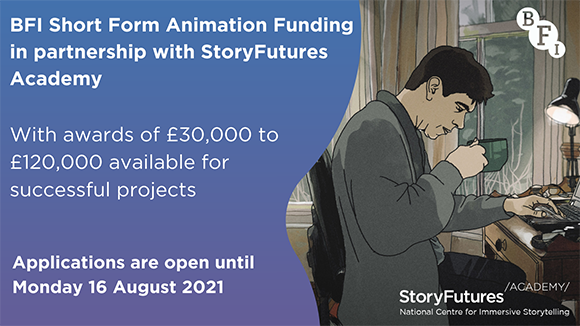 Supporting higher-budgeted animated work of up to 15 minutes in length, the Short Form Animation Fund can support narrative short form projects in any animated technique or genre and for any platform, including cinema, digital platforms, and immersive. It responds to priorities set out in BFI2022, the BFI's five year strategy, which identified animation as a focus area, and a commitment to encourage continued experimentation in form and content.
The BFI is committed to supporting a diverse range of talent and addressing underrepresentation so is actively encouraging ethnically diverse teams to apply. Following the first round of the Short Form Animation Fund, in November 2020 the BFI announced nine projects supported in production, of which two are now nearing completion. A further project, Scale, has since received production support from the initial Fund.
Natascha Wharton, Head of Editorial at the BFI Film Fund, said: "The Short Form Animation Fund is already proving to be a real boost to talented animators, enabling them to develop their practice, continue to innovate and progress their careers in an area that often struggles to find commercial funding. In addition, our new partnership with StoryFutures Academy presents an exciting opportunity to support animators working in the immersive space."
Becky Gregory-Clarke, Head of Immersive at StoryFutures Academy, said: "StoryFutures Academy is delighted to be partnering with the BFI to help support this highly skilled and crucial area of storytelling innovation. Beautifully told, immersive, animated stories have been a hugely exciting and growing genre of content over recent years, and this fund represents a brilliant opportunity for the UK's world-leading animation talent to access much needed support in turning their hand to the world of immersive storytelling."
The Short Form Animation Fund was developed with the support of Animation UK, Animation Alliance UK and Helen Brunsdon, Director of the British Animation Awards, who consulted extensively with the animation industry.
Projects funded through the Short Form Animation Fund will benefit from the oversight of a BFI Film Fund Executive and a dedicated animation specialist. If teams would benefit from a relationship with an experienced studio or company, introductions could be facilitated. Projects supported by a grant from StoryFutures Academy will also receive additional oversight from a specialist in immersive content.
The BFI continues to support animation talent through BFI NETWORK with awards of up to £15k per project available for filmmakers at the early stages of their career. In addition, the government funded Young Audiences Content Fund from the BFI supports the creation of distinct, high-quality content for children and young audiences to be broadcast on free-to-access, Ofcom regulated television channels and online platforms.
#NFTS