The NFTS is continuing to evolve and adapt to the impact of the Covid-19 pandemic and with course applications open for a September 2020 start, the School is keen to keep prospective students informed and supported. NFTS Director, Jon Wardle, tackles a few of the frequently asked questions that have been incoming recently, answering some key queries you might have if you're thinking about applying to the NFTS during this uncertain period. Jon also talks candidly about the challenges facing the film, television and games industry during a time when it is confronting a situation unlike anything we've ever known.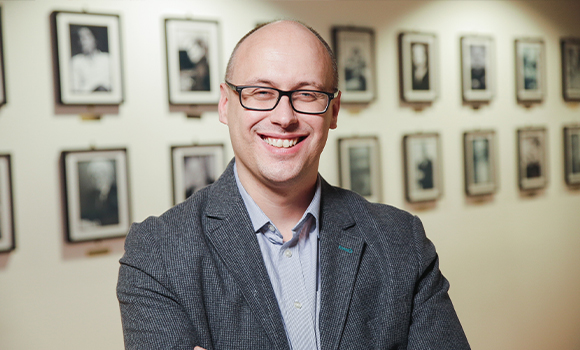 Q: How has the NFTS transitioned to remote learning during Covid-19 and have students found it a challenge?
Jon: "All of the NFTS' specialist MA, Diploma and Certificate courses and our 500 plus students are continuing to push forward with their studies – it's made me very proud to see how everyone has pulled together during a really difficult time. The NFTS is a very hands on School. Students 'learn by doing', making films, television shows and games to an exceptionally high standard in a real studio environment. Our graduates go on to work on 97% of the biggest films and television shows made in the UK, from Chernobyl to 1917, so translating a fraction of that into a new online format felt like a mammoth task but I think it's fair to say we have done a really good job. The ingenuity, imagination and resilience of my colleagues and our students during this time has truly astounded me. You can hear directly from some of our students to find out how supported they've felt during their studies whilst in lockdown below."
Q: I'm interested in applying for an NFTS course starting in September but am worried it won't be possible to due to the impact of the pandemic. Can you offer any reassurances?
Jon: "Absolutely. We are totally committed to the same transformational high quality experience we are famous for. But as we move ahead it's likely that we along with every other sector will have to adopt to a 'new normal' way of working. But we are used to that in production. Filmmaking is all about adapting and problem solving.
On a practical level in the short term, it's very likely that the things that can be done online and remotely will be. e.g a seminar with a guest speaker or a workshop on scheduling or budgeting. By doing these things online and freeing up space on site it will create the resources and focus to ensure that when we do the things that can only be done face to face we can ensure they are safe and in line with industry best practice.
We have robust contingency plans in place to map for every eventuality and we are working with our industry partners to learn from them. For example Netflix, ITV and Warner Bros have been very open with us about how they plan to move ahead. So we aren't on our own trying to work out these solutions.
It's also important to note that audience appetite for content is increasing exponentially so there will always be jobs within the industry so just keep going forward on your path.
Studying and graduating from the NFTS will have an undeniable impact on transforming the rest of your life! Once the industry gets back on its feet it will need skilled, job ready graduates who can jump straight in and make their presence and expertise known across all areas. As my friend Ben Roberts, the CEO of the BFI said recently in a session with our students; 'we thrive as we recover' and I couldn't agree more with that sentiment."
Q: Will the ongoing impact of Covid-19 mean a change in how the NFTS delivers courses?
Jon: "Yes it will. Our more class based courses will be easier to offer as blended learning so some will become a combination of face to face and online delivery. However, students will still have the same amount of tuition from our teaching staff and visiting tutors, many of whom are leaders in their field.
There is no doubt our more practical courses such as Model Making and Production Design present greater challenges for us, but we are confident that the steps we have taken at the School will enable all activities on site to be undertaken safely. The health and safety of our staff and students is always our key priority and our Head of Production and Health and Safety Manager have been busy producing a set of production guidelines which will be issued to all students working on their graduation films/first year production workshops. They will work closely with all departments and students to ensure our sets and productions continuously reflect the latest UK industry guidelines approved by the government around coronavirus."
Q: Has lockdown changed the way the NFTS will do certain things in the future?
Jon: "That's a good question and the answer is almost certainly yes. But it still feels a little soon to agree completely what those things are.
The NFTS is a modern organisation and one that has always been very receptive to change – there is no room for complacency. Before the pandemic, most of us at the School had never used Zoom but there is no doubt we will continue to utilise it going forward for studying and teaching as blended learning where appropriate becomes our new norm. Throughout lockdown, we've been able to attract the most incredible names into our students' homes through our Virtual Masterclasses, featuring David Fincher to Elisabeth Moss and Ricky Gervais to name just a few. These webinars have been a fantastic way of bringing together all our students from across the country from our hubs in Scotland and Leeds to London. All of us gathering together at the same time has really helped keep alive the community spirit that is an intrinsic part of studying at the NFTS.
In addition, we have created a new strand of the School's work under the banner of 'Open House'. Basically this is where students from any course can attend a session that is posted in the Open House section of our intranet. So for example, the Head of the Directing Fiction course has been running a series called 'Opening Reels' where he looks at the opening scenes of movies and tv shows and it's been great to see Sound Recordists and Production Managers attend those sessions. When we were entirely face to face, those sessions would have only been for the directors."
Q: I'm an international student interested in studying at the NFTS. Is applying still an option for me?
Jon: "Yes, apply. All our MA courses start in late January 2021 and we are very hopeful that by then the world will be a brighter place. If it isn't, then the NFTS will be a pretty great place to ride out the storm and move forward in your career. We will do everything in our power to provide you with a quality of education that represents the best of the School.
That said, if you don't feel ready to move or travel at this time then shortly we will be launching a new online course. This will run for six months and will be a fantastic way to strengthen your application for an MA the following year."
Q: How are NFTS students and staff supporting one another right now? What resources are at their disposal?
Jon: "Whilst on lockdown, we have done all we can to ensure students and staff have felt fully supported. Heads of Department have been pro-active with regular Zoom meetings, virtual coffee mornings and one to one phone calls. We communicate daily with students via our intranet Workplace from Facebook, so they don't have to contend with multiple platforms or dozens of emails each day. We've offered everyone the opportunity to sign up for a free subscription with BFI Player and boosted spirits by bringing our students virtual Masterclasses with some of the most high profile names in the industry.
We offer high quality and personalised individual support for a wide range of issues experienced by students, including mental health, financial and housing, and our advisers are available every day to discuss these with students by phone, email or Zoom. We also offer access to a range of specialist services and these are all now available to students online.
Collaboration is a key buzzword for us at the NFTS and we wanted that to continue by keeping everyone inspired and creative during lockdown – not an easy task! So we started the 'NFTS 60 Second Challenge' where each week, NFTS Heads of Department and tutors give the students a brief to make a 60 second film using their phones at home. We received a really great response and had some really funny and inventive submissions. It was such a motivator that we opened up the challenge to our followers across social media to encourage them to engage with the School – it's been lovely to watch the entries come in each week and witness first-hand the raw talent that exists out there."
Q: Is it a good time to study right now, instead of getting work experience?
Jon: "The pandemic will have a ripple effect on the industry for a long time. With that will come smaller sets and less people on productions so crews will certainly be smaller and it's inevitable that the first person not to be hired will be the most junior crew members. Joining the industry in a junior role right now is very difficult. But it won't be in 12 months time. So while we ride this out, I really believe now is the optimum time to prepare for coming out the other side and get the best training you can."
Q: Will there still be as much funding available?
Jon: "The NFTS offers up to £900,000 of funding each year to help UK students with the payment of tuition fees, more than any other institution of a similar size anywhere in the UK."
Q: Will the NFTS hosting any virtual tours ahead of the courses that start in September?
Jon: "We will continue to host Virtual Open Days over the next few months and into the future. They have proved very successful while in lockdown and the numbers attending have really high. In fact, it's one thing I wish we had implemented sooner pre-coronavirus! We have a general Virtual Open Day taking place this Saturday 23rd May which is open to everyone, where we will discuss how the school will manage the delivery of September courses. Tutors from the our courses will also be on hand to explain how they have been adapting the delivery of their courses and will also answer your questions. Register here. We are looking at getting a virtual tour of the NFTS live on our website as soon as we are back on campus so watch this space. Also check out our recent AlumnionZoom sessions and stay tuned for more to come!"
Q: Finally, what's your number one reason why I should apply to the NFTS?
"Because coming to the NFTS will transform your life. You only have to read our Graduate Impact Report to see what alumni of the NFTS go on to achieve. The global situation is difficult right now, but it won't be in the medium term and coming to the NFTS will pay off for the rest of your life."
Still have some general questions about apply to NFTS? Check out our newly updated FAQ page.
Develop standout skills in the film, television and games industry and fast track your future with a practical, career focused course at the NFTS, named by Variety as the UK's Top Film School 2020.

Applications are now open for all MA, Diploma and Certificate courses starting in September 2020 and January 2021.

Generous scholarships and bursaries available.

Go to nfts.co.uk/places-available for more info
15/05/2020