NFTS graduate, Ben Halnan: "Without the Diploma, I would certainly not be where I am today"
We caught up with three recent graduates of the National Film and Television School Cameras, Sound and Vision Mixing Diploma - Paul Dewhurst, Ben Halnan and Toni Adepegba - to find out what they have been up to work wise, since graduating.
Paul completed the course in 2014 while Ben and Toni graduated in 2015. The 12-month Diploma is run in partnership with Sky and allows students to specialise in cameras, sound or vision mixing. Students benefit from a six-week work placement at Sky during the course in addition to a number of projects at Sky where they get to practice working in a multi-camera TV studio and gallery on a music show, a quiz and a comedy panel show.
What have you been doing work wise since graduating and what is your specialism – cameras, sound or vision mixing?
Paul: Since leaving the NFTS, I have been working as a freelance camera assistant and operator on a number of different shows including EastEnders, Love Island and many different shows for Sky Sports.
Ben: Since graduating last year, I have been working as a camera operator at Sky. This includes operating cameras for Sky News, Sky Sports News, and various other sports based shows in the studios. I also have the opportunity to do single camera shoots for Sky Movies and Sky Arts, as well as OB shoots for sky sports, such as Rugby, Golf and Football.
Toni: I specialised in cameras and post-NFTS, I've been working at Sky, starting off as a Camera Assistant and now as a Camera Operator on their different programmes.
What do you most enjoy about your work?
Ben: The most enjoyable part of the job for me so far is getting to work on Sky Arts Landscape Artist of the Year. This is a multi-camera OB style shoot in the summer, where we travel around the UK filming artists paint various Landscapes. Last series we shot in the Lake District, Tunbridge Wells and Scotland to name a few. I also enjoy working on a show called The Pledge for Sky News. It is a pre-recorded debate show, and its format of six panellists 'in the round' makes it challenging and enjoyable to shoot. Although I mainly work on studio based sports programmes (sport is obviously one of Sky's biggest sectors), there are many other opportunities to work on different genres.
Paul: I enjoy the variety aspect of my work the most. Each week, I travel around the UK and abroad working at locations including football stadiums and studios. Working freelance, I also get to experience meeting and working with new people which has been great for networking.
One of my first jobs after leaving the school was working as a camera assistant on the BBC soap, EastEnders. I quickly had to learn my role on the show but within a few weeks, I felt part of the team and have since gone on to work on many episodes.
Toni: I enjoy the variety of the job because in addition to the studio programmes that Sky do, I get to operate the robotic cameras for the news and sports news as well as doing portable single camera and OB (outside broadcast) work. The work experience at Sky that you get as part of the Diploma helped to the extent that I got to work on a variety of shows and with different crews during the placement, so when I started working here, the process of settling into the role was smooth as I was already familiar with the programmes, the people and how Sky do things.
How has the NFTS Cameras, Sound and Vision Mixing Diploma helped you with your career? Do you think it has given you more opportunities than you would otherwise have had?
Paul: The Diploma gave me an excellent understanding of how TV shows are made and a very good understanding of how to operate the camera equipment that I now use. I also managed to build a network with some of the people I met at the NFTS, which was very useful upon leaving the school.
Ben: The six week work placement at Sky during the Diploma was invaluable to me - it's an opportunity to put the skills learned at the NFTS into practice. It is also a great chance to get to know lots of working camera operators in order to network and learn from them. The Diploma I earned at the NFTS is widely recognised in the world of television. Past students are now working throughout the industry, and with that, the value of the Diploma is only increased.
Toni: I think the course has helped with my career by giving me that big foot into the industry via the work experience placements at Sky and the BBC. Yes it's all about who you know, but it's still important to have those fundamentals skills, which the course teaches, so the "who you know" might see the potential in you in order to offer you some work when the opportunity arises.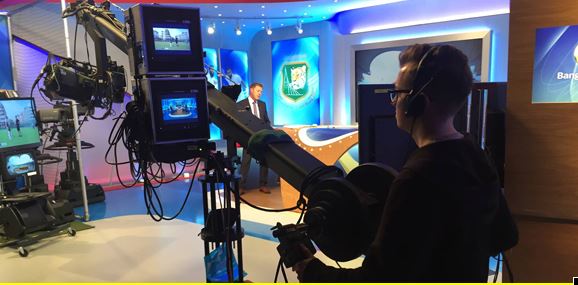 Why would you recommend someone apply to this course?
Ben: Without the Diploma, I would certainly not be where I am today. While interning, running, and assisting are viable methods to start from the bottom of the television industry, the course gave me a huge head start - so that when I did get my hands on a live camera for the first time at Sky, I already knew what to do. I think this is what makes Cameras, Sound and Vision Mixing students stand out from the crowd. This is why I would thoroughly recommend this course to anyone serious about starting their career in television.
Toni: I would recommend the course to others to apply, if they are certain that they are after a career in one of the three TV specialisms that the course offers.
Paul: The Diploma is a great way of learning about television broadcasting from people that have worked within the industry. It is also a great way of networking and getting hands on experience with the equipment needed to produce television shows.
For more information on the Cameras, Sound and Vision Mixing Diploma, please visit https://nfts.co.uk/CSVM