Celebrated filmmaker, NFTS graduate and writer-director Joanna Hogg delighted NFTS students earlier this term when she returned to the School for a Masterclass with her acclaimed film The Souvenir – recently selected by the BFI's Sight and Sound Magazine as the best film of 2019.
During an evening hosted by NFTS Head of Screen Arts Sandra Hebron, Joanna discussed her own experience of studying at the NFTS, her film making process, the pleasure of working with Tilda Swinton again after 30 years and the involvement of Martin Scorsese, an Executive Producer of The Souvenir.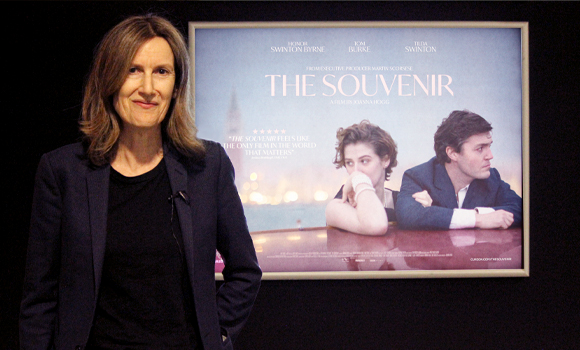 Joanna explained that the idea for the film was something she developed over the years and drew in part on her memories of studying at the NFTS. Joanna recalled she had kept a lot of material from when she was at the NFTS, which provided a useful reference for the design and look of the film. Looking back over these helped shape the unique visual style of The Souvenir. "I had lots of photographs and they were definitely a strong reference point for the colour, how we graded the film, the saturation - all that material helped form the aesthetic of the film."
Talking students through her writing process, Joanna told them that she doesn't write a traditional shooting script, "I'm lucky I was able to make The Souvenir using my process, there's not a lot of evidence to show someone before I make the film because it's not a conventional looking screenplay, it doesn't have lots of dialogue."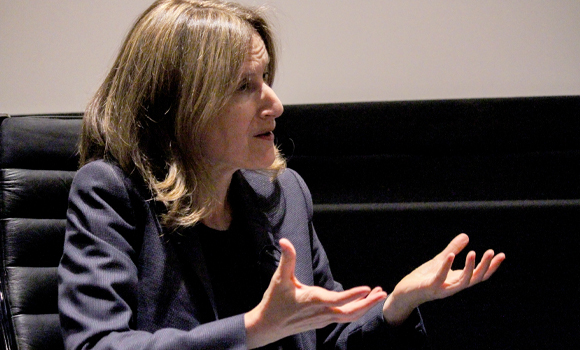 Joanna can spend up to a year or more writing before shooting begins, writing in notebooks and forming the shape of a story in a "document". This eventually ends up being around 30 pages long with photographs, a description of the scenes and an outline of what the characters are thinking and feeling; "all those things you're not usually told to put in a script but I need that, I want to be reminded what that scene or that moment is really about."
Joanna will also include quotes and little notes at the bottom of the page. "There's something for me about what this document looks like, I find it satisfying in itself even if it was never to become a film, I enjoy the process. It's very difficult sometimes but I generally enjoy creating this 30 page thing."
Honor Swinton Byrne who plays the lead Julie in The Souvenir didn't see the document before or during shooting, a very conscious decision which reflects the way her character has to piece together certain facts throughout the film. "[Honor] never knew what was going to happen next in the story." However, Tom Burke who plays Anthony, saw the document, "so he had the opposite experience to Honor."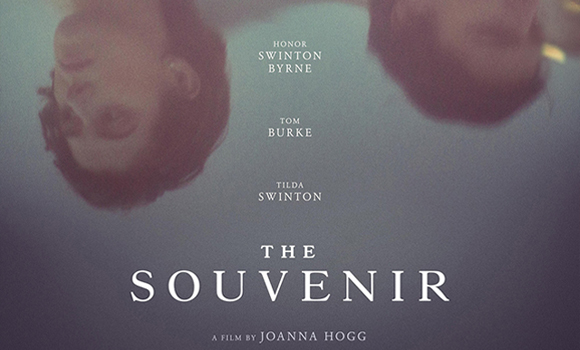 Joanna's love of shooting chronologically lends her "so much freedom" and means the story can be very fluid as a result. "Shooting in story order I can decide 'oh this can go in a different direction' or things can be steered in different ways. The real excitement for me is the live thing of filming and having everybody I'm collaborating with as part of that. We're all alive to what's going on, it's just really exciting."
When asked to delve into her editing process, Joanna said she's realised that how she works is probably closer to making a documentary than it is to making fiction. "I make fiction but in a documentary way. My brain goes into finding the structure mode and I find that so exciting, the film is constantly whirring around in my head and I'm thinking, could that go there, could we begin like that, what happens if we swap that scene around?"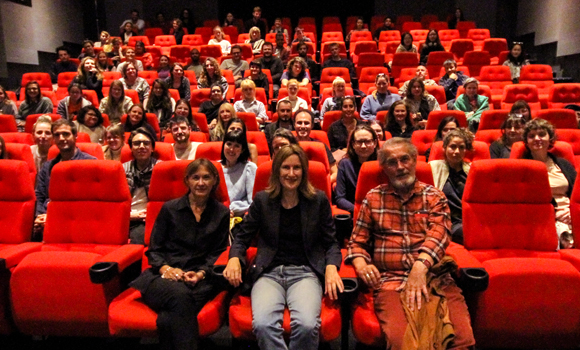 While at the NFTS, Tilda Swinton appeared in Joanna's graduation film Caprice and it would be a long time before the pair would work together again. Asked by one of the students how it felt to collaborate with Tilda again on The Souvenir, Joanna recalled; "We kept in touch, then 30 years passed and we wonder why we allowed all that time to pass and not do anything together!"
Joanna also touched on the influence Executive Producer, Martin Scorsese had on The Souvenir, revealing the legendary film maker had acted as more of a mentor, friend and sounding board.
With Joanna now in the edit with part two of The Souvenir, she is relishing the process all over again: "I'm at the beginning of the edit so the beginning of the throwing things around stage."
NFTS students regularly benefit from once-in-a-lifetime masterclasses like this one. For more information, visit: www.nfts.co.uk/masterclasses

Sandra Hebron runs the Films Studies, Programming and Curation MA at NFTS. She is the former Artistic Director of BFI London Film Festival and current Programme Consultant to Pingyao International Film Festival.
'One of the most respected, creative and imaginative film festival directors in the world' The Guardian
Places Available | Apply now