The NFTS welcomed national treasure and icon Pudsey Bear this week as he visited the School with a small BBC crew to film pre-recorded items ahead of the 2020 broadcast of Children in Need alongside Strictly Come Dancing's Tess Daly which aired on Friday 13 November.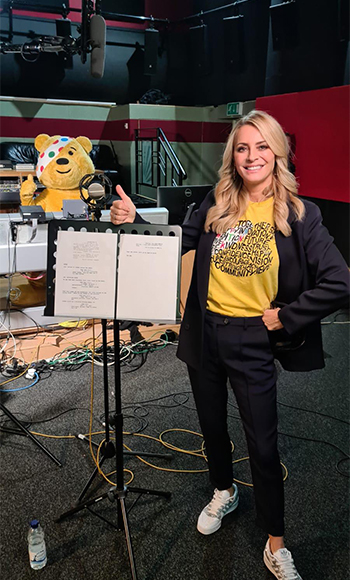 Tess, who stepped down from Children In Need in 2019 after 11 years as a presenter, continues to support the charity which celebrates its 40th anniversary this year. She was on site at the NFTS with Pudsey to film a comedy sketch in addition to recording an intro to one of the charity's heart-rending fundraising appeal videos. The VT's were filmed within the School's state of the art facilities on Stage 4 and the Dolby Atmos equipped main Dubbing Theatre.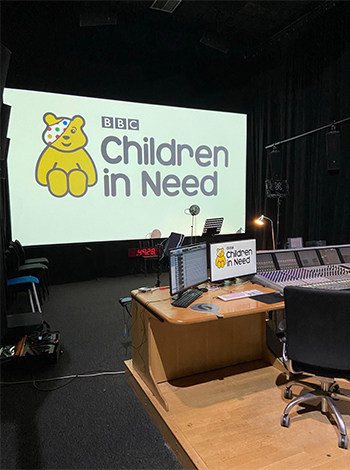 Children In Need has been making a difference since 1980, and over the decades has strived to raise over £1 billion for disadvantaged children and young people across the UK.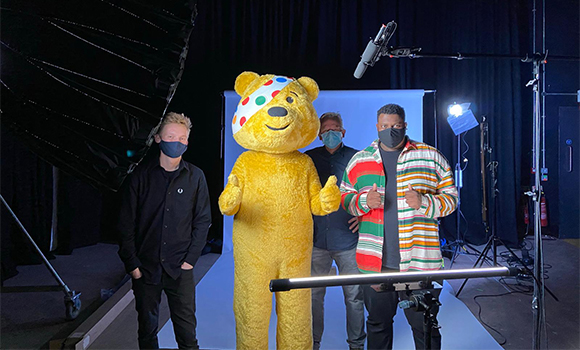 In between breaks in filming, Pudsey made time to wave hello to NFTS students and take a selfie with Gromit, the NFTS' very own mascot who has a permanent place outside one of the School's teaching blocks, the Rose Building. The much loved stop motion animation character was created by graduate of the School Nick Park when he brought Wallace and Gromit to life in his Oscar® nominated graduation film, A Grand Day Out in 1989.
On filming at the NFTS, Tim Fransham, BBC Children In Need Appeals Producer-Director said: "It was a real pleasure to film some of our Children in Need segments at the NFTS. The range of facilities and equipment were fantastic and we enjoyed bringing a slice of real life industry work into the School. Pudsey really enjoyed meeting some of the students and we're looking forward to some of them joining us in the industry in the near future!"

Children In Need will broadcast on Friday 13th November from 7pm on BBC One.

To donate to Children in Need head to the BBC website: donate.bbcchildreninneed.co.uk
Places are still available on some NFTS courses to start January and February 2021! Find out more and apply: nfts.co.uk/places-available
13/11/20