NFTS students and staff today unveiled a sculpture of much loved stop motion animation character Gromit at the School. The sculpture was specially commissioned to mark the upcoming 30th anniversary of Wallace & Gromit being created by NFTS Directing Animation MA alumnus Nick Park at the School for his Oscar® nominated graduation film, A Grand Day Out, which premiered in 1989.
NFTS Director, Jon Wardle said: "We are thrilled to unveil our very own Gromit so students, staff and visitors to the School can enjoy and celebrate one of the School's proudest moments. Nick Park and Wallace & Gromit are very much part of the fabric of the NFTS so it's incredibly fitting that we now have a lasting tribute to two of the UK's most loved characters being created right here at the School."
Bethany Smith, Brand Manager at Aardman said: "It's fantastic that the NFTS now has a permanent Gromit sculpture. We are very proud of our and Nick's connection with the School and enjoy working closely with the students on a regular basis to help inspire the next generation of animators."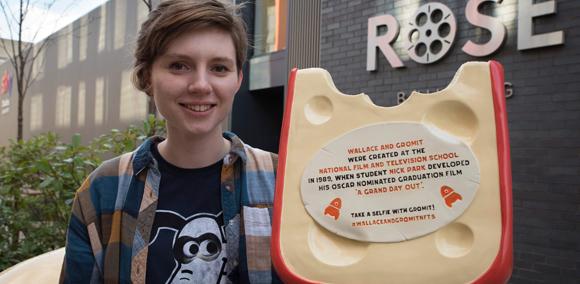 A bespoke sign to accompany Gromit, explaining the heritage has been made by students on the new Model Making for Animation Diploma course. The sign will encourage students and visitors to take selfies with Gromit using the #WallaceandGromitNFTS hashtag.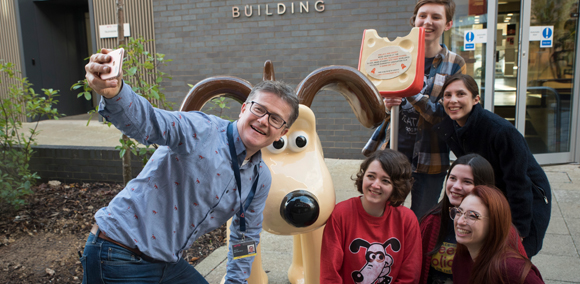 John Lee, Head of Model Making explained: "We wanted to design and make something that would really bring Wallace and Gromit's story to life. The main part of the sign is modelled to look like Wallace's favourite food, cheese and features rocket motifs from Nick Park's NFTS graduation film, A Grand Day Out. This specially made sign sculpted by NFTS Model Making for Animation student Sophie Monks and the incredible achievements of our animation department are testament to the fact that our students are following in Nick's footsteps and ensuring that stop motion animation and model making continues to be a hugely important part of the School's output. I can also reveal that the model making department will be working on something very special to mark the 30th anniversary next year. Watch this space for more information!"
More information on plans to celebrate Wallace & Gromit's 30th anniversary in 2019 will be announced soon!