NFTS Digital Effects MA students have been treated to two very special masterclasses with digital effects legends, Peter Chiang and Joe Pavlo. Both entertained the students with insights into their illustrious careers and gave them lots of great advice they can take with them when they graduate.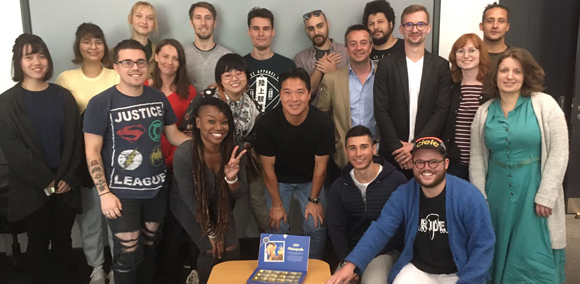 BAFTA nominated Peter Chiang is the Co-Founder of world leading visual effects house, DNEG and a critically acclaimed Visual Effects Supervisor with over 30 years' experience in the industry. Peter has recently completed work on Pacific Rim: Uprising as Overall VFX Supervisor and previously overseen all VFX work on Ridley Scott's Exodus: Gods and Kings and Justin Lin's Star Trek: Beyond. He has also supervised VFX on the likes of United 93, The Bourne Ultimatum, Total Recall and Gareth Edward's Godzilla re-boot.
Primetime Emmy winning Joe Pavlo is a Visual Effects Supervisor, Senior Compositor, Stereographer and Director working in visual effects for over 23 years on more than 80 film and television projects including Band of Brothers, The DaVinci Code, Star Wars Episode II and Disney's Jungle Book. He won his first Emmy in 2005 for his work as Visual Effects Supervisor on the Life and Death of Peter Sellers and his second in 2006 again as Visual Effects Supervisor for the HBO/BBC drama series Rome.
Find out more about our Digital Effects MA at www.nfts.co.uk/dfx - apply by 12th November to start in January 2019.