20 October 2021: As the sci-fi epic Dune received its UK red carpet screening in Leicester Square on Monday, NFTS students were treated to an exclusive preview of the highly anticipated film. Screened in both the School's cinemas, the end credits rolled to huge rounds of applause.
The day after its London screening created a giant buzz and ahead of the film's release on Thursday 21st October, director Denis Villeneuve dropped in to the NFTS for an incredible in-person Masterclass, attended by 150 eager students with a further 100 watching via livestream.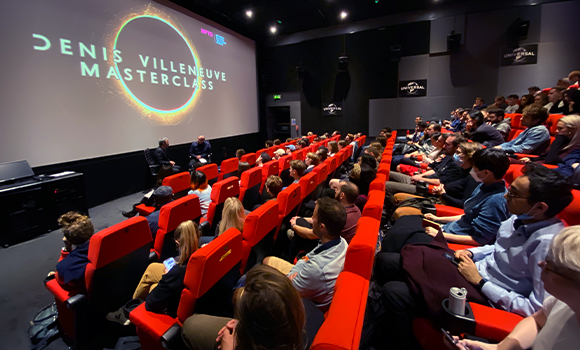 Starring an A-list cast including Zendaya, Timothée Chalamet, Rebecca Ferguson, Josh Brolin and Jason Momoa, the big-screen adaptation of Dune is based on the hugely influential 1965 novel of the same name by Frank Herbert.
A mythic and emotionally charged hero's journey, Dune tells the story of Paul Atreides, a brilliant and gifted young man born into a great destiny beyond his understanding. He must travel to the most dangerous planet in the universe to protect the future of his noble family and its loyal people. As malevolent forces explode into conflict over the planet's exclusive supply of the most precious resource in existence, a spice capable of unlocking humanity's greatest potential, only those who can conquer their fear will survive.
This was Denis' second time at the School having first visited in 2018, the morning after his double BAFTA win for Blade Runner 2049.
Interviewed by NFTS Director Jon Wardle, Denis gave a wide ranging chat on all things Dune, speaking thoughtfully about taking his early childhood vision of the book to such an epic scale for the big screen, his love of sci-fi, how he defined the visual world building and language of the film and his passion for working collaboratively with Dune's cast and crew.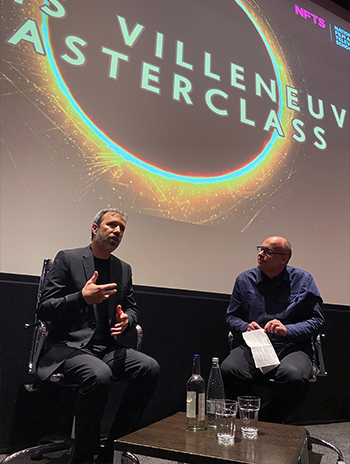 Denis also touched on all he has learnt from one of his regular collaborators, NFTS graduate and Oscar winning cinematographer Roger Deakins and took questions from NFTS students, keen to know more about his rehearsal process, the use of bagpipes within Hans Zimmer's epic score and how he has developed his own personal voice over the course of his career.
As the Masterclass closed, Denis was presented with an engraved plaque bearing his name which has been fixed to a front row seat within the School's 150 seater cinema. We look forward to welcoming Denis for another return visit to the NFTS in the future!
The NFTS regularly hosts Masterclasses with high profile filmmakers like Denis Villeneuve. If you'd like the opportunity to attend, sign up to one of our upcoming virtual open days and find out which course is best for you!
nfts.co.uk/events
nfts.co.uk/places-available
Dune is released in UK cinemas on Thursday 21st October.
Our thanks to Warner Bros for providing NFTS students with this fantastic opportunity.
#NFTS