The NFTS cinema was filled with appreciative laughter both during the screening of BAFTA nominated film Stan & Ollie, and during the Q&A which followed with its director Jon S Baird and its editor, NFTS graduate, Úna Ní Dhonghaíle ACE.
Complimenting the pair on the film, Sandra Hebron, NFTS Head of Screen Arts who was hosting the Q&A, began by asking Jon how he became involved in the project. Jon recalled that back in 2014 when he was sent Jeff Pope's script for Stan & Ollie he was so moved by it that it made him cry. "I knew I wanted to do something with a different tone from my previous feature, Filth. And I knew I wanted to do this straight away." He said, "I used to love watching Laurel and Hardy films as a kid. There's even a photo of me as an eight-year-old dressed as Stan Laurel and my friend dressed as Oliver Hardy!"
Una has won numerous awards, including a BAFTA and two Royal Television Society awards, for her work on Three Girls, and been BAFTA nominated for her work on series such as Ripper Street, Doctor Who and The Crown. Praising her work, Jon said "Una elevated this movie to a completely different plane. I want to work with Una on everything!" Una echoed Jon's love for the iconic duo Laurel and Hardy, and they both agreed that they felt a responsibility to them, their families and Laurel and Hardy fans around the world to not do them a disservice. "Screening it to Stan Laurel's great-granddaughter I was so nervous", Jon confessed, "but once she was ok with it, I was ok with whatever anyone else thought."
Una praised the performances by John C Reilly (who plays Oliver Hardy), Steve Coogan (who plays Stan Laurel) and Nina Arianda and Shirley Henderson who play Stan and Ollie's wives – "The actors bring such humanity to the roles it was a joy to cut." Jon described how John C Reilly and Steve Coogan rehearsed together for a month before shooting began, learning the dance routines. Una praised Jon's way of working with all the actors, "He created an environment where actors want to do their best work. If a director can do that, the best performance will come out." Jon revealed that "John and Steve had a big influence on the script. They re-wrote a lot of the dialogue in rehearsal. When you've got clever actors you should listen to them" Jon advised the students, "Don't think that because you're the director you should be controlling. It's a balance – you let people in, but the buck stops with you."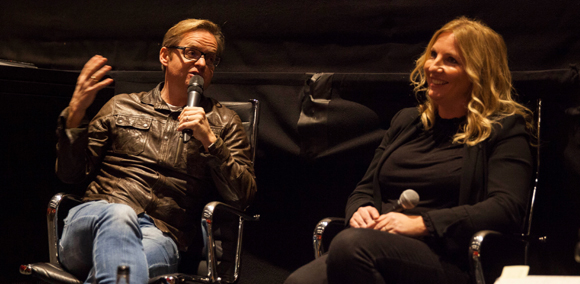 Jon told students putting the right team together was key, "I often think about it as if you were inviting twenty strangers round for Christmas dinner – would they get on? What would they chat about? It's about personalities. Making a film – you don't do it on your own." Una has a background as a documentary director, which Jon found invaluable, explaining – "Una is a filmmaker, not every editor is, she sees things in a different way." Una recommended to the editors in the room, and all of the students whatever discipline, to try directing – "it gives you an appreciation for how hard it is!" Stan and Ollie was shot by BAFTA winning cinematographer Laurie Rose (Free Fire, Kill List, Peaky Blinders) and produced by Faye Ward (Suffragette, Jayne Eyre, The Crown).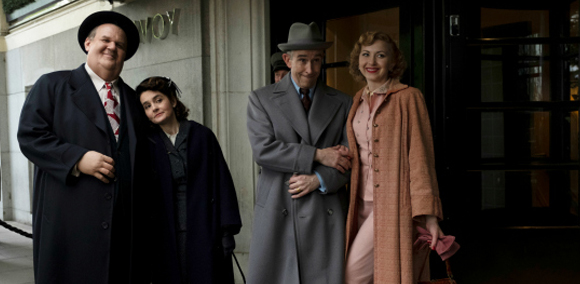 Asked about the great reception the film has had with audiences, Jon reflected on the fondness there is for Laurel and Hardy around the world, and praised distributor EOne "they've created a great campaign that's touched a nerve with people and really appealed." Una added, "The film does celebrate kindness, and we need that with all that's going on in the world."
Jon and Una closed by wishing the students the best with their own work. Jon told them, "My daughter, who is nine, wants to come here to the NFTS, so hopefully when she does one of you will be sitting here, where we are now, doing the talk"