The National Film and Television School (NFTS) hosted its first ever NFTS For You event on Saturday 13th November, a day designed to empower future film, television and games makers from ethnically diverse backgrounds. The inspiring event was part of Access NFTS, our dedicated outreach programme which aims to inform and engage with the next generation of talent.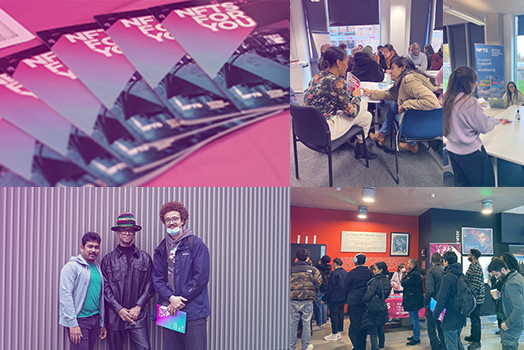 NFTS For You was attended by over 100 participants and included panel sessions and Q&A's with leading industry figures from BBC Film, BFI, Film4, BBC Studios and We Are Parable, screenings of award-winning short films made at the NFTS by students from diverse backgrounds, and the opportunity to tour the world leading facilities and talk to staff about finances, studying and applying to the NFTS.
The day kicked off with a motivating session hosted by NFTS Head of Marketing and External Relations, Ijeoma Akigwe on 'Turning Your Culture Into An Asset' in conversation with NFTS Directing and Producing Television Entertainment graduate, Abigail Dankwa. Abigail is a BAFTA award winning series director whose credits include Channel 4's recent Black to Front initiative where she directed Countdown and The Big Breakfast, Jonathan Ross's Comedy Club and Life and Rhymes with Benjamin Zephaniah.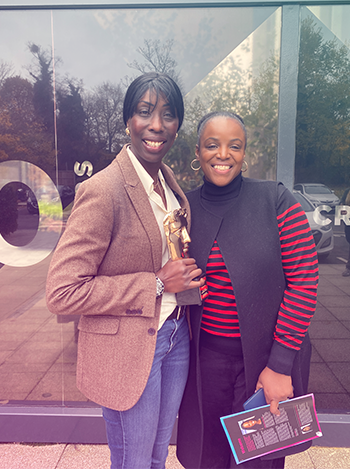 A lively Q&A with current NFTS students followed, hosted by Shakil Mohammed, NFTS graduate and course leader of the NFTS Certificate in Filmmaking. Students studying Directing Fiction, Model Making, Producing and Production Design shared key insights into their daily lives at the NFTS and answered a variety of questions about their own personal experiences of applying and studying at the School.
Over lunch, participants had the opportunity to join a tour guided by NFTS student ambassadors, seeing for themselves the world class facilities the School provides as they dropped in on our dubbing theatres, composing cabins, state of the art TV studio, animation and model making workshops, the main film stage and much more.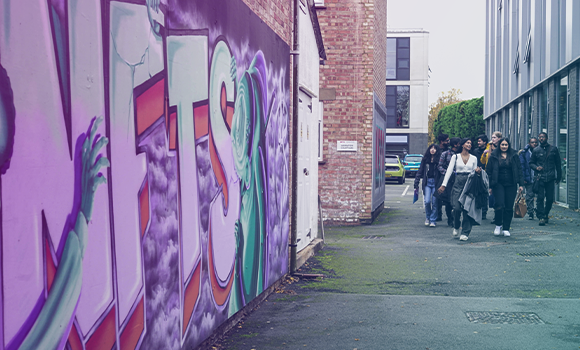 Attendees were also encouraged to visit a number of break out rooms where NFTS staff were waiting to offer guidance and advice on demystifying the application process, breaking down barriers on finance, an insight into student life and highlighting the care offered by our student services team who work hard to support wellbeing all year round.
The afternoon was jam packed with guest speakers featuring NFTS alumni and an influential industry panel who all brought a high energy vibe to the informative sessions.
Presented by Danielle Goff, NFTS Student Union President, the 'Meet Our Alumni' panel featured a range of graduates from across the career spectrum who had an abundance of views and advice to share. We were fortunate to be joined by award winning director George Amponsah, Sky camera operator Toni Adepegba, producer Rienkje Attoh, composer Segun Akinola and 2021 Directing Fiction graduates Marcus Anthony Thomas and Ebele Tate.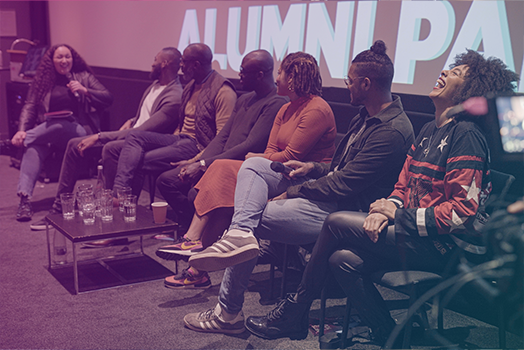 NFTS Director Jon Wardle led the 'Meet the Industry' panel, comprised of Dionne Farrell (BBC Film), Max Park (Film4), Teanne and Anthony Andrews (We Are Parable), Melissa Clay-Peters (BBC Studios) and Aoife Hayes (BFI).
Both panels encouraged attendees to engage in an open dialogue to discuss the challenges faced by those from ethnically diverse backgrounds keen to join the industry as well as touching on the many positive experiences and opportunities to be gained through a career in the creative sectors.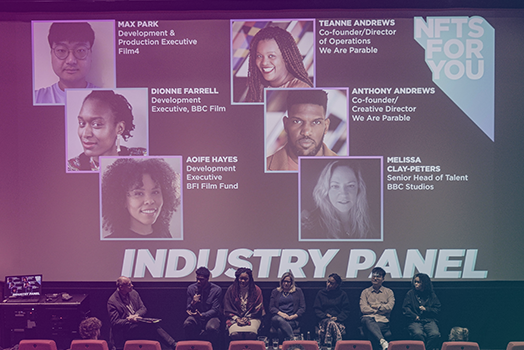 The key takeaways came through loud and clear – "work hard, stay true to what you want to do, keep pushing at the doors, be flexible and find joy in the journey!"
The day closed with screenings and opportunities for attendees to network with peers, NFTS alumni and influential industry leaders.
We hope NFTS For You left a lasting impression on those who attended. We are passionate about increasing the off-screen diversity pipeline and are determined to keep eliminating the systemic barriers to entry, ensuring that future talent feel the film, television and games industries are a place that welcomes and represents all.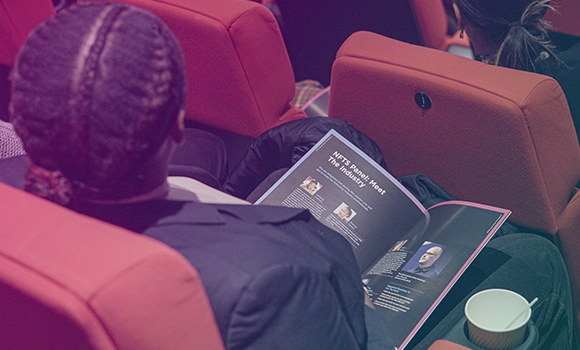 We are indebted to all the students, alumni and industry members who took part in NFTS For You and made the day such a huge success. We'd also like to extend our heartfelt thanks to everyone who made the effort to attend.
Missed this event? Access NFTS holds events throughout the year aimed at under-represented groups.
To keep up to date with future Access NFTS initiatives, keep an eye on our social channels and bookmark nfts.co.uk/access.
If you or your company would like to work with the NFTS on future outreach programmes, please email our Head of Outreach, Joe Bradbury Walters: JBradbury-Walters@nfts.co.uk
The BFI will financially support 15 British students from under-represented groups to secure a space on the popular NFTS Certificate in Filmmaking. The course starts in February 2022 and applications are open now. For more info head to nfts.co.uk/nfts-certificate-filmmaking.
#NFTS