The NFTS was delighted to welcome two Oscar winners to the school recently – Director Damien Chazelle (La La Land, Whiplash) and Screenwriter Josh Singer (The Post, Spotlight, The West Wing). Josh and Damien gave an inspirational Masterclass about their acclaimed film together, First Man.
Starring Ryan Gosling and Claire Foy, the film tells the story of Neil Armstrong's journey to become the first person to walk on the moon.
Variety said of the film - "After seeing First Man, it's doubtful you'll think about space flight, or Armstrong's historic walk, in quite the same way." The Hollywood Reporter praised it as "A credit to the filmmakers and to Ryan Gosling's thoughtfully internalized performance as Neil Armstrong that this sober, contemplative picture has emotional involvement, visceral tension, and yes, even suspense, in addition to stunning technical craft."
In a packed screening room, Jon Wardle, Director of the NFTS, began by asking Josh how he and Damien came to work together on the film. Josh, who won a best screenplay Oscar for Spotlight, explained that the project came to him before Damien had made La La Land. Josh said, having seen Whiplash, he thought Damien "the most talented filmmaker in a generation. I was so excited to have a chance to work with him!" Damien said, "It was my first film working with a writer, rather than writing it myself, and I found it wonderful!" The pair worked together developing the script whilst Damien was shooting La La Land; Josh sending an outline before the La La Land shoot started, addressing Damien's notes to have a draft ready for him at the end of the shoot. After that Josh explained "we were turning around a draft, following notes, every 4-6 weeks. It was an incredibly freeing way to work."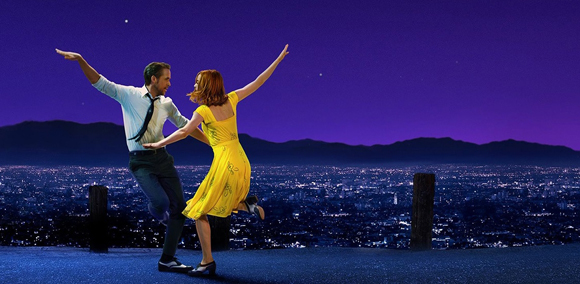 Discussing developing the script, Josh and Damien explained that as part of that they were always trying to think creatively in terms of budget – 'how can you tell the thing you need to tell in one scene rather than three?'. Not only saving budget for the big showy moments where you need it, but also tightening the storytelling.
One of the students asked Josh about how he responded to notes on scripts. Josh enthused, "Once you rip the band aid off, there's nothing I like better! Re-writing, once you've got to know your characters and your world. I tend to give scripts to as many people as will read them! The hardest notes are the macro notes - 'this character needs work', micro is better. Sometimes people are told that if they give a note they have to give a suggestion of how to address it, but I don't agree with that, I prefer to be asked a question, then I'll go away for a while and come back to the script and come up with things on my own with that note in mind."
Asked by Jon about the look of the film, Damien said "I found myself really inspired by the archival material that the astronauts had shot themselves, like home movies in space. The film 2001 has dictated the look of how we see space, very slick and polished and clean and I knew I could never emulate that, so I thought 'let's do the opposite' – emphasise how tiny the launch capsules were, how it was messy and grainy. And I wanted to give it that Wizard of Oz moment of stepping out onto another planet, switching the look at that moment." Adding, "I wanted to communicate just how insanely dangerous and not at all high tech it was."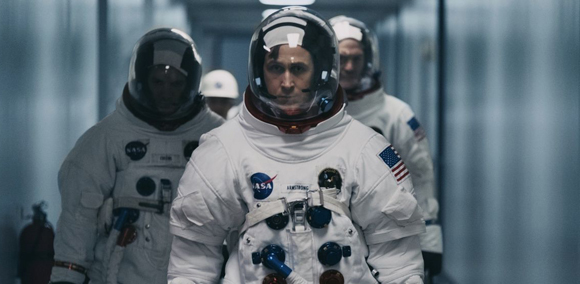 Damien revealed he'd had Ryan Gosling in mind for the role of Neil Armstrong from the start and that he met with him about First Man before La La Land. Damien and Josh said they felt a tremendous responsibility to Neil Armstrong and his family to be accurate in the script and in Ryan's portrayal of Neil. Josh said "There are any number of moments in the film you'd like to see Neil go nuts – but that wouldn't be Neil."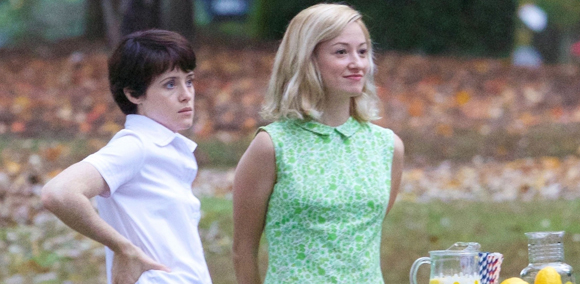 Discussing how he chooses who to work with Damien said "I'm a big believer in going back to people you've worked with before; I really believe those creative relationships can grow over time." Citing the example of his composer, Justin Hurwitz who won two Oscars for La La Land – best score and best song. Damien revealed he and Justin had been in a rock band together when they were 18 and had worked together ever since. "If you can find that one person you 'sing' with, that can be for your whole career." Damien said.
Jon asked the pair about work-life balance. Josh agreed it was something that was challenging for everyone, "I used to work constantly. I've only met two people who work harder than me – Steven Spielberg and Damien." Damien said "I never forget how lucky I am to be able to do things. It began as a hobby for me and I can never remember being as passionate about anything else, so it doesn't feel like work to me." Expanding to reflect on the work that people put in to achieve things that goes unseen, a theme of his films, Damien said "History has a way of obscuring all the failures, we just remember the successes. Just as with the Gemini and Apollo programme so it is with the work filmmakers do – we don't see all the failed iterations of their work that got them there."
First Man is in cinemas now, distributed by Universal