The National Film and Television School (NFTS) and Kickstarter are delighted to announce that the first short film made through their bridge to industry scheme, NFTS Platform, End-O, has been selected for London Film Festival.
End-O's director, NFTS Directing Fiction graduate Alice Seabright, was one of five NFTS graduates recently selected as a Screen International Star of Tomorrow
End-O was directed by Alice Seabright, written by Elaine Gracie, produced by NFTS producing graduate Kate Phibbs and Alexandra Blue, shot by NFTS cinematography graduate Alana Mejia Gonzales and edited by NFTS editing graduate Stella Heath Kier. It is a bold, dark comedy about Endometriosis, following Jaq - who wants to have sex but whose body is out to sabotage her.
The film will premiere at BFI London Film Festival in the Dare category, screening on the 10th October at the Prince Charles Cinema and the 12th October at the Curzon Mayfair.
Alice Seabright said "LFF is one of my favourite film festivals in the whole world, so it's an incredible pleasure to share our film with their audience - we're so proud of it and hope it connects with people"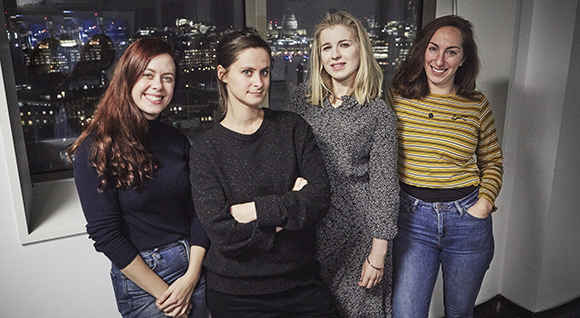 Gemma Seltzer, Kickstarter's senior outreach lead for arts and culture in the UK, said: "It takes courage and commitment for early-career filmmakers to share their ideas with the world, so we couldn't be more thrilled to hear about the End-O team's London Film Festival selection. We're pleased to partner with NFTS to support exceptional writers, directors, and producers to raise funds for and build communities around their projects. We're proud that Kickstarter played a role in ensuring this beautiful and important film is shared with audiences in London and beyond."
NFTS Executive Producer for Bridges to Industry, Venetia Hawkes said, "We're delighted End-O has been selected for LFF. It's a testament to the hard work and creativity of the team. We're looking forward to seeing their careers continue to develop and wish them every deserved success."
End-O is the first of the short films made through the NFTS Bridge to Industry with kickstarter. Directing Animation graduate Nick Cinelli's hybrid live-action animation, political satire Pigeons and Cinematography graduate, Molly Manning-Walker's drama exploring the way society treats victims of rape have both successfully shot and are in post-production. The next two films to be made through the scheme are current students Rona Bradley and Annie Mullineux's feminist sci-fi Western Gimcrack, shooting on location at the end of August, and Leo LeBeau's uplifting story about a Trans boy, Birthday Boy, in pre-production to shoot autumn 2019. The next round of the NFTS-Kickstarter scheme will be launched in the autumn.