27 July 2021: The one-year NFTS Sports Production Diploma (nfts.co.uk/sports) is run in partnership with IMG, one of the world's largest independent sports producers. Now in its sixth year, the course has seen graduates enjoying incredible roles within the industry, including working for BT Sport Boxing as Camera Operator at the recent UEFA Euro 2020.
The course provides access to industry standard, practical training where participants learn about all forms of sports production, including creating their own stories and collaborate with those in other specialisms – with all production costs met by the NFTS. They not only have access to the School's high quality production facilities but also visit IMG Studios as well as other major sports production houses.
In this Focus on First Year blog, we talk to recent graduate Katy Hanscomb, who graduated in May 2021, to find out first hand about the course.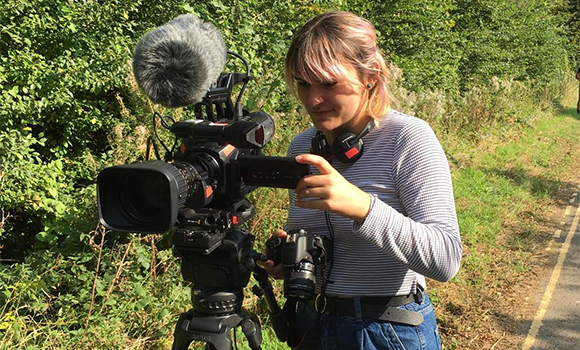 What were you doing before applying and starting the course at NFTS?
Before I started the Sports Production course at NFTS I was out in Georgia, USA doing a degree in film while also on a soccer scholarship. I was out in the States for four years, from 2015-2019 where I was able to travel around while playing football and creating short films, both fiction and documentaries. During my time out there, I decided that a career in Sports TV was where I wanted to end up.
How did you hear about the course?
I heard about the course through a bit of research. I knew that I wanted to work within the sports TV world and as soon as I came across this course I knew that I had to apply.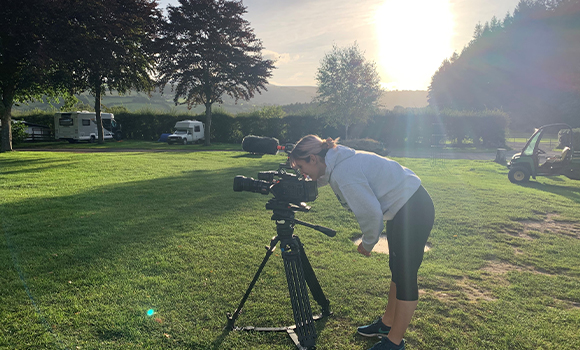 What was your favourite project or module on the course?
My favourite module on the course was definitely the final graduate project. Throughout the year we completed projects in groups, so what I liked most about the graduate project was that they were individual projects meaning I was completely in control of what was being created. We were very much left to our own devices to plan, direct and edit the features for the final magazine show grad project.
How did the Sports course prepare you for your career?
Throughout the course we were taught a number of aspects within Sports TV, from producing, directing, scripting and editing short features to studio work where we were taught how to direct, vision mix and operate cameras. This has allowed me to figure out which part of Sports TV that I want to focus on. Since graduating I have worked as a Vision Mixer on the World Snooker Championship and I am slowly getting the equipment together to allow me to work as a freelance videographer.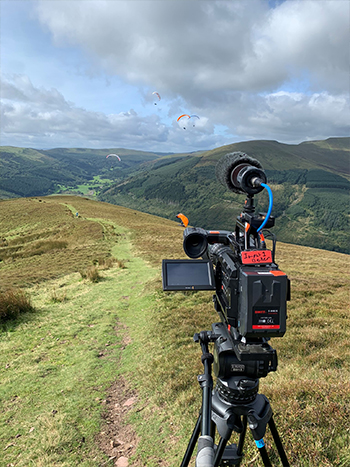 How did you find studying at the NFTS in general?
I loved every minute of studying at the NFTS. Despite only spending half the year on campus due to lockdown, the tutors worked incredibly hard to make sure that we had plenty of work while we were at home. Once we were back on campus we were constantly travelling to sports clubs and in and out of the TV studio. I also think the social side of the NFTS played a big role on why I had such a great year, from the social sports clubs to meeting and chatting to new people at the bar, it was all a lovely and memorable experience.
Watch Katy Hanscomb's 2021 graduation film The Passion Project below:
The Passion Project - Paraglider Tim Pentreath from Katy Hanscomb on Vimeo.
If you want to study on this industry recognised course you can apply to start January 2022!
Visit nfts.co.uk/sports to find out more about the course and start your application today.
#NFTS