Recent Composing MA graduate Pablo Scopinaro and recent Sound Design MA graduate Morgan Muse have been revealed as finalists in the Music+Sound Awards for their work on graduation short films Skipper and Poles Apart, in 'Best Original Composition – Short Film Score' and 'Best Sound Design – Short Film' categories respectively.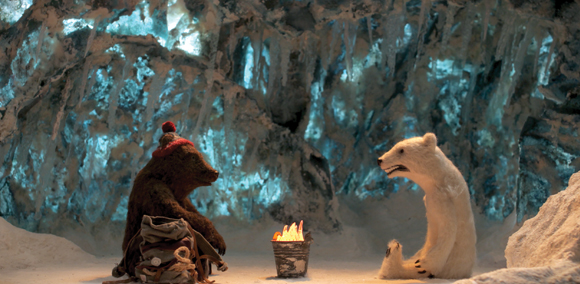 In addition, Composing MA alumnus Chris White is a finalist in the 'Best Original Composition: Broadcast Advertising' category for his work on the Debenhams commercial You Shall and Adrian Rhodes; BAFTA-winning Sound Designer and Sound Post Production MA alumnus a finalist for 'The Krotos Audio Award' for Best Sound Design in a Feature Film for his work on Nick Park's recent prehistoric feature Early Man.
The Music+Sound Awards; the world's first and only global awards programme to recognise and champion the talents of composers, sound designers, music supervisors and sync teams, is aimed at professionals across the globe who work providing music and sound in advertising, film and TV. There are 38 categories spanning original composition, sound design, sync, re-records and production music.
NFTS graduation fiction Skipper, directed by Sigurd Kølster; a mystery drama taking place over the course of 36 hours in the life of football agent Thorsten "Skipper" Enoksson, portrays an encounter with heroine Mathilda and an unleashed force of which Skipper has very little control.
NFTA graduation animation film, Poles Apart, directed by Paloma Baeza, tells the story of an unlikely meeting between Nanuk, a tough female polar bear, and Aklak, an enthusiastic male grizzly bear, brought together by their changing habitats. The short animation has been screened at festivals such as Animafest Zagreb, Underwire, LIAF, Warsaw Film Festival, Encounters and Calgary International Film Festival, winning 'Best Short Animation' at the BAFTA Awards, 'Best Student Film' at the prestigious Annie Awards and the 'McClaren Award for New British Animation' at the Edinburgh Film Festival.
The 'you shall' campaign for Debenham, created by J Walter Thompson and composed by Chris White with its dramatic yet delicate cinematic soundscapes is an homage to the classic fairy-tale Cinderella, capturing a festive love story of a young couple who meet fleetingly on a train on a snowy Christmas Eve. The 2017 campaign also features actor Ewan McGregor in a cameo appearance as well as narrator.
Early Man, the latest feature-length clay project from animation legend and NFTS alumnus Nick Park, tells the story of a Stone Age tribesman named Dug (voiced by Eddie Redmayne), whose clan is challenged by the Bronze Age people led by Lord Nooth (voiced by Tom Hiddleston). Park chose long-time collaborator, award-winning Sound Designer Adrian Rhodes, whose credits include The Hollow Crown, Shaun The Sheep The Movie, The Enfield Haunting, The Gruffalo series, and Wallace and Gromit films to design the sound on Early Man.
Emma Maguire, Managing Director of the Awards, is excited to see the growth at the Music+Sound Awards, saying: "The engagement and enthusiasm that we have seen this year sets us up for another fantastic competition. This year's entries have been exceptional, making it a difficult task to judge. We congratulate all the finalists and we hope they feel proud that their work has endured such rigorous inspection from our brilliantly accomplished jury! Very best of luck to them all".
The jury this year included leading industry figures Jocyelyn Brown, Senior Music Producer at Leo Burnett, Michael Schachtner, Executive Creative Director at BBDO, Paul Cartledge, Head of Production at Yellow Boat Music and Sam Ashwell, Head Sound Engineer and Creative Partner at 750mph in London.
Winners of 2018's Music+Sound Awards will be announced on Tuesday 10th July.
For more information on the NFTS Composing MA, visit: www.nfts.co.uk/composing and NFTS Sound Design MA, visit: www.nfts.co.uk/sounddesign