With locations in New York, LA and London, Ghetto Film School is an award-winning non-profit, founded in 2000 to educate, develop and celebrate the next generation of great storytellers, equipping students for top universities and careers in the creative industries.
As part of our Access NFTS outreach scheme, the London hub of GFS has collaborated with the NFTS on multiple projects since 2018 and the partnership has continued to go from strength to strength ever since. Students from the GFS London Fellows Programme recently made a return visit to the School to complete an exciting module focusing on immersion into storytelling.
As part of their cinematic storytelling and production training, GFS students aged between 16-18 years old were given a brief to write, produce, direct, shoot, light and edit a short dialogue scene. Over three full days, they engaged with dedicated NFTS student mentors and were provided with tailored workshops to help them develop their ideas. The students set up and shot each two minute project on site at the NFTS in Beaconsfield with access to all filming stages, enabling them to get hands on, practical experience using the School's state of the art, industry standard equipment.
Shamoy Simmonds, current GFS student said: "This project helped prepare me for my future career because we've been working as a team and I'm getting to ask questions to see if I'm doing something right or wrong and building up all my knowledge."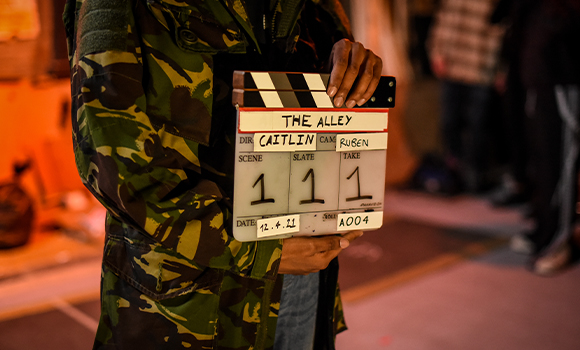 Tony Fernandes, Executive Director of GFS London commented: "The NFTS collaboration really serves as a step up from our usual programme of training. The NFTS and GFS have a shared value of giving talented people access and opportunity. Bringing our 20 fellows to the NFTS gives them a chance to make incredible stuff as well as hands on experience with cameras, lighting and sound equipment. It's a great first step for everyone."
Jon Wardle, NFTS Director added: "Making our state of the art industry standard facilities available to others outside of the NFTS, such as the brilliant Ghetto Film School, means we can continue our work together to help deliver a real world creative experience and provide those all-important stepping stones for young filmmakers wanting to break into the industry."
The NFTS is incredibly proud to be able to provide the facilities to give young people from Ghetto Film School unforgettable and valuable opportunities that will aid their pursuit to a career in the creative industries.
Previous short films shot by GFS students are now being edited and will soon be available to watch on NFTS and GFS platforms.
Applications are now open for the Ghetto Film School Fellows Program Class 2021-2023.
Visit the website to find out more and apply today: ghettofilm.org/londonfellows
Applications are also open for many NFTS MA, Diploma and Certificate courses starting in September 2021 and January 2022. Application deadlines are fast approaching so head over to nfts.co.uk/courses to find the course that's right for you and start your application today!
#StandOutwithNFTS