NFTS students were treated to an open, funny and warm masterclass with a trio from the team behind Amazon-Prime smash, triple Emmy nominated Good Omens - Director Douglas Mackinnon, Cinematographer Gavin Finney - both NFTS graduates, and Executive Producer and guardian of the Terry Pratchett estate, Rob Wilkins.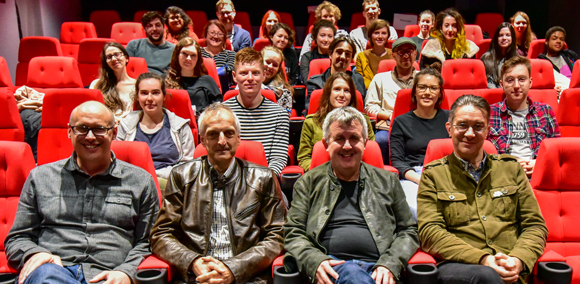 Starring David Tennant and Michael Sheen, 6-part series Good Omens is based on the 1990 novel by Terry Pratchett and Neil Gaiman and is a coproduction between Amazon Prime and BBC Studios. After watching an episode of the series together with students Douglas, Gavin and Rob chatted to NFTS Director Jon Wardle.
He joked, "I remember Colin Young [the director of the NFTS during Douglas's time at the School] saying of the NFTS – 'It's hard to get into the film school but even harder to leave!' He was so right! There is something so emotional about being back at this place for me. It's feels really special to be screening Good Omens here."
Douglas discussed his creative process in taking on the much loved novel and adapting it into 6 one-hour episodes, saying: "I feel as if my whole career has been coming to this moment, this show."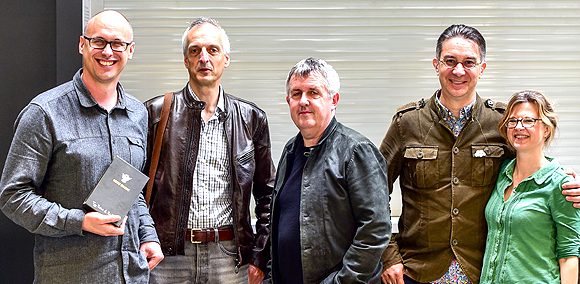 Students asked Douglas about the adaptation process, and he said: "From the very start, I knew I didn't want to adapt the book, but more, translate it. It's hard when you're a fan, like me. My copy of the book looked crazy - full of all my different coloured post-it notes and scribbles, annotating it and finding my way into it and the best way to tell it. I wanted to be faithful to that original text. Executive Producer, and guardian of the Terry Pratchett estate, Rob added: "I think it's about being brave and intuitive and creative but finding the right moments to return to the source material."
When asked about its visually intoxicating look, Douglas revealed: "I went in asking for three things: a crane on set every day, the Bentley and the 20-minute opening sequence of episode one. People thought I was mad when they heard that! The crane especially! But I wanted the camera to be driven by the narrative, as if God was narrating from above. I wanted this really clear style choice that the camera never stops moving; nothing is static."
The opening sequence of episode three exposes the 6,000-year relationship between homely angel Aziraphale (Michael Sheen) and swaggering demon Crowley (David Tennant), in an entertaining romp through myth and history, with the two featured as knights in Arthurian England, in a goofy spy drama during the Blitz, and dining on crepes during the Reign of Terror.
"We were so fortunate with the sheer amount of DFX used on this show. In Good Omens we used over 1200 DFX elements. That includes everything from the contacts in Tennant's eyes, green screen work, cars on fire!"
A student asked Gavin how he goes about shooting scenes which so heavily utilise DFX. He answered, "Prep, prep, prep! And be flexible with amendments and changes. You can't escape them. Ask questions too – at any stage, then all of those key DFX elements will make sense and you can shoot fully engrossed in the whole scene; even when things are missing or you're working against a green screen."
Douglas added: "Preparation really is key. Spend as much time as you can with your DoP and on your location. When I recce, I try to think like a DoP - I look at light, find depth, think about opening the shot out. Adding, "I was very lucky to have a fantastic team who pull together but also express individually. That's so important. Gavin and I communicate so effortlessly; I think that's half the battle too. As a director, it would be so easy to only value your own vision but if you have an amazing team, their vision will play a large role too; their voice, their experience, their creativity will aid you."
Jon Wardle asked Douglas about the 120-day consecutive shoot and if he went in with any anxieties. Douglas said, "I just wanted to soak up each day of shooting because every moment is equal; each day on set should be treated the same. Yes, there was a sense of pressure but we laughed a lot. I guess that helps to get through it! That's always a good sign that things will be okay."
In closing Douglas said to the students, "The biggest bit of advice I can offer is to be bold and make bold decisions. Some might fail but commit to your instinct. That's yours."