Following the end of the UK wide lockdown in June, staff at the NFTS were keen for students to return to the School and get back to production quickly and safely, and so worked extremely hard to ensure all official Covid-19 measures were in place ahead of a successful phased return to site.
With the NFTS one of the first studios in the UK to re-start filming, students were returning to a very different world on set, one that required them to adhere to the newly issued Covid-19 Production Code of Practice.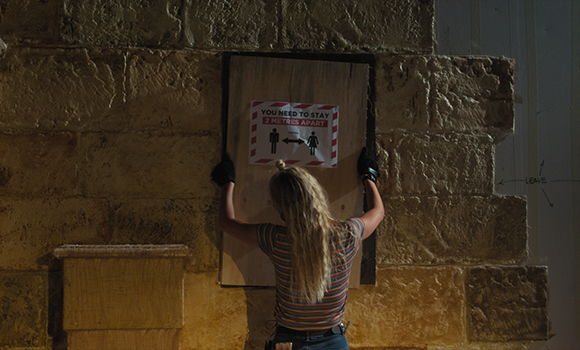 To ensure students felt confident undertaking and maintaining the challenges of filming under the stringent industry-wide measures, NFTS heads of department, tutors and staff led the way by trialling the School's first ever Covid-19 shoot – a light hearted training film shot on Stage One at the NFTS in Beaconsfield, titled Our Love Is Here To Stay.
Demonstrating how to work safely on set whilst still producing the high-quality content the NFTS is renowned for, a host of prestigious industry names swung into action alongside students to produce the seven minute short. The stellar team included NFTS Fiction Direction tutor Michael Hoffman (The Last Station, One Fine Day), Co-Head of Cinematography Oliver Stapleton (Ned Kelly, Absolute Beginners, My Beautiful Launderette), Head of Editing Richard Cox (Last Tango in Halifax, Gentleman Jack, Doctor Foster), whilst the School's Health and Safety Manager Sunny Bains served as the film's Covid Supervisor.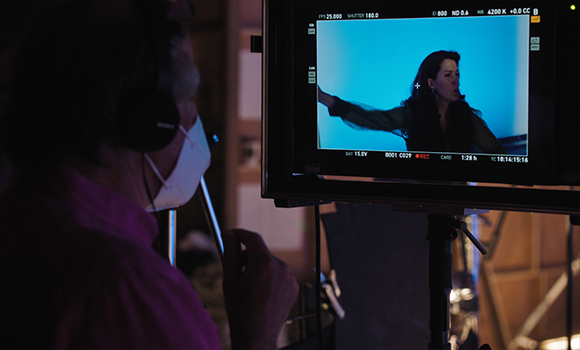 Since shooting the test film on 3rd June, over 60 NFTS productions have been completed across genres from Science and Natural History to Fiction through to Commercials, Animation, Documentary and Television Entertainment, an incredibly encouraging result for students joining the School and those thinking of applying!
The film's producer and NFTS Head of Production Annalise Davis commented: "This has been a challenging year for everyone and I'm tremendously proud of the way the staff and students have risen to the occasion to do what they do best and love most – make films. The NFTS continues to be a world class institution and it's been a privilege to help the school get back into production across its many genres."
Watch Our Love is Here To Stay:
Read more in this Variety story: bit.ly/3hFf9CD
Places are still available on a few of our unique courses.
Go to nfts.co.uk/places-available to find out more!
#StandOutwithNFTS