The film and television industry turned out in force last night to watch the films from the second NFTS 'Diverse Directors Workshop'.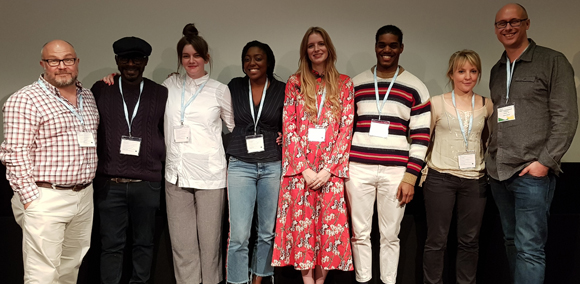 The aim of the scheme, which was launched in 2017 in association with British production company, EON Productions, is to increase the number of women working in screen direction as well as people from BAME backgrounds and those with disabilities. The 2018 scheme is also supported by ScreenSkills and County Hall Arts Trust. The six directors, Bim Ajadi; Lisa Clarkson; Ella Bennett; Sophie King; Morgan Bailey; and Laura Degnan received a rapturous response from the audience after their films were showcased at Channel 4 in London.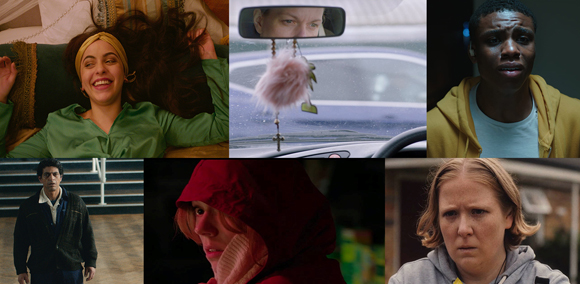 About the filmmakers:
Bim Ajadi / The First Time: Bim Ajadi is an award-winning filmmaker from London. He initially trained in graphic design and 3D animation before becoming an editor and director, working on television documentaries, music videos and short dramas. He co-directed Look Up for the opening of the 2012 London Paralympics Ceremony (Channel 4) and directed and edited I Believe, a music video for Zebra Uno, which won Best Music Video and Best Editor at the CKF International Film Festival. Other film credits include 4 (BSLBT), and, more recently, DOT a docu-drama for Film 4, as well as an online commercial with NFTS alumni. Bim is profoundly deaf, which gives him a unique visual perspective.
Lisa Clarkson / Services: Services is Lisa's first ever directing job. A twist of fate led her to come to NFTS in January, taking a suddenly vacant place on the Directing Workshop. Prior to this she was working on Antiques Road Trip as a researcher. To have Services screened here at Channel 4 is a particular dream come true for Lisa; Channel 4 being the home of some of her life long loves and influences: Eurotrash, The Word and First Dates (see if you can spot them in Services!). After tonight, she returns to Scotland to take up a Christmas temp job at her old work, and in January she begins the MA Directing Fiction at the NFTS.
Ella Bennett / Dust: Ella Bennett is a director based in South London. Her crowd-funded short film LAST LEG won 'Best Short' at the London Independent Film Festival 2016, screened at film festivals globally and broadcasted on London Live twice. Her short film SORE THUMB STICK OUT premiered on Channel 4's Random Acts channel and toured around the UK with Playback Festival, an interactive film exhibition. She is represented by Giles Smart at United Agents and is currently developing her feature film debut BENEATH THE MIND, which won the Junior European Talent Slate Award, held during the 68th Berlinale Film Festival, granting industry support.
Sophie King / Uneatable: Sophie is a BAFTA Crew and BAFTA Guru listed director. She has a BA in Film from Kings College London, and has completed the BFI Film Academy and the NFTS BFI Talent Campus. Her short, The Trip, was selected by BAFTA and Oscar qualifying film festivals internationally, and was nominated for awards including Best Drama and Best International Short. It screened at Hollywood's Chinese Theatre, premiered on American TV as a primetime Saturday night 'Movie of the Week', and is now available on Amazon and iTunes. Sophie's prior short, SWOON, was nominated for Best Director at Underwire Festival.
Morgan Bailey / Rumet: Morgan Bailey is an actor-writer born and raised in Manchester. He is currently participating on a young writer's scheme led by Rollem productions. This great deal of traction with writing occurred after being accepted onto the 'TV Drama: Creating The Bible' Certificate course at the NFTS. The pilot which was written on this course, culminated with him being accepted onto the BBC Writers Room and acquiring his first writing credit for BBC 1 Xtra.
Rumet is Morgan's first time directing any form of content. He aspires to and will broaden his horizons as a well-rounded storyteller.
Laura Degnan / O Christmas Tree: In 2018, Laura directed the short film O Christmas Tree as part of the Diverse Directors Workshop at the National Film and Television School (NFTS). Laura was subsequently invited to direct an NFTS graduation film in October/November 2018. Laura has written and directed a number of short films, including The Lost Girl, which was an official selection at the Aesthetica and London Short Film Festivals, and Blind Eye, which was an official selection at the Palm Springs ShortFest. Laura has been supported and mentored by Film Four and the UK Film Council.
NFTS Diverse Directors course leader, Alby James said, "This new access course at the NFTS for directors from under-represented groups is a fabulous and bold initiative to identify talented individuals. I am very proud of the films the latest cohort has made and it's testament to the quality of those films that the industry has turned out in such numbers to come and see the films and meet the directors. I am confident that all of them have a very success future career ahead."
Jon Wardle, NFTS director said: "The NFTS 'Diverse Directors Workshop' is an incredibly important initiative for the NFTS as the School is committed to ensuring that filmmakers represent the society that they reflect. I would like to personally thank EON Productions, ScreenSkills and County Hall Arts Trust for helping us make it happen. We want our student population to be as diverse as possible, particularly in screen directing as we need to hear from all voices and perspectives to ensure the viewing audience is fairly represented. It's fantastic to see so many of our industry colleagues turn out to see what our directors have created and it shows that there is a huge will across the industry as a whole to welcome and nurture diverse talent."
Details on the next Diverse Directors Workshop will be announced soon.