It will take more than a global pandemic to stop production at the National Film and Television School, including within the Model Making department!
Now in its fourth successful year, it has been full steam ahead on the NFTS Model Making for Animation Diploma for this year's group of students. A few short months since beginning the diploma in September 2020, they were faced with continuing their practical modules from home, due to the lockdown restrictions put in place after Christmas.
Head of Model Making, John Lee quickly adapted his teaching methods and sprang into action by creating two lockdown 'Turbo Projects', shipping out batches of materials to ensure the model makers had everything they needed to continue working from home. These 'Turbo Projects' included a short sculpting exercise, creating model hands at different scales and a 2D/3D interpretation of a favourite graphic novel. The students also received brilliant and insightful remote tutoring from Joe Holman, Character Designer and Sculptor at course partners, Mackinnon and Saunders.
Reflecting on the pivot to online learning, Head of Model Making John Lee comments: "There are actually some valuable tips and exercises I've picked up during these lockdowns, which I have now permanently written into the course!"
Currently still in lockdown but hopeful of a return to the NFTS Model Making workshop from 8 March, the Model Makers have just started sculpting their Puppet Module characters from home and will finish them off in the workshop when the School re-opens.
John adds: "I have noticed a great resilience with this year's group, who applied to the course during the pandemic last year. The most important job as a tutor is to inspire, support and enable your students to learn as much as possible, meet like minded collaborators and make friends for life and I'm incredibly pleased this year's cohort has still managed to achieve all of that. At times like this, I'm reminded of my favourite line from the classic film Galaxy Quest which is, "never give up...never surrender!"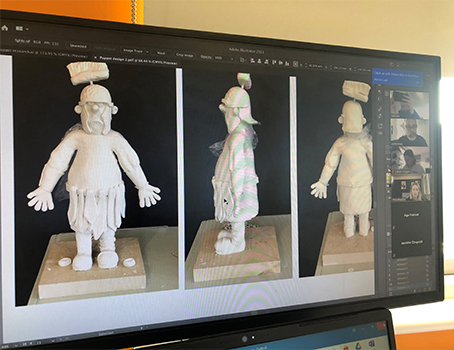 "I'm really impressed by John and the School's action plan to tackle the lockdown, ensuring that we made the most out of this current situation. What has stood out to me was the level of dedication, kindness and care that was given to us by the NFTS. I am so grateful to be a student at NFTS!" - Charlie Allwright, Model Making Student
"When I learnt there was going to be another lockdown, I was anxious about missing out on crucial learning, however the course was cleverly adapted and we have achieved more than was planned at the start of the year! I loved the graphic novel turbo exercise which transformed card and paper into a visually appealing 3D model! It was amazing to have daily online sculpting tutorials for making our puppet maquettes, especially from Mackinnon and Saunders' Joe Holman. These fun sessions kept us all working hard when we couldn't come into the school and allowed us to maintain the fun social atmosphere we love in the workshop." – Olivia Savage, Model Making student
Applications are open to apply for this incredible and unique 1 year Diploma.
Find out more details and read the latest news on the course and apply here: nfts.co.uk/model-making
#modelmakingmonday
22/02/21