Summer 2021 was a truly memorable season of sporting highs which saw NFTS Sports Production Diploma graduates and course leader Tom Lewis helping to bring some of the world's top events to the screen, working on the Euro Championships, Tokyo Olympics and The Ryder Cup.
After a delay of 12 months due to the pandemic, Japan's capital city finally welcomed the sporting world in July and August. Course leader of the National Film and Television School Sports Production Diploma, Tom Lewis, travelled to Toyko to oversee the live coverage of the table tennis tournaments, a racket sport with a greater number of recreational players than any other globally.
Tom has been in the sports television industry for over three decades and in that time, has filmed in more than 40 countries, covering events as varied as football in China, cricket in Fiji and mountain biking in South Africa, as well as working at previous Olympics and World Cups.
Reflecting on his experience of working across a variety of sporting events, Tom Lewis gave some sage words of advice to those wondering what training to work in sport could offer them:
"It's important to understand that the world of sports television is far wider than just the Premier League. There are so many different niches in the industry and, with the rise of social media, so many different ways of telling the story, that it is important to have as broad a mind as possible. In addition to football and cricket, I have been involved in broadcasts of activities as disparate as chess and synchronised swimming and have thoroughly enjoyed every one."
2019 course graduate Flynn Hamilton was Media Co-ordinator at the Euro Championships 2020 and is now working for EuroLeague Basketball. Reflecting on his time as a student of the course, Flynn commented:
"The Sports Production Diploma is ideal for anyone who wants to get into the sports TV industry. The expertise from Tom Lewis is great as well as the access to established sports producers and the fantastic facilities at the NFTS, ranging from a full spec studio and gallery to equipment."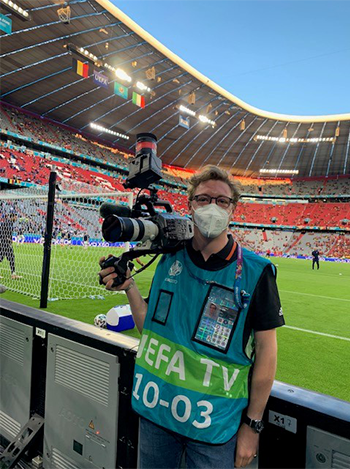 The NFTS Sports Production Diploma course, delivered in partnership with IMG, the world's largest independent sports producers, aims to equip students with the editorial skills required to produce state-of-the-art sports and live events coverage, highlights content and other material.
This practical course enables students to learn about all forms of sports production, including creating their own stories and collaborating with those in other specialisms – with all production costs met by the NFTS. Each student completes a four-week work placement at IMG who have major relationships with broadcasters around the world, and is involved in work with FIFA, UEFA, the Premier League, European Tour Golf, the UCI, the Asian Games Federation and World Snooker. In the UK, IMG produces the Snooker World Championship and the BDO World Darts Championship.
The course also includes Masterclasses from industry experts and our graduates have the opportunity to build a brilliant list of industry contacts and relevant skills required for a successful career.
Other graduates of the course have gone on to start their careers with course partners IMG, Sky Sports, the BBC and many other major sports production houses.
Apply now for a January 2022 start and kick start your career in Sports Production!
#NFTS