"New filmmakers are very excited all the time and push boundaries. I want to be inspired and buck the system and do things as different as I can."
There was a palpable feeling of excitement and anticipation as NFTS students welcomed Oscar nominated director, M. Night Shyamalan to deliver a masterclass after a special preview of his new film Glass at Picturehouse Central in London. Glass is the third film in a trilogy that started with Unbreakable and then Split. Glass brings together the narratives from the first two films and the three main characters played by Bruce Willis, James McAvoy and Samuel L Jackson.
The new cohort of the NFTS Diverse Directors Workshop, which is sponsored by Walt Disney Motion Pictures UK, were invited to attend the session, which was the first of a number of Disney masterclasses to take place for NFTS students this year.
The session was hosted by NFTS director, Jon Wardle, who asked Night about his focus on belief versus doubt as the film's central theme. According to Night, each scene in films he admires is about that film's central theme: "For example, each scene in Kramer versus Kramer is about the lack of relationship and connections between the family members." From the opening scene in Glass where you see a guy who believes he is super strong punching another guy, the theme of belief versus doubt is introduced. Throughout the film, the viewer is encouraged to ask whether there is something inside of us that is special or powerful.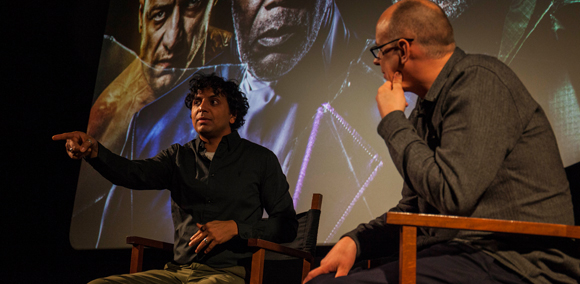 Jon then asked Night about his approach of hiring crew members who had never previously worked on feature films. To this, Night said: "I made the decision to work on smaller budget movies, which means you have to work within certain constraints. It means you can't afford the best DP in the world, such as Roger Deakins." At this point, Jon interjected to let Night know that Roger is an NFTS graduate! Continuing, Night said: "For me, rather than going to the middle group, I went to people like you guys just out of film school. I found films recent film school graduates had made and then called them up to meet for a drink. That's how I found my cinematographer, Mike Gioulakis who was DP on Split and Glass. Glass was also the first feature film for the composer and editor. I see it a bit like the older vampires meeting the young vampires in Interview With a Vampire! The 'young vampires' i.e. new filmmakers are very excited all the time and push boundaries. I want to be inspired and buck the system and do things as different as I can."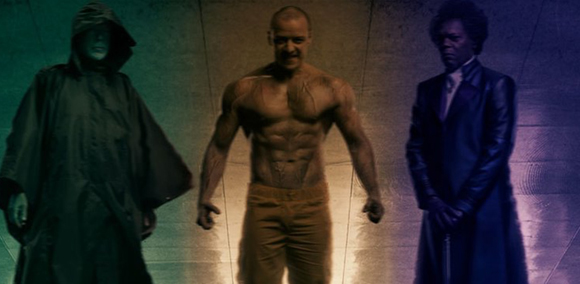 Night relayed a story about how his composer, West Dylan Thordson showed particular dedication by recording the music for Glass in the asylum in the middle of the night after shooting had finished for the day: "For him, it's truth; non-sampled, emotional veracity."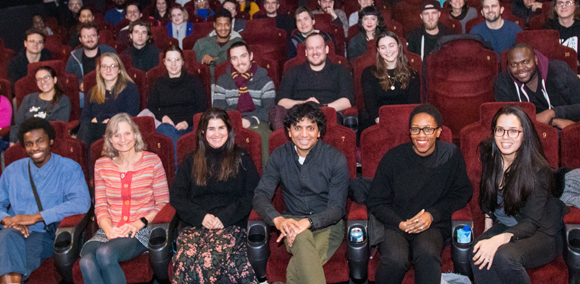 One of the students asked what rules of engagement Night follows when embarking on his "realistic and grounded" films. Night replied: "For Unbreakable, I posed the question, 'What if Marvel was real?' It's a tricky thing to balance. Films are mostly either set in reality or fantasy worlds but for Unbreakable, the viewer has to adjust to a strata in between and that balance is very hard to get. I give the viewer just enough science to get to that place. For example, people with Dissociative identity disorder (DID) can change blood character, eye colour and cholesterol levels. I just add one more thing like the ability to bench press a car to push the boundaries of logic. The viewer reacts to consistency – every tone will work and the viewer can suspend belief if you can hold the tone throughout."
Glass is out in cinemas in the UK from the 18th of January.