The NFTS was delighted to welcome back double BAFTA winning and multi-Emmy nominated Composer and NFTS Graduate, Martin Phipps for a Masterclass recently. Jon Wardle, NFTS Director led the Q&A as Martin, who graduated from the School in 1997, showed clips from The Crown and The Shadow Line and gave the students insightful advice on how to be successful in the composing world.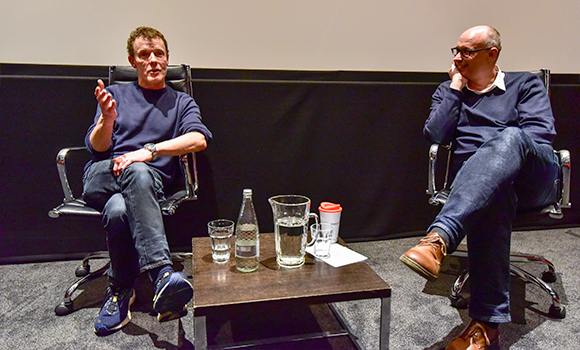 Recalling how he found himself studying at the NFTS, Martin detailed how he had originally started out on an acting course. Quickly realising that was not the path he wanted to take, he began writing music for plays instead to get out of acting roles. Martin applied for the NFTS Composing course following an "eureka moment" when he realised that being in a band wasn't the only music career option available to him: "It wasn't always easy, but I had a great time here."
Martin's most recent work has been working on Netflix's global hit The Crown. "I'd never done anything on that scale before so it was all new, but I loved it so much I couldn't not do it."
He explained how he decided to work in a different way on The Crown compared to other projects. "I spent years doing everything that was offered to me and often being very rushed or doing two things at once. It was tough. I think you probably have to go through that process, but now I'm in what I would think of as an ideal position."
Martin writes during filming, not always to picture but to a brief from writer/showrunner Peter Morgan. "I can only do that because he really knows what his world is."
Speaking to the editors in the room, Martin said: "Often the editors have quite a lot of input on what music gets used. If you get an editor with a good ear and they know how they want to cut it then you're onto a real winner. That's a lovely relationship to have."
The students were then treated to a clip from the third season of The Crown. Firstly without the score to allow the students to imagine where they might bring the music in and what it would do to the scene. They were then shown the final finished scene complete with score.
The final score used very little live instruments with Martin revealing it had initially been recorded entirely live but Peter preferred the demo. "Live stuff is really important and it's a privilege to be able to use it. What he [Peter] was reacting to was that it suddenly sounded a bit more 'normal' and plusher and he was reacting against that."
Martin praised the editor for bringing the music in at a particular point in the scene. "He could have scored that earlier but he held off so you've got a lot of silence until you just hear that little bit of string coming in at the opening of the conversation with Wilson. It means you're ready for it, you're leaning in. You're not already desensitised by having a wash of music running through those two scenes."
Martin said a decision was made early on in his involvement around scoring The Crown. "We wanted to pull back on the amount of music but make it count when it is there."
A few students commented on how surprised they were that the music went so well with the scene, considering it wasn't written to picture. Martin explained much of that was down to the editor deciding to cut to the score, creating a rhythm that the picture finds to the music. He revealed that piece of music was even written for a different character and scene. "For this episode he [Peter] sent me a brief about Mountbatten…but I don't want to be too literal about what I'm writing a piece of music for…I think it's about having an emotional space and energy within the music that can translate in some form in whatever context you find for it."
Martin then played a scene from Aberfan, an episode from season three based around the 1966 mining disaster in the Welsh town that left many people dead. Martin outlined the challenges faced composing the portrayal of such a difficult and raw historical event. "The whole episode was very tricky tonally. How could we expect our audience to feel empathy for the Queen who can't feel anything for a tragedy? I was trying to score something that had a lot of emotion in it but about someone not showing emotion."
Martin enlightened the students on what directors might do to help or hinder the work of a composer. He explained that it's far more useful for a director to express what they want the audience to feel at that point in time instead of saying something vague such as; 'I'd like guitars to come in here.'
Warming to his theme Martin told the students: "Music works best when it operates in a separate space and adds another layer. It's not just about trying to fix something or make something work dramatically in that scene. It's rising above it and adding a whole other emotional layer that sits on top and that's when it's really exciting."
In response to a student question, Martin offered advice to the directors in the room. "If you're hiring a composer, listen to their music, listen to it on its own, try and work out what it's saying to you, what field it's inhabiting and what you like about it. And don't worry about their credits."
Martin closed the Q&A by showing a chase scene from The Shadow Line, describing his experience working with Director Hugo Blick and the unique approach they took to scoring the show. "It was about the precision of the notes and that simple motif that kept coming back. That's what he wanted…and not to do it like a normal car chase," referencing a line in the scene; "do it like a British car chase."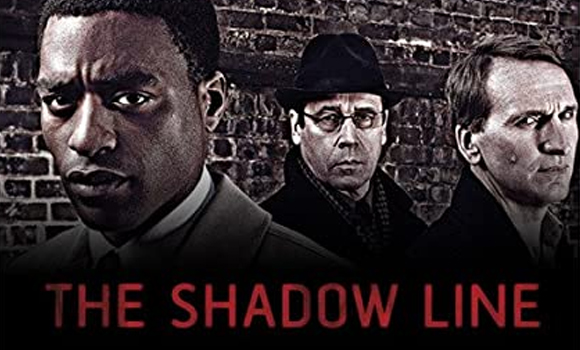 Martin's final word for the composers at NFTS was a very positive one. "You need to be around people who are making films, so you're in the right place."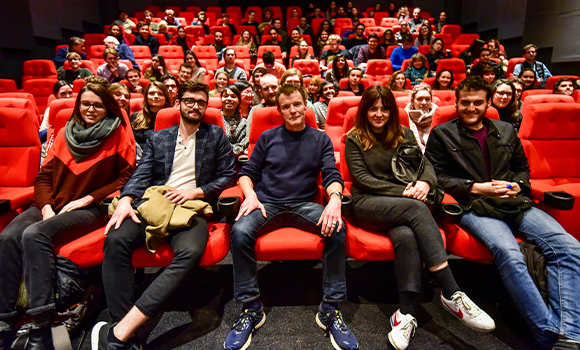 NFTS students regularly benefit from once-in-a-lifetime Masterclasses like this one and while they currently study from home, Masterclasses are being hosted virtually.
For more information, visit: nfts.co.uk/masterclasses
Register for our Composing Virtual Open Day taking place on 26 March 2020 at 10am.
Introduction to the School by Director of the NFTS, Jon Wardle
'Meet' and Q&A session with Head of Department, John Keane
Funding and Scholarship information
Click here to find out more.
25/03/2020