NFTS graduation film The Fire Next Time will showcase at the prestigious Sundance Film Festival in the US from 29 January – 3 February, the only UK animated short to be included. Here, head of NFTS Model Making John Lee shares an insight into the collaboration and input that was required from his team of model makers to give this powerful film inspired by the 2011 London riots its unique look and feel.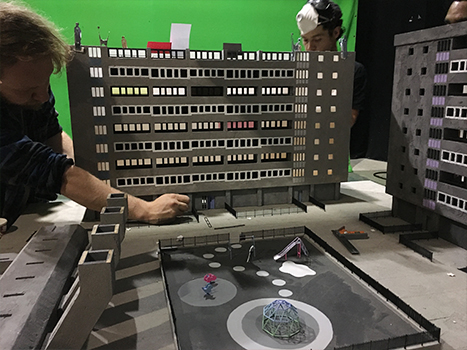 "The technique used in Director Renaldho Pelle's short The Fire Next Time incorporates hand drawn and digital animation, composited in backgrounds comprised of three dimensional miniature tower blocks, street scenes and underpasses, synonymous with the urban setting of the film.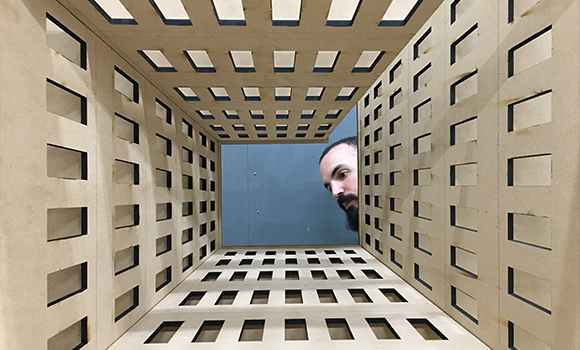 The stylised buildings were designed by NFTS Production Designer Nicola Sadori and were fabricated by the Model Making department at an approx. scale of 1:50. We deliberately over emphasised the textural element of the buildings, to remove any sense of realism, which Renaldo and Nicola wanted to avoid. The street scenes remained brutally simple, and were finished in a limited monochrome palette, with each building elevation painted in selected tones to compliment Cinematographer Fabio Mota's lighting design. Most street parts were constructed in forced perspective, so maquettes were made of each set up, and photographed by Fabio in order to work out the complex compositions prior to any construction. The end result is a very original aesthetic."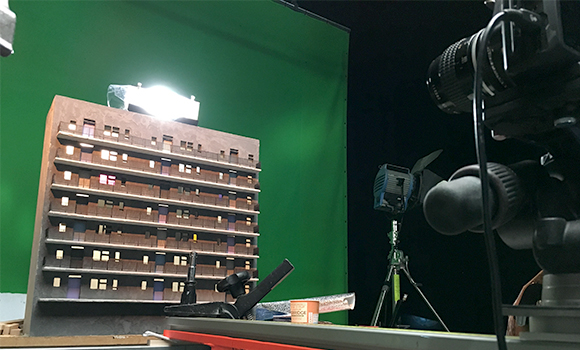 It was very much a team effort for the NFTS Model Makers, with students Ellen Carnegie and Emma Hodgson leading the texture finishing of this project, whilst Oliver Arnell Argles, Angus Choy, Alastair Fleming and Thanos Kantzavelos assembled laser cut building facades and set up on stage, with Harry Saxon making a series of stylised vehicles and small scale recognisable props including a police van.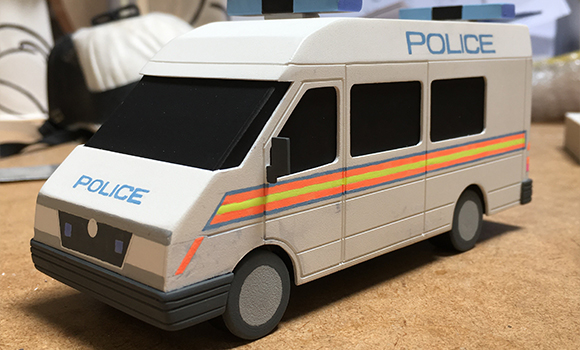 "I'm extremely proud of the Model Making teamwork on this film which supported Renaldho's vision, and we are all incredibly excited for it to make its Sundance debut."
Since graduating alongside Renhaldho last year, the Model Makers have immediately started making their own impact on the industry including Oliver Argles who is now working for Blinkink in London (known for The Bear & The Hare John Lewis Christmas advert) and Arch Film Studio (which is involved in the making of many Wes Anderson films including Isle of Dogs and the upcoming The French Dispatch). Ellen Carnegie is working full time at MacKinnon and Saunders in Manchester (NFTS Model Making course partners, known for iconic animation films such as Coraline, Corpse Bride and Chicken Run.)
If you'd like to create models for animation, applications are now open for the NFTS Model Making Diploma. Visit nfts.co.uk/model-making-animation to apply now for a September 2021 start!
#modelmakingmonday
25/01/21