NFTS recently launched AccessNFTS, a national outreach programme sponsored by Universal Pictures International which has been designed to find, inform and inspire a new generation of film, TV and games talent. The very first event took place in Glasgow in early October and was a huge success! NFTS Head of Model Making John Lee headed up to BBC Scotland to showcase the unique work of his department over the last two years. In addition, John used assets from the recent Universal release of The Addams Family, to show how model making and animation help bring the story to life.
John ran a talk and workshop to a full house which included the team from City of Glasgow College, who are currently studying model making with expert tutor Simon Atkinson. John showcased the collaborative model making work undertaken by his students at the NFTS, plus some individual puppet design and creation. There was also an exclusive behind the scenes peek at some of the model and puppet making which will feature in the upcoming NFTS Animated graduation films currently in production.
John commented: "It is always a joy to discuss model making and animation with students who are passionate about the craft. I thoroughly enjoy sharing stories about my work on films such as 'Fantastic Mr Fox' and, 'Frankenweenie' and always hope it will inspire more people to pursue their passion for it further. An added bonus was being able to introduce everyone to graduate model maker Roisin McCallum, who took time off work to meet the attendees, recount her experiences of being a student on my course and her stellar career path since graduating from the NFTS."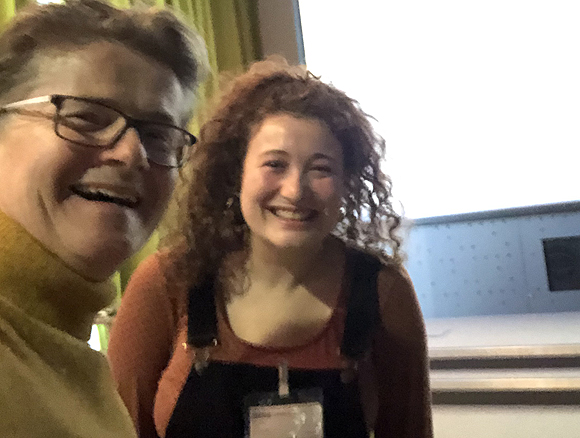 Roisin and her fellow NFTS model maker Gemma Byrne recently designed and built four furry alien puppets for a music video featuring The Big Moon, working with London based production company Stink Films. The model aliens had to have the ability to be puppeteered on location, fixed into a bicycle basket similar to the one featured in the film ET. Both Roisin and Gemma also did the puppetry.
Watch the video here: https://www.youtube.com/watch?v=1OijD72t4XY
For more information on the next AccessNFTS event go to: www.nfts.co.uk/access