Each year the NFTS Model Making students create their own brilliantly original stop frame animation puppets as one of their modules on the one year full-time Model Making Diploma.
This year's brief was to make a stop-motion puppet for a pre-school television series.
Meet their incredible puppets…
BEANIE by Clare Smithson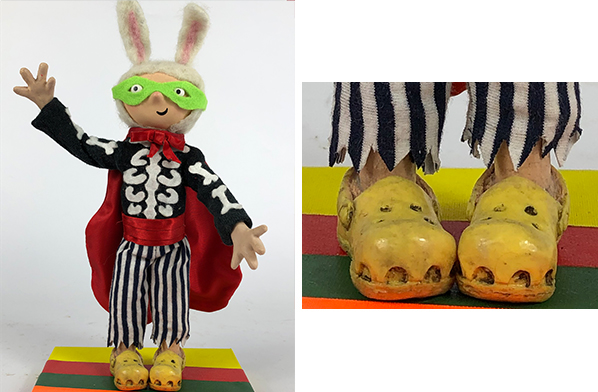 "I began this project by researching the type of pre-school character I wanted to make. I was interested in finding out what sort of characters children like and respond to, and also which characters most resonated with adults from their childhoods. I therefore asked children and adults about their favourite programmes and characters from childrens' television, and looked for themes that linked the most popular characters. For example many adults talked about really enjoying Mr Ben. I also thought about my own favourite characters and why I liked them so much.
From this initial research I focused on the importance of make believe to children, as children spend so much time imagining worlds and creating completely immersive stories. I thought about the importance of dressing up to realise these worlds. And also how children use their own internal logic when creating these worlds that is not immediately apparent to adults. Children have their own rationale when putting a costume together, and that's why Beanie's costume appears to make no sense to the adult eye. Her costume includes items from a rabbit, a superhero, a skeleton and a pirate.
She is also wearing crocs. In my experience as an auntie of small children, kids love crocs. They are colourful, practical (you can get them wet and dirty and they are easy to clean up afterwards); they are comfortable, and you can accessorise them with badges.
As part of the project I learned all the techniques needed to make Beanie. These included sculpting a maquette, making moulds and casting parts of her in silicon and fibreglass, As Beanie is only four years old she is quite a small character. I therefore reduced the size of the armature by taking apart the limbs and soldering together a customised figure. Finally I also learned how to felt so that I could make Beanie's cap and rabbit ears and also developed my sewing skills to make her costume."
MIMI by Maria Bonu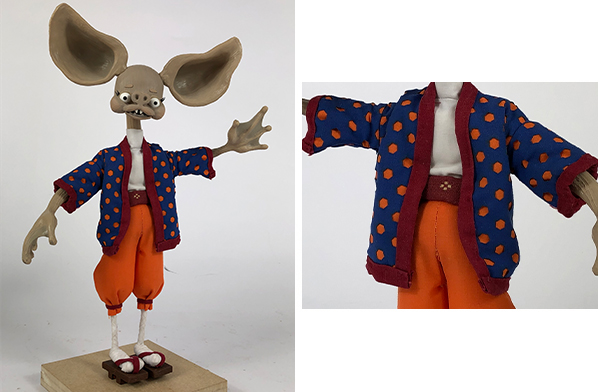 "This is Mimi, a Japanese bat, whose name is a translation of the word 'ears'. My idea was inspired by the bats in the Lake Sai Bat Cave near the base of Mount Fuji and I thought it would be fun to base a character around them. I really enjoyed sculpting the initial maquette of the character and teaching myself how to sew in order to create her kimono. The project was a great challenge and was a great way to learn new skills and processes that I'd never tried before."
RUFARO THE RHINO by Jack Morgan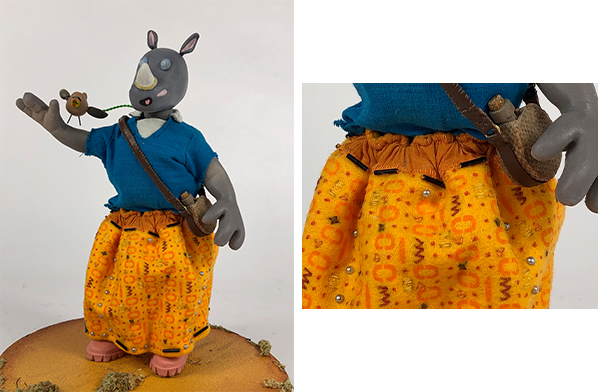 "Rufaro is a kind hearted, carefree rhino who overcomes her visual impairment to explore Africa with the help of her overly cautious Oxpecker friend and guide, Kevin.
Over the course of their travels they learn more about the environment, the neighbouring wildlife, and most of all, each other. I felt that this was a fantastic opportunity to create a character who portrayed physical disabilities in a positive light, something that is currently lacking in children's pre-school entertainment. The design of the character also allowed me to draw inspiration from traditional African patterns and textiles, evidenced in her skirt."
PERO by Agatha Roudaut

Pero's Bio Coming Soon!
ANANKE by Mara Frampton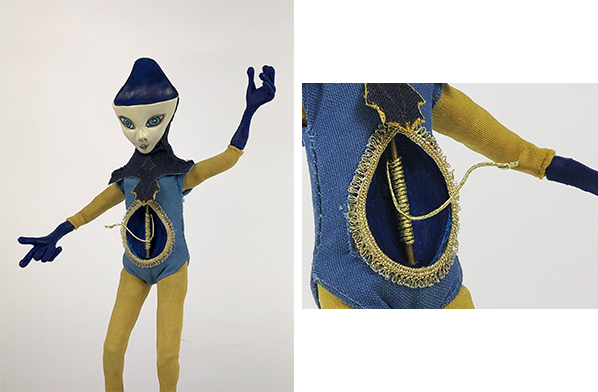 "Ananke was a primordial Greek goddess who together with Khronos (time) was said to crush the original egg of creation, splitting it into its fundamental parts: Earth, Heaven and the Sea. Together they brought order to the chaotic universe. My puppet is loosely based on this ancient myth. Ananke, often depicted holding a spindle, sits on the axis of the cosmos as time and fate unfurls from her womb. I chose to incorporate moving parts in the build of my puppet to illustrate this. Ananke has a vac-formed womb-like cavity in her belly, from which a golden thread can be unwound and animated around a piece of brass tube. She also carries a giant golden needle as a prop.
My vision for Ananke, was for her to be cosmic storyteller in a children's television show, perhaps each episode exploring a different myth with Ananke as narrator. I tried to indicate the world she came from through her design and costume, in keeping with a celestial colour palette, and using a combination of techniques for her fabrication: hand embroidered eyes and mouth, a laser cut fabric costume and shiny gold silicone boots."
Watch the video!
MISTER COW by Beth Slater

"I thought about lots of different animal designs but settled on a highland cow because they have such great charm and character. I liked the idea of the puppet having a job so I made him a blacksmith with an apron, gloves, tools and welding goggles. Because he has such short legs, long arms and wide shoulders I had to adjust the armature which involved silver soldering.
The gloves and boots were cast in silicone, so wire hand armatures and moulds needed to be made. The body was chopped foam and covered in fur. I did a lot of tests with the fur to find out which products to use to get the best effect. The bowler hat was constructed by vacuum forming the rim and carving the crown. It was then flocked. I patterned and sewed the jeans and apron and constructed the goggles from brass tubing. The replaceable mouths were made in a plaster push mould from oven bake clay.
I'm really pleased with how the puppet turned out. It was great to get to design something from scratch and follow it through to the finished puppet. I really learnt about the requirements of stop motion and also expand my skills working and painting with silicone."
LUMIE by Jonathan Thrower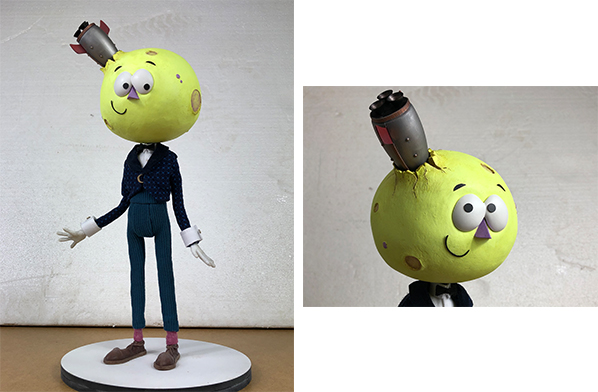 "Lumie is a young moon headed explorer who travels the cosmos to learn about space and the universe. I really wanted to create a more surreal character that had the feel and aesthetic of 2D animation, with big exaggerated features and rubber hose style of movement. The idea came from the classic imagery in Georges Méliès "A Trip to the Moon" which I thought would be a fun basis for an educational kids character as a way of teaching the about space exploration."
TALVI by Jana Arni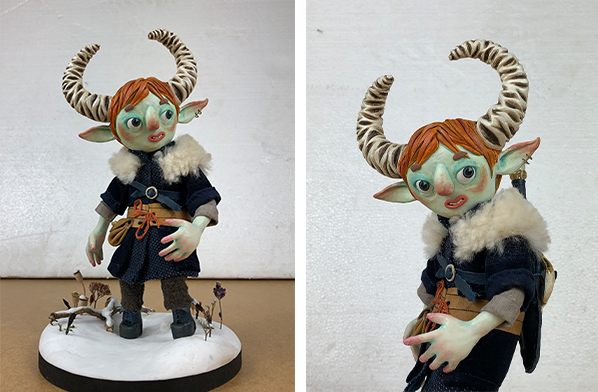 "My puppet is called Talvi (which means winter in Finnish) and she is some kind of fairy folk, living far up in the North. When she was a child her father the king was overthrown and killed. The kingdom fell into turmoil but she managed to escape and hide. She joined the rebellion who gave her a home and became her new family. Their goal is to get the rightful heir back on the throne so peace and justice can come back to the North.
I started with character sketches. I knew that I wanted to make something humanoid with a touch of fantasy. I stuck quite close to my finalised sketches. Her head and horns are cast from fiberglass, the hands from silicone. A big part of the puppet was the costume. I wanted it to be made of natural materials so I used cotton velvet for her cloak and sheepskin for her collar. Details of the costume are calf leather, the sword and her mask are embellished with gold leaf."
Watch the video!
#modelmakingmonday
Applications are now open for this course!
nfts.co.uk/model-making-animation | Apply by 31 May 2020
06/04/20