The National Film and Television School took over Picturehouse Central in Soho this week for 3 exciting days of packed out screenings and networking to celebrate our graduating class of 2020's productions. The Graduate Showcase culminated in an electric ceremony at Odeon Luxe in Leicester Square on Thursday 27th February which saw 290 students graduate and Sally Wainwright and Working Title Films founders Tim Bevan and Eric Fellner awarded with Honorary Fellowships.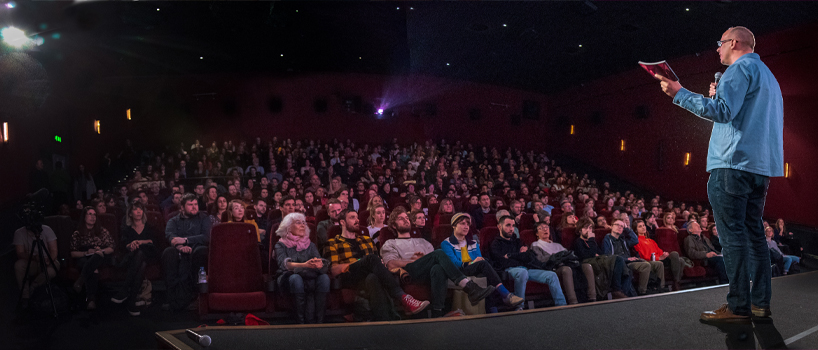 The NFTS Graduation Showcase 2020, supported by Netflix was attended by a record number of industry guests keen to meet the newest crop of emerging talent, including Reed Hastings, co-founder and CEO of Netflix, who ensured his schedule on a brief visit to London allowed enough time to personally meet the next wave of NFTS film and television graduates.
With an exclusive Masterclass hosted by NFTS Director Jon Wardle taking place on day two of the School's Graduate Showcase, Reed filled the graduating class of 2020 with confidence for their future prospects saying: "There's never been a better time to graduate!"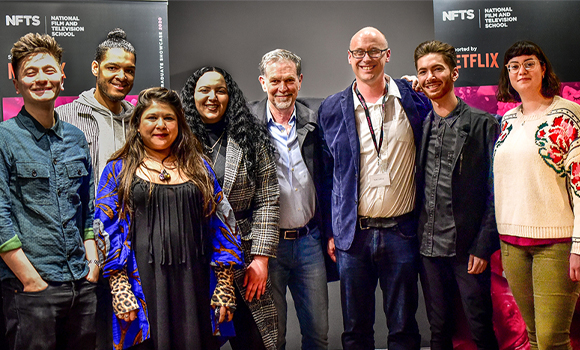 With the film and television industry in the UK seeing huge growth and increased investment, Reed had only positive words of encouragement for students hoping to emulate the success of past NFTS alumni who have gone on to create and work on acclaimed Netflix content including Sex Education, The Crown, Top Boy and Afterlife.

During the Showcases, the atmosphere was incredible as the students took their seats next to friends, family and industry guests to watch the productions they had put so much time and love into show on the silver screen.
At Thursday's Graduation ceremony, NFTS students received awards for high levels of achievement in production chosen by key NFTS industry partners; Sargent-Disc, Avid, Christie, IOSH and Panalux.
This year, the following graduating students were recognised for their stellar work:
Christie
Partnership Manager, Cindy Symons awarded the Christie prize for the 'Most Promising NFTS Student' to Digital Effects (DFX) graduate Michael Pearce who received a personalised crystal trophy alongside £1,000.
NFTS Head of Digital Effects John Rowe said: "Michael has earned his reputation as a diligent and trustworthy ally, working tirelessly across every genre to help finish projects to the highest possible standards. His determination to succeed and his resourceful nature have resulted in him earning a full-time contract at world-leading post production house, Company 3. It can be no surprise that someone so universally liked and trusted has won this prestigious award. Michael has a positive approach to every aspect of life and fully deserves this accolade."
Panalux
Ole Mienert, Sales and Marketing Moving Image at Panalux, presented the Panalux Best Cinematographer Award to Adam Singodia for fiction film Shoal who was awarded a five day lighting hire package.
The jury commented: "Adam's cinematography on Shoal was an impressive mix of patient camera work and beautifully simple shots. The lighting choices throughout were consistent and natural, never distracting from the story on screen and allowing the landscape and tone of the film shine through. This is an example of mature and beautifully crafted cinematography that embellished the story at every turn. Adam has managed to create a world of its own that was believable and subtle, never letting the camera distract from the story. When you can really fall headfirst into a story, you know the cinematographer has succeeded."
Sargent-Disc
Director Dr Laurence Sargent presented the Sargent-Disc Awards to three students graduating from the Production Management and Assistant Directing and Floor Management Diplomas.
Gabriel Lippe won the 'Best Scheduling Skills Award', Elodie Taylor won the 'Best Budgeting Skills Award' and Lára Theódóra Kristjánsdóttir won 'Best All Round Student Award'. Each of the winning students was awarded £500 by Sargent-Disc.
Dr Laurence Sargent, Director said: "We are delighted to be able to recognise the fantastic efforts of this year's NFTS Production Managers and Assistant Directors. Sargent-Disc is proud to support the NFTS with a scholarship for two Production Management students each year and I am also proud to announce the creation of the John Sargent Production Accounting Scholarship which will support the NFTS in this key discipline in perpetuity."
IOSH
The Institution of Occupational Safety and Health (IOSH) Award of £1,000 for 'Health and Safety Management in Film Production' was presented by Chris Stops from IOSH.
This year prizes were awarded to three students: Madelaine Patricia Westwood took home £500 for Science and Natural History film Secrets of the Salamander while Producing MA student James Bowsher and Production Manager Lára Theódóra Kristjánsdóttir were awarded £250 each for fiction film Stratum Deep.
Annalise Davis, Head of Production at NFTS said: "This year we were delighted to open out the award across more departments: Fiction, Science and Natural History; Television Entertainment and Directing Documentary. The panel were so impressed by two films that they chose to split the award between Secrets of the Salamander and Stratum Deep with a commendation to Television Entertainment project Wild Cooks. The IOSH selection process gives our students a vital external perspective of Health and Safety in the workplace. Our thanks to IOSH for so generously continuing to give our training programme this support."
Avid
The Avid Award for Excellence in Sound Design was presented by Gaurav Harrish, Audio Application Specialist for EMEA. The award went to Sound Design graduate Ed Rousseau for City of Lost Children who was awarded Avid's Pro Tools® Ultimate software.
Simon Sherbourne, Audio Application Specialist, Avid said: "We've been blown away by the quality of the entries to this year's Avid Award for Excellence in Sound Design, any one of which would have been a worthy winner. The winning soundtrack is an amazing demonstration of how sound can build the world in which a film's story unfolds. It cleverly builds tension and menace, and is a great example of creative collaboration. We'd also like to give an honourable mention to Tati Sanchez and Joao Fonte, whose mixes transition beautifully between subtle naturalistic sound and emotive design: a theme that ran through all the entries."
The Avid Award for Excellence in Editing went to Jan Schroeder for his work on Rider. Jan was awarded Avid Media Composer® software.
The jury said: "The quality of the editing was extremely impressive, with the editors showcasing their exceptional talent and aptitude in the craft of editing, in both fiction and factual films. It was tough for us to single out the work of only one student, and we were torn between one documentary that was an excellent example of a film being made in the cutting room, and an expertly edited drama. We finally decided to award the Avid prize for Excellence in Editing to Jan Schroeder for his work on Rider. The way the pace and rhythm varied in this film showed how Jan understood the role and influence the editor has in telling the story of a film. Jan's choice of shots, timings, scene construction and montages enabled the viewer to get inside the head of the protagonist, and understand her determination, but also her demons. Rider was a very confidently and professionally made film."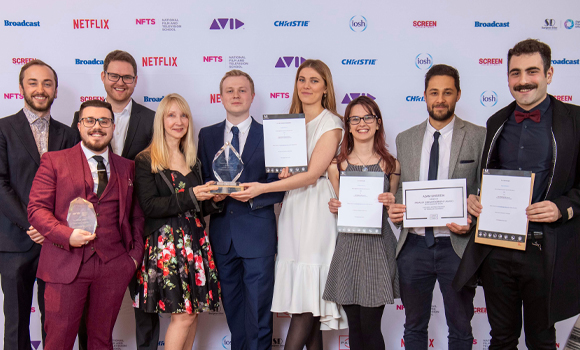 Congratulations to all of this year's prize-winning students and a huge thank you to all our industry partners and supporters!
Explore #NFTSGradShowcase2020 on Instagram and Twitter.
28/02/20