London, Friday the 1st March 2019: National Film and Television School (NFTS) Graduation Showcase - sponsored by Netflix - is a celebration of the last 12 months of graduate productions and an opportunity to showcase the resulting work to the industry.
This year the Showcase took place at Picturehouse Central in Soho on Monday 25th, Tuesday 26th and Wednesday 27th February followed by the graduation ceremony at ODEON, Leicester Square on Thursday 28th February. Graduation films, television entertainment shows, projects and games played to full houses of leading industry representatives scouting for the next generation of talent.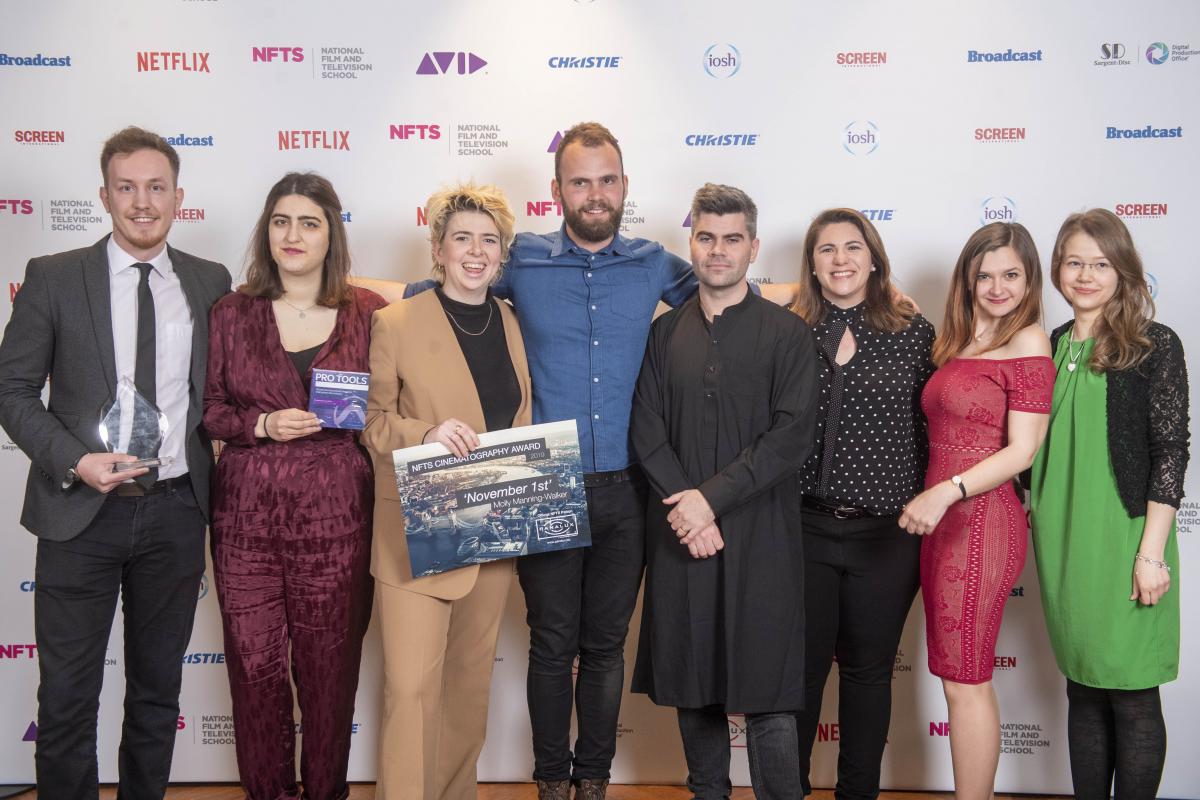 (Thomas Dexter, Ines Adriana, Molly Manning-Walker, Will Turner, Sighvatur Kristinsson, Silvia Villalba, Palma Derzi, Sarah Couprie)
Students chosen by key industry partners – Avid, Christie, IOSH, Panalux and Sargent Disc – receive awards at the graduation ceremony for high levels of achievement in production. This year, the following graduating students were recognised for their work:
Christie
Brant Eckett, Christie's Marketing Director Cinema and partnership manager, Cindy Symons, awarded the Christie prize for the 'Most Promising NFTS Student' to NFTS graduating Composer, Will Turner. Will received a Christie DHD599-GS projector, with long-life laser illumination and 5,000 lumens brightness to enjoy super-bright screenings at home.
NFTS Head of Composing, John Keane said: "Will stands out for his excellent attitude to everything he does. He is always positive when dealing with others, a ready smile in the face of all difficulties. He is a talented composer on a quest to understand his vocation more profoundly, which is demonstrated by his willingness to experiment and take risks. He has also been tireless in helping other composers in the year, passing on his technical knowledge unstintingly. I don't think anyone will be surprised by him winning this award!"
Panalux
Ole Mienert, Marketing/Account Handler at Panalux awarded the Panalux Prize for Cinematography – a 5-day lighting hire package - to NFTS graduating Cinematographer Molly Manning-Walker for her work on November 1st.
The jury commented: "Molly's camera work was very much in sync with the pace and the momentum of the action. There were thoughtful moments of stillness, where the composition of the shot allowed space around the characters to be more reflective; and then there were moments of greater intensity where the camera moved with the actors and followed their faces closely. As a viewer, moments like this made us feel involved and connected to the emotion of the characters. Looking forward to seeing more from this cinematographer."
Sargent-Disc
Director Dr Laurence Sargent presented the Sargent-Disc awards to students graduating from the Production Management and Assistant Directing & Floor Management Diplomas. Sarah Couprie (winner of Movie Magic Scheduling software) won the 'Scheduling Award'; Palma Derzsi (winner of Movie Magic Budgeting software) won the 'Budgeting Award' and Silvia Villalba won the 'Best Overall Award' (winner of both Movie Magic & Scheduling software).
Dr Laurence Sargent, Director said: "The production office is often overlooked when it comes to awards season so we are delighted to be able to recognize the efforts of this year's NFTS Production Managers. Sargent-Disc is proud to support the NFTS with a scholarship for two Production Management students.'
IOSH
The Institution of Occupational Safety and Health (IOSH) Award of £1000 for 'Health and Safety Management in Film Production - Best Safety Plan on a Fiction Shoot' was presented by Chris Stops from IOSH. This year the prize was awarded to graduating producer, Thomas Dexter and graduating production manager, Alana O'Neill for their work on NFTS fiction, Misconduct.
Simon Mallin, NFTS Head of Health and Safety said: "Only one fiction film can win this annual award, but this year, the IOSH panel asked for all the other seven projects to be congratulated on their achievement in safety management. The IOSH selection process gives our students a vital external perspective of in Health and Safety in the workplace. Our thanks to IOSH for so generously continuing to give our training programme this support."
Avid
The Avid Award for Excellence in Sound Design was presented by Claire Sayers, Field Marketing Specialist for EMEA to Sound Designer Ines Adriana for her work on The Pregnant Ground and she was awarded Pro Tools® Ultimate software.
Simon Sherbourne, Audio Application Specialist, Avid said: "This year's Sound Design award has been the hardest to judge yet, with a consistently high level of work across a range of genres. What really stands out this year is that sound design has been used thoughtfully and artfully to support and bring life to the films, without being showy. No film demonstrates this theme better than The Pregnant Ground, with sound design by Ines Adriana. With subtle air and background tones Ines manages to paint the sense of isolation and distress of the film's main character."
The Avid Award for Excellence in Editing went to Sighvatur Kristinsson for his work on We Have Everywhere To Go, and has been awarded with Avid Media Composer® software.
The jury said: "The quality of the editing of the films submitted was exceptional, and the range of films from animation to fiction to documentary was very impressive, giving the editors the opportunity to showcase their obvious talents. But we had to choose a winner and we finally decided to award the prize to Sighvatur Kristinsson for his work on his graduation fiction, We Have Everywhere To Go. This drama demonstrates the skills of the editor in controlling the pace and rhythm of the film, and getting the best possible performances out of the two lead actors. Sighvatur's editing decisions showed his understanding of the beats in the script and the genre he was working in. It is also evident that the director and editor were working in close collaboration. An excellently polished and entertaining film."
Congratulations to all of the prize-winning students and a big thank you to all our industry supporters!
For more information, please visit www.nfts.co.uk
Contact for further information:
Vicky Hewlett, Head of PR and Communications, NFTS: VHewlett@nfts.co.uk
About the National Film and Television School
The NFTS is one of the world's leading film, games and television schools. It has been cited by some media as one of the top five film schools globally and by one as the No.1 international film school. In 1967, the government recommended the creation of a national film school for the UK and in 1971, the National Film School opened its doors for the first time focussing on postgraduate education. In the 1980s, the school officially changed its name to the National Film and Television School to incorporate the demand for courses in television production and has since added games to its remit.
NFTS prides itself on producing world-class, award-winning industry leaders. It has more Student Academy Awards (Foreign Category) than any other film school. NFTS students and graduates also regularly win BAFTAs and have won the short film category for the last three years. Other prestigious accolades include the Grierson Award for Best Student Documentary, which NFTS students have won for the last three years as well as multiple Royal Television Society student awards and Annecy Animation Awards. NFTS graduates have gone on to win eleven Oscars and 139 BAFTAs with alumni including Oscar winning cinematographer, Roger Deakins; BAFTA winning director, David Yates, (best known for directing the Harry Potter films); Oscar winning animator Nick Park (creator of Wallace & Gromit) and Oscar winning composer Dario Marianelli among others. The NFTS is a registered charity (313429). For more information, see www.nfts.co.uk