This year's Springboard Week, the NFTS equivalent to fresher's week, included an inspiring session with NFTS alumni including BAFTA nominated animation director, Edward Foster (Little Princess, the Rubbish World of Dave Spud), Royal Television Society winning editor Paulo Pandolpho (Les Misérables; Tin Star; Cucumber), Breakthrough Talent BAFTA winning director, Mahalia Belo (The Long Song; Requiem) and visual effects artist, Gillian Simpson who has worked on Wes Anderson's Isle of Dogs and Tim Burton's upcoming Dumbo. The four returned to the School to deliver an insight into their own NFTS journeys to the new cohort of students in a session led by NFTS Director Jon Wardle; discussing tips, their favourite moments and 'life on the outside'.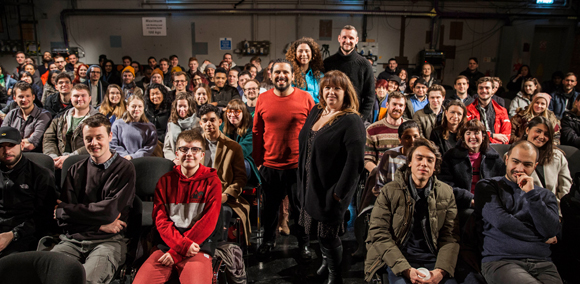 Jon Wardle opened the session, with a simple question – 'What were your first impressions of the NFTS on day one?'
Paulo: I thought, "this is going to be a special adventure. I made it a long journey to get here; literally and emotionally! I was just so excited to get going."
Mahalia: "It was clear everyone was so interested in their craft; really living and breathing it. That was exciting. I remember being so nervous on day one! You never know what your peers or teachers will be like and what challenges will be thrown at you. That fear disappeared by day two!"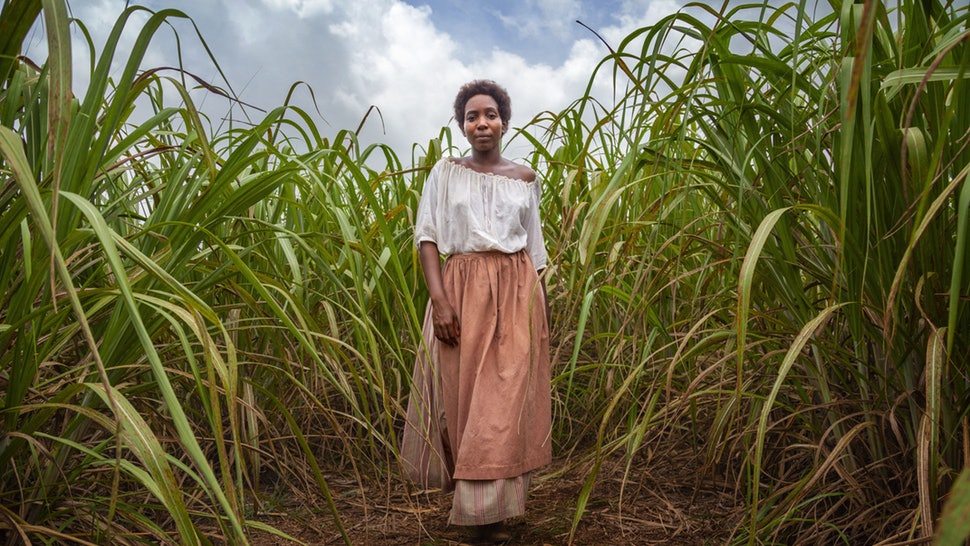 Edward: "Everyone, all across the school, was focused, motivated and had a sense of maturity and passion which really stood out from day one."
Jon discussed experience and opportunities with the panel, before asking: 'NFTS evolves, year on year but what did you feel you took away from your time here?'
Gillian: "For me it was confidence and self-belief. To have the skills to get up and try anything, even if I failed at it! I miss learning! NFTS allows you to try so many things; even outside of your specialism, with teachers who are industry legends. I can't believe how much we learnt".
Mahalia: "I think NFTS has its own style, for sure. No matter what your discipline; editing, composing, animation – storytelling is at the heart of everything here. I learnt that storytelling is personal and subjective but even the same stories are told and brought to life in so many wonderful ways. I think developing your own voice is the single biggest thing I took away with me."
Paulo: "It organises the way I thought about film. You see everyone's cuts and drafts (and there are a lot to see!) and get to comment, support, advise, be engaged with. Your vision matures and grows. A lot of that is down to your peers I think, not just the staff here. "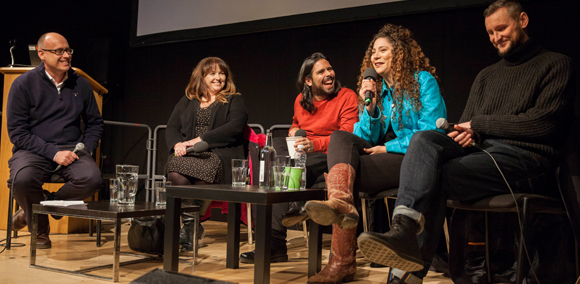 Edward: "Wanting to improve your work – There is no sense in showing off or being clouded by your ego at the NFTS. It's clear that everyone's vision and identity is respected and supported. That process is so beautiful to see. It took me a while to realise that 'flaws' in our work and the things that we creatives deem 'not ready' are what develop you as an artist. Its raw and it's amazing. Your film knowledge and language just expands. The amount of screenings, films, cuts, drafts, curations, edits you sit through is enormous – I'd recommend seeing as much as you can; really absorb it."
Jon Wardle then asked the panel to share their personal stories, with students asking about lifestyle, relationships at home and living situations.
Gillian: "It's tricky – creative people are, naturally, really focused and work long hours! Trying to maintain a relationship on top of that is hard work. I mean, it's not impossible, I just think the work takes over. Be honest with the people around you and try to find some time to have 'normal life', whatever that is!"
Mahalia: "At one point, I was broke and living on friends' sofas – I couldn't afford rent! My team were solid! They completely lifted me. It's those things that bond a team."
Paulo: "On my course, we spent a lot of time in the editing suite, away from life! The hours can be really unsociable. The relationships you have with people on your course is really important. They're sharing this madness with you. Two of my class mates actually got married to one-another!"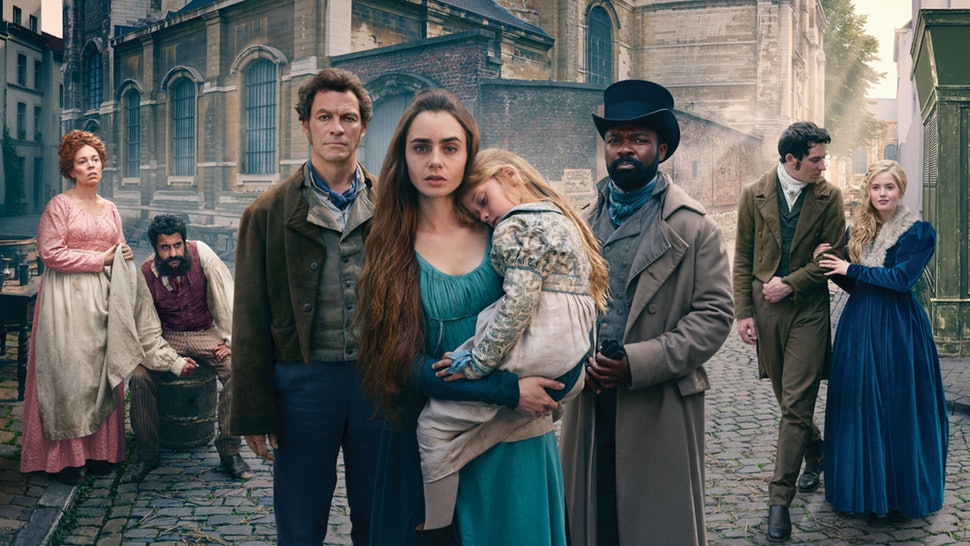 Current students were keen to ask advice from the panel, who responded with key tips:
Edward: "Be open. Make mistakes. Feedback is the best thing you need to grow. NFTS encourages collaboration and working in a team. That's its style. A sense of storytelling, driven into all elements – writing, editing, composing, directing. I'd say grab hold of it!"
Mahalia: "Collaboration effects the work for the better. To make my best work, everyone else in the team has to be making their best work too. It's a constant exchange of ideas, a give and take, which drives you and develops you. So I'd say collaborate! Plus, make mistakes. The fact that you're so exposed is bloody scary but it's also invaluable and priceless to be able to do that while you're at the NFTS, because nobody judges. It gives you the chance to explore everything that's in you; whether it's amazing or dire."
Paulo: "Nourish yourself. Find some normality. Make sure you're living and doing the ordinary stuff too, otherwise you can become in a little bubble! I remember needing to break out of this bubble and going to McDonalds for a burger and a little break, just to check I still living. It's so easy to immerse yourself in the NFTS and all the amazing things it has to offer and the level of creativity you're exposed to - But those small, grounding moments of reality really help your sanity!"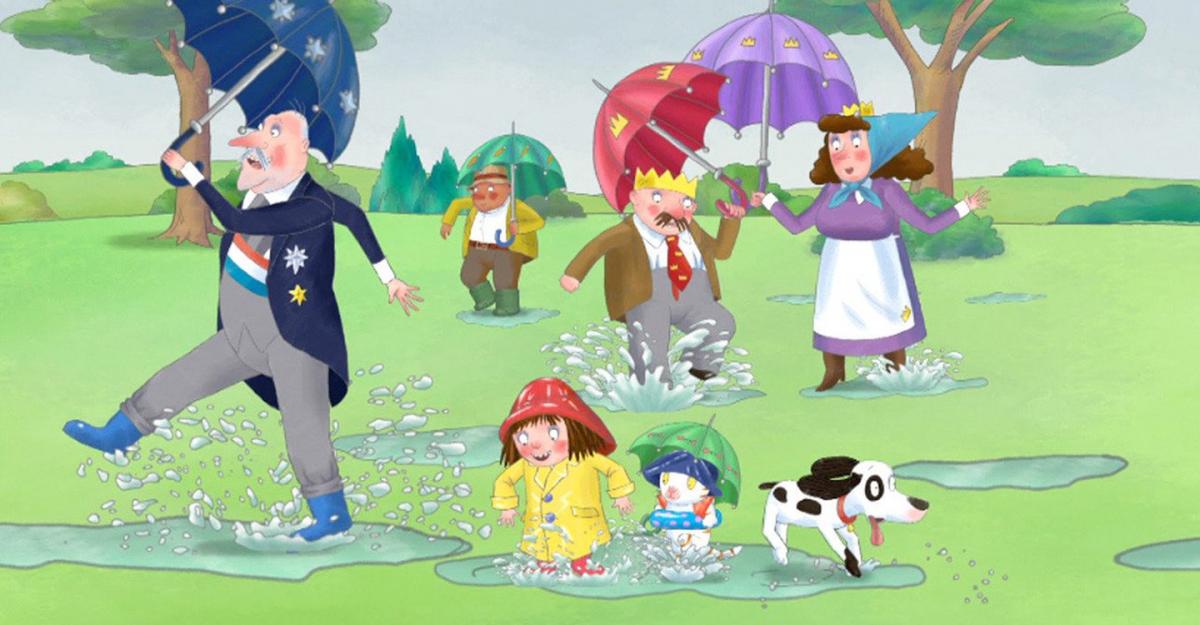 To round off the session, Jon referred to some of the fantastic events, masterclasses and screening taking place this term, asking the panel, what would you suggest makes a great first week at NFTS?
Gillian: "Do everything. Go to masterclasses. Volunteer to help, get involved I think that should be advice for your whole time here, to be honest!"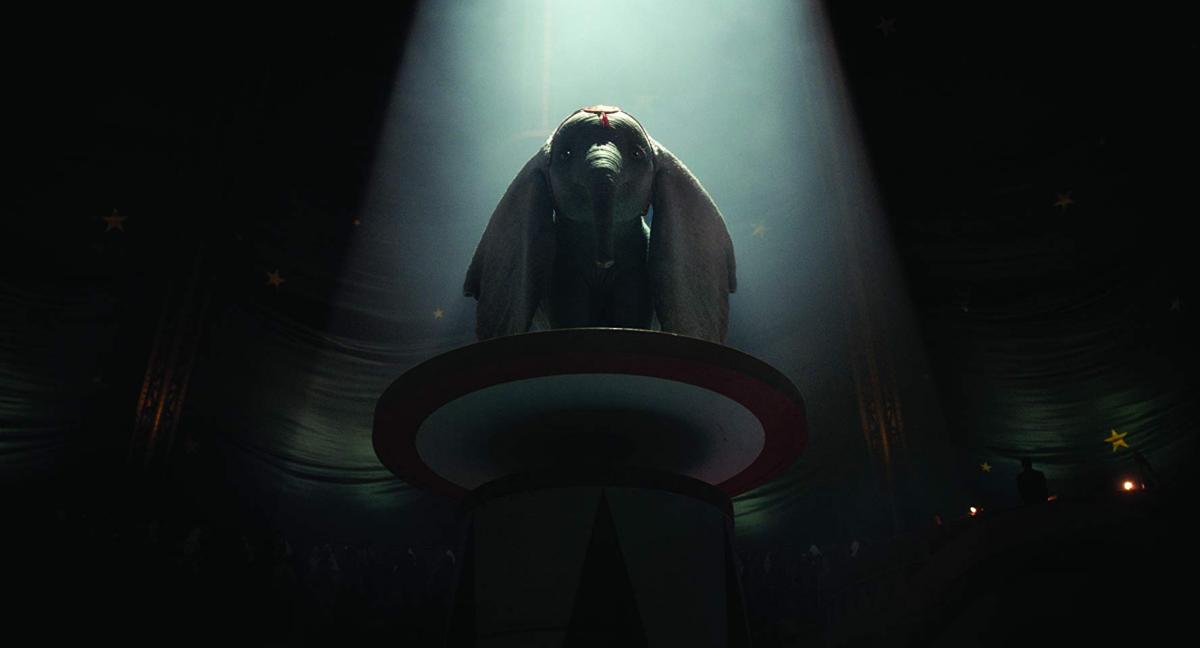 Paulo: "Make connections – The people you meet here really mould you and become your best friends. We take each other on the journey and it continues even after graduation; you find yourself working with those same peers professionally, because that bond is so solid."
Mahalia: "Just really get stuck in! It's such a cliché but the more you do, the more you'll get out of it. You'll build relationships and foster skills you didn't know you had. So even if you make a terrible project, it's not a waste."
Edward: "Have a go. Try new techniques. Explore new ideas. Do it all! On top of that, treat everyone with kindness. These people; your peers, are on this learning curve with you. It's such a gift."