8 September 2021: The NFTS and Film4 are pleased to announce a new scholarship in honour of Sue Bruce-Smith who spent two decades of her career at Film4. A hugely influential figure in the British film industry, Sue passed away in May 2020 at the age of 62.
The Sue Bruce-Smith Scholarship commemorates Sue's many achievements and her pioneering contribution to the film industry for which she was recognised with a BAFTA Special Award in 2019.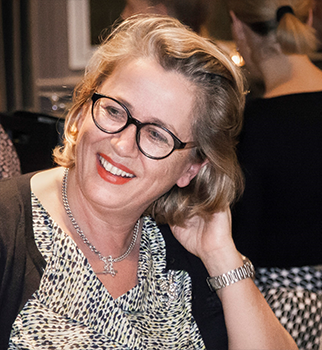 Film4 have provided £50,000 to create a fund to support emerging producers in the early stages of their career. The funding will enable prospective students to secure a space on the NFTS's renowned Producing MA (nfts.co.uk/producing), supporting the next generation as they pursue their dreams of studying at one of the world's leading film Schools.
Sue Bruce-Smith first joined Film4 in 1997 after stints at the BFI, BBC Worldwide and Palace Pictures. During her 30 year career spanning finance, production, marketing, distribution and international sales, Sue was integral to the success of some of the UK's most renowned films including Slumdog Millionaire, Three Billboards Outside Ebbing, Missouri, Room, The Last King of Scotland, This is England, 12 Years a Slave, You Were Never Really Here, Amy, and most recently, the Oscar-winning The Favourite.
Daniel Battsek, Film4 Director said: "As friends and colleagues at Channel4, Film4 and the NFTS, we wanted to commemorate Sue's many accomplishments over a long and distinguished career with an appropriate initiative in her name. Sue's skillset spanned the creative and business end of the production process. But it was her deal-making savvy allied to her understanding of the nuts and bolts of production and empathy for the creative process that made her the best ally a producer could hope to have in their corner. She was also deeply committed to public service, as passionate about finding new and diverse voices as championing headline acts. I am so pleased Film4 are able to get the ball rolling on this new fund bearing her name to support emerging producers on the NFTS's renowned Producing MA course. I can't think of a more fitting legacy."
Jon Wardle, NFTS Director said: "Sue Bruce-Smith was an inspiration who was passionately committed to storytelling and filmmaking. We are deeply grateful to Film4 for creating this generous scholarship to commemorate Sue's legacy, which will make a huge difference to those who may have no other means to study at the NFTS. The Sue Bruce-Smith Scholarship will enable emerging producers to follow in the footsteps of a much loved and missed industry ambassador."
The NFTS and Film4 welcome donations to increase the funding the Sue Bruce-Smith scholarship will provide to support producers of the future. To donate to the Sue Bruce-Smith scholarship email events@nfts.co.uk.
#NFTS