The Diverse Directors Workshop, run by the National Film and Television School (NFTS), is a leading diversity programme to increase the number of women, people from BAME backgrounds and those with disabilities working in screen directing. This year's programme is being sponsored by Walt Disney Studios Motion Pictures UK. The course, which has no fees, will see participants able to attend special masterclasses and events with actors and film-makers from some of Disney's forthcoming titles.

Jon Wardle, NFTS director said: "It's fantastic news that Disney is partnering with us on our Diverse Directors workshop and that EON Productions and ScreenSkills are both continuing their support. This is an incredibly important initiative for the NFTS as the School is committed to ensuring that filmmakers represent the society that they reflect. We were inundated with high quality applications for the initial workshops, which shows there is huge demand for a scheme like this. We are incredibly proud of the achievements of the scheme's participants so far and look forward to working with Disney to nurture and develop more diverse, talented directors."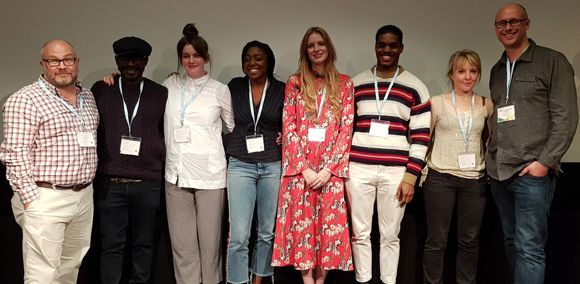 Lee Jury, Head of Walt Disney Studios Motion Pictures UK & Ireland said "We are delighted to work with the NFTS and excited to meet these talented filmmakers and introduce them directly to Disney's leading filmmakers and craftspeople working across the industry. At Disney, we are committed to helping forge and develop career paths for diverse talent behind-the-camera. Ideas and decisions from a diverse group of people help us grow, innovate, tell the best stories and be relevant in a rapidly changing world."
Taught by top industry professionals, the course will be free to attend as the NFTS, alongside support from Walt Disney Studios Motion Pictures UK, EON Productions and ScreenSkills, will cover all production costs and inter-school networking. NFTS facilities will also be in place to help crew the films across all disciplines from producing to cinematography to sound and music.
Now in its third year, the programme will be open to individuals working professionally in screen directing wanting to take their career to the next level. The NFTS is looking for 6 filmmakers to take part in a two-day introductory session on 12thand 13th January 2019 followed by intensive training in narrative filmmaking in an innovative, two-week workshop taking place on 25th February – 8th March 2019. Production and Post of the film projects will take place in Spring and Summer 2019 and all participants will be guaranteed an interview for the NFTS' flagship Directing Fiction MA.
The scheme has already led to success with two participants Alice Seabright and Lisa Clarkson gaining highly competitive places on the NFTS Directing Fiction MA course. Alice Seabright's film Sex Ed played at BFI London Film Festival, Encounters Film Festival and Aesthetica Short Film Festival and The Arrival, directed by Annetta Lauffer was selected for Encounters.
More information and apply at www.nfts.co.uk/diversedirectors
Contact for more information:
Vicky Hewlett, NFTS Head of PR and Communications, vhewlett@nfts.co.uk