'Facing It' directed, animated and co-written by recent NFTS Directing Animation MA graduate, Sam Gainsborough has won both the Grand Prix and the Audience Award at this year's Animage Animation Festival in Brazil, which focusses on films that are independent, authorial, experimental, daring, expressive, politically driven, innovative and original.
Sam said: "I'm absolutely delighted to win the Animage Grand Prix! There were some other really amazing films in competition so I was completely shocked when I found out we had won the award. And on top of that, to find out Facing It also won the festival audience award, that completely blew me away! I really wanted to make a film that would resonate with different people all over the world, and it's amazing that audiences in different countries, on different continents, are connecting with the film. It's really exciting! "
Facing It has already won a number of awards including:
Animafest Zagreb - Best Student Film
Ottawa International Animation Festival - Audience Award
KLIK International Animation Festival, Amsterdam - Audience Award
Viborg International Animation Festival - Ginger Award for Best Student Film
KROK International Animation Festival, Russia - Jury Deploma Award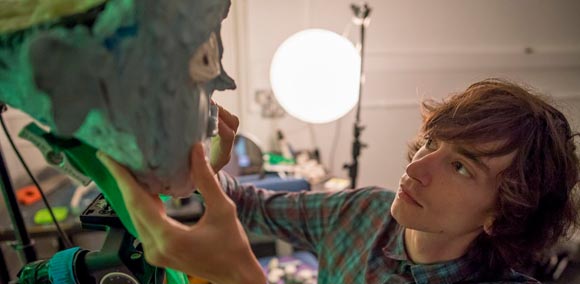 The Facing It Team:
Sam Gainsborough, Director/Animator/Co-Screenwriter; Jimmy Campbell-Smith, Producer; Louisa Wood, Co-Screenwriter; Bruno Grilo, Cinematographer; Demian Lovett, Lilla Vindics, Assistant Directors; Fiona Guest, Production Designer; Garry David Frost, Production Manager; Jenny Martin, Production Co-Ordinator; Mdhamiri A Nkemi, Editor; Adam Woodhams, Sound Designer & Dubbing Mixer; Jack Newton, Composer; Oliver Buus, Lead Compositor; Daniel Quirke, Compositor; Laura Jane Dart, Colourist & Online Editor
For more information on the NFTS Directing Animation MA, please visit www.nfts.co.uk/animation and for more information on Facing It, please click here.
More content you may be interested in...