The National Film and Television School (NFTS) is delighted to award multi- award winning director, producer and screenwriter Sir Sam Mendes with an Honorary Fellowship.
NFTS Chairman Patrick McKenna will present the Fellowship, awarded each year to individuals who have made an outstanding contribution to the industry at the School's annual graduation ceremony, due to take place at the Odeon Leicester Square in Central London on Monday 24th May 2021.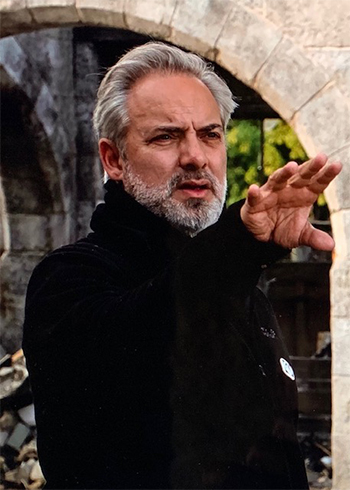 Oscar and BAFTA winning Sir Sam Mendes has enjoyed an illustrious screen career with critically acclaimed films including American Beauty, Road to Perdition, Jarhead, Revolutionary Road and Skyfall. He most recently enjoyed global success with 1917, shot by NFTS alumni and cinematographer Sir Roger Deakins and co-written with Krysty Wilson-Cairns who graduated from the School just six years ago in 2015.
Sir Sam Mendes was selected for an Honorary Fellowship by the NFTS Board of Governors to honour both his superlative contribution to the screen industry worldwide and the time and dedication he showed to the School's Directing Fiction students throughout the pandemic, delivering twelve intensive weekly classes, covering each aspect of the production process. At the start of lockdown, Sir Sam Mendes was also one of the first industry names to step forward to host a School wide virtual Masterclass. Additionally, NFTS Governors commended his recent vital work in the cultural sector, establishing an emergency fund for freelancers and artists affected by the Covid-19 crisis.
NFTS Directing Fiction graduate Marcus Thomas reflected on the impact Sir Sam Mendes weekly contribution made to his studies: "During a time that was riddled with uncertainty, Sir Sam Mendes really gave me and the rest of my cohort something to look forward to. To have him talk through his process in such detail and be so open and candid in his conversations with us really helped to demystify high-level filmmaking. To have access to that kind of knowledge makes the dream of being a director feel all the more achievable."
Fellow NFTS Directing Fiction graduate Lisa Clarkson added: Sir Sam Mendes teachings were wonderful, serendipitously so, for me. In March of 2020, I was not only a lost writer-director, trapped in lockdown in Scotland but I was also about to begin writing the script for my graduation project, Muse, a film about a photography teacher. When attempting to draw a master of the arts, it definitely helps to be taught by one. His generosity and candour over the twelve weeks was quite remarkable. Thank you."
Sir Sam Mendes commented: "I couldn't be prouder or more flattered to have received the offer of this honorary fellowship. One of the few highlights of lockdown was my regular once a week contact with the brilliant and inspiring group of young directors at the NFTS. Although they assured me I was helping to keep them going through this tough time, it increasingly seemed like it was the other way round. During that time, it also became increasingly clear to me what a great institution the NFTS is. I am genuinely honoured to now be a part of it."
Patrick McKenna, NFTS Chairman said: "Sir Sam Mendes many accomplishments as a director, producer and screenwriter of bold and distinctive films are a real inspiration to NFTS students, the next generation of filmmakers. We are delighted to honour his contribution to the creative industries. His support and guidance of the School's emerging directors during the pandemic went above and beyond, helping to lift their spirits and keep them motivated during what was a very uncertain and turbulent time."
In 2020, the NFTS awarded Fellowships to Sally Wainwright and Working Title's Tim Bevan and Eric Fellner. For more information and to see our full list of Fellows, please visit: nfts.co.uk/who-we-are/honorary-fellows
The NFTS will showcase the work of its talented 2021 graduates at the BFI Southbank from Tuesday 25th to Friday 28th May.
Please join us to watch projects created by the next generation of emerging filmmakers and creators. The films of the NFTS directors guided by Sir Sam Mendes will be shown on Tuesday 25th May during the Fiction screenings. The four day event will take place whilst adhering to strict Covid-19 guidelines. Click here for more information and to register for an available screening using the promo code NFTSIND.
11/05/2021