NFTS students recently took over Sky Studios, to work on a series of multi-camera studio shows including a quiz, sitcom and music show featuring three bands. The students were taught and directed by industry professionals including Mick Thomas (The Chase) and Richard Boden (The IT Crowd).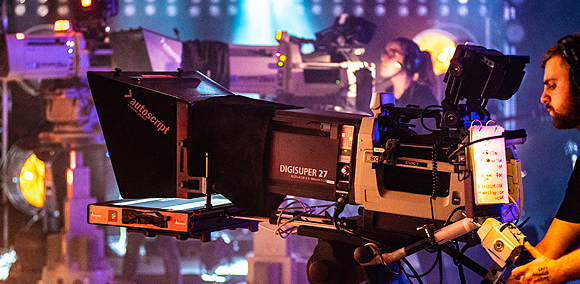 The students at the heart of the exercise are on the Cameras, Sound & Vision Mixing Diploma, which is delivered in partnership with Sky. They were supported by students on the Assistant Directing and Floor Managing Diploma, Script Supervision and Continuity Certificate course and the Production Management for Film and Television Diploma, all of whom benefit from working with professionals in their area of expertise.
The music show is developed in a 'Later with Jools Holland' style format, with music from live bands. Sound students work from the Sky control room, vision mixers in the production gallery and camera operators on the studio floor. All students use state-of-the-art broadcast standard equipment including sound mixing desks and HD Studio cameras to pull the multi-camera production together, and with the show recorded 'as live', with no stops or re-takes, students are provided with an industry-level experience.
This is the final major module for the Cameras, Sound and Vision Mixing Diploma students, who work throughout the year in partnership with Sky. Sky provides a six-week placement as part of the course, as well as guaranteeing to employ at least one graduate from the course each year.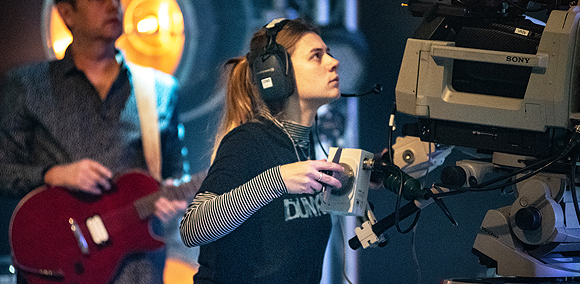 The course is led by NFTS Head of TV David G Croft (Shooting Stars, Crystal Maze, Live Aid) with teaching staff including, Richard Boden (IT Crowd), Tom Poole (Citizen Khan) and Mick Thomas ( The Chase).
There are still some places available on this exciting one-year diploma that starts in January 2019 - we are particularly looking for people who are interested in being camera or sound operators. If this is you, apply here!