The National Film and Television School (NFTS) is delighted to announce it has once again been featured by The Hollywood Reporter as one of the world's top film schools, marking a decade of being listed within the film industry bible's Top 15 International Film Schools. The NFTS was one of only two UK film schools to be included in the prestigious annual round up and the accolade arrives as the School prepares to celebrate its 50th anniversary in 2021. Including the NFTS for the tenth consecutive year, The Hollywood Reporter's round up cited the addition of two newly launched Certificate courses (Casting and Post Production Supervision) and the delivery of a raft of virtual Masterclasses with acclaimed filmmakers during lockdown:
"The UK's most famous film and TV college – whose alumni range from Oscar winning industry veterans such as Roger Deakins to emerging stars like 1917 scribe Krysty-Wilson Cairns expanded its offerings in 2020 with the addition of both Casting and Post Production Supervision courses. During the COVID-19 lockdown, the School offered almost daily Zoom Masterclasses with the likes of Judd Apatow, Elisabeth Moss, Steve McQueen and David Fincher."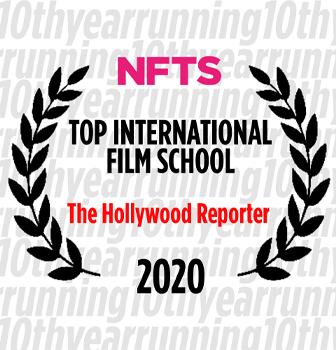 Jon Wardle, NFTS Director, said: "The past few months have been very challenging for the NFTS so this recognition by The Hollywood Reporter for the tenth successive year is especially meaningful. I couldn't be prouder. As the School approaches our 50th Anniversary, we continue to evolve and adapt to ever changing circumstances, delivering a transformational education to our students to ensure they have the tools to build successful careers and make a real impact in the industry upon graduating."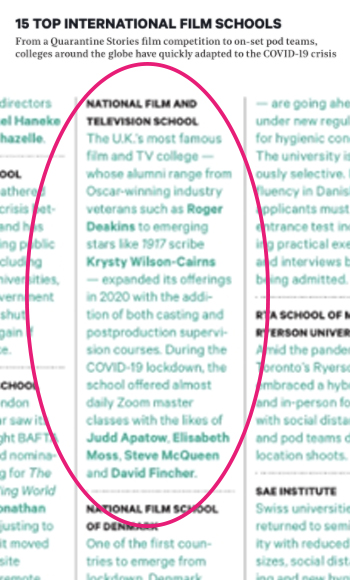 The endorsement comes days after Miss Curvy, a 2020 graduate Directing Documentary MA film was shortlisted for the Student Academy Awards. NFTS student work continues to make a splash on the worldwide stage with a raft of festival success for many films including Directing Animation MA film O Black Hole! selected for the Oscar qualifying Locarno and Science and Natural History MA film Life on the Rocks nominated at Jackson Hole and Wildscreen.
The NFTS recently announced the launch of a pioneering new Post Production Supervision course in partnership with WarnerMedia/HBO Access and Netflix. The course will be delivered with the aim of addressing two significant issues in post production: the need for diversity in staffing and demand for more trained Post co-ordinators and supervisors working within the industry. Applications are open until 3 October.
Read the full article via The Hollywood Reporter's website here.
A variety of other NFTS MA and Diploma courses still have places available - apply today to #StandOutwithNFTS!
nfts.co.uk/places-available